To borrow a phrase from the great British Baking Show, Week Thirty-Nine of the Bouquet-a-Week Project was a "showstopper." It had everything thanks to height from two orange gladiolas, a riot of color from a medium-sized sunflower, a cabbage flower, one spiky orange-and-yellow dahlia, two variegated orange-and-yellow dahlias, one variegated maroon-and-white dahlia, and five sprigs of goldenrod.
I purchased this showstopper from Erlinda, my favorite flower designer at Flower Garden in the Pike Place Market for $15. I love her blossoms because the stems are clean and free of much extra foliage which makes them easy to work with once I arrive home. Here is the original bouquet.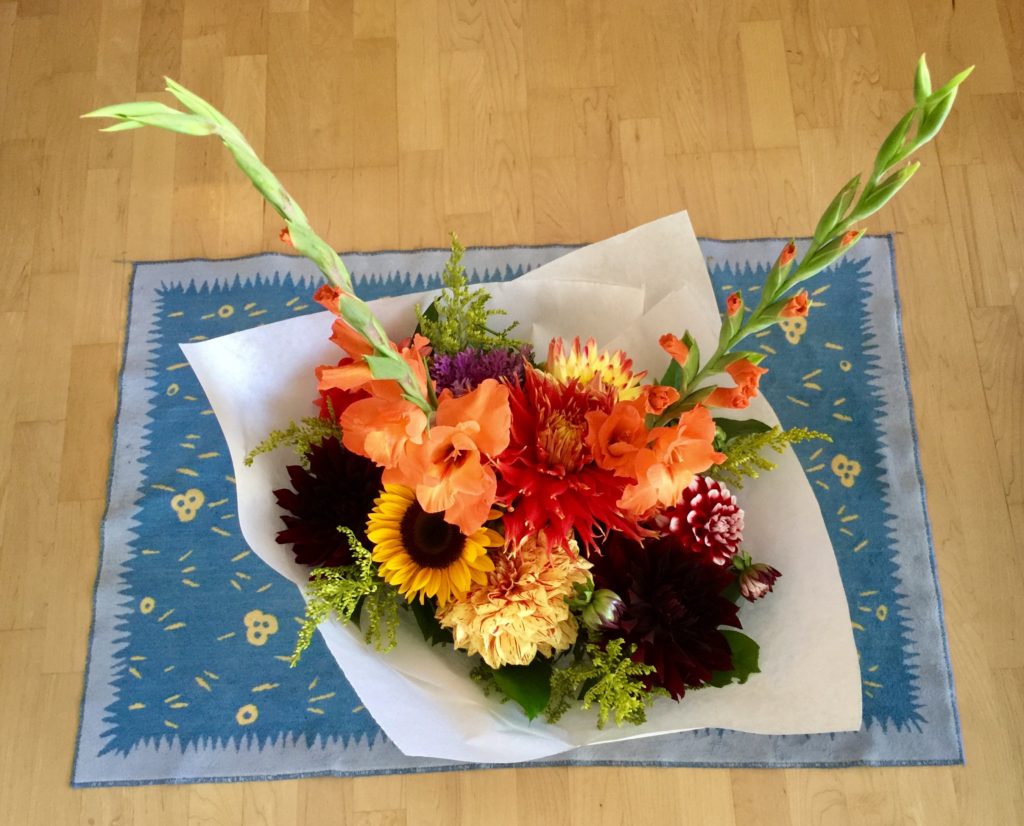 And here is Week Thirty-Nine's showstopping bouquet "painted" using the Waterlogue app.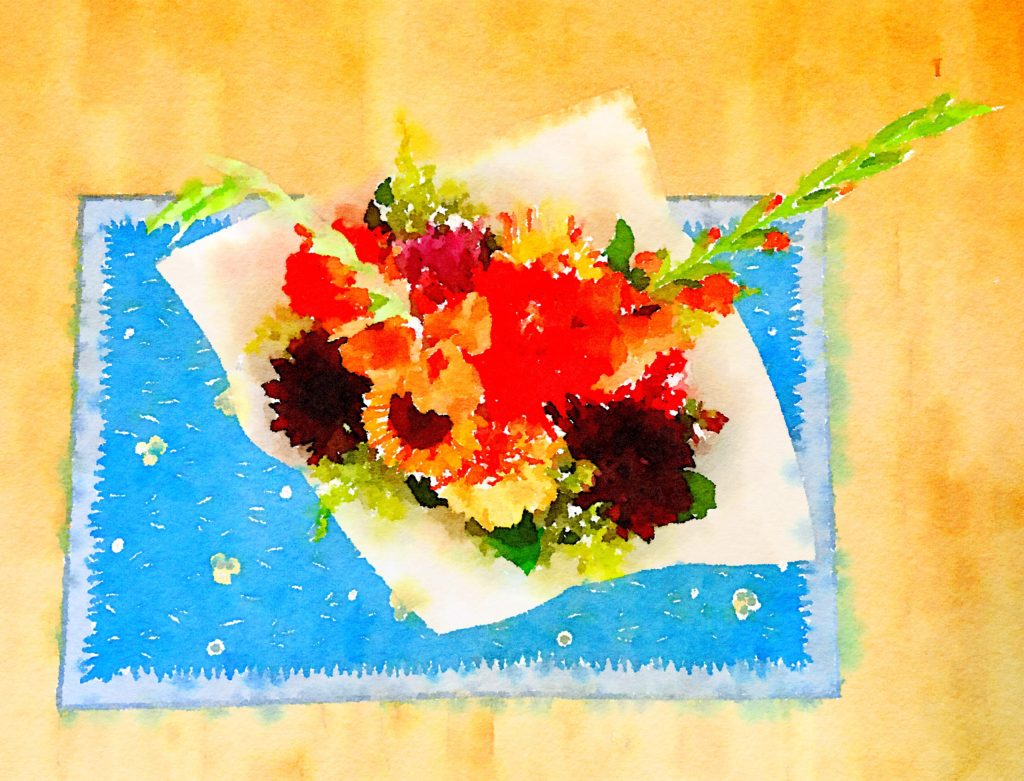 The blossoms look trés magnifique when laid out in tandem.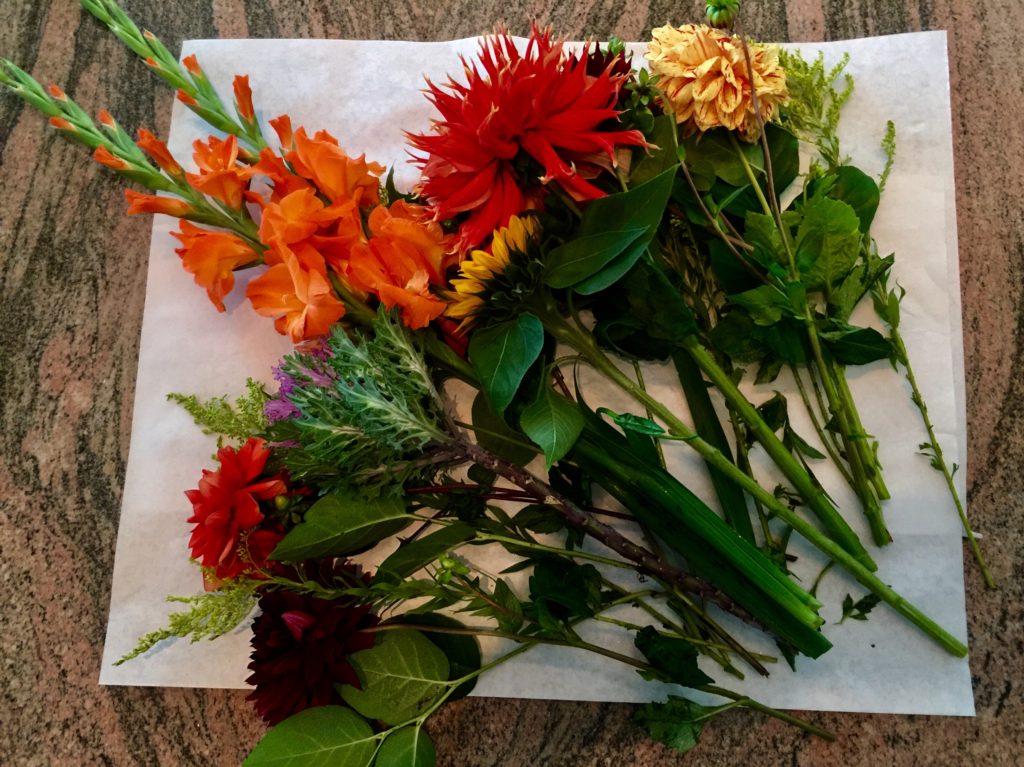 And painted in Waterlogue using the Vibrant setting.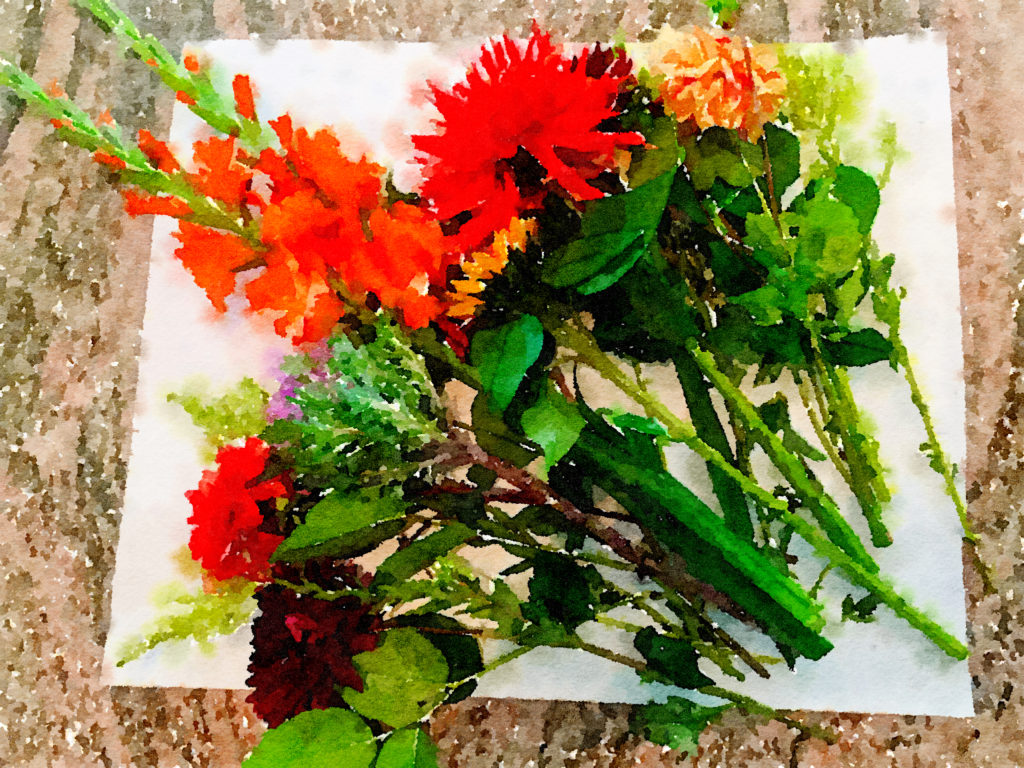 Lately, I have enjoyed putting all the blossoms into a large vase to see how they look before dividing them into smaller bouquets.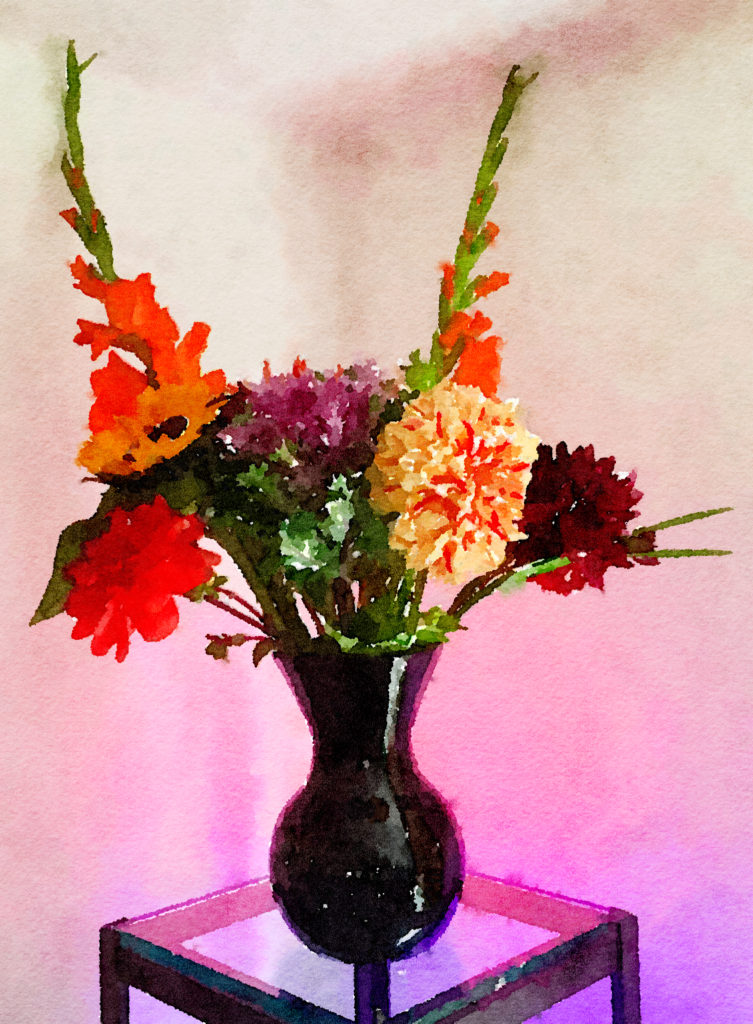 I couldn't resist grouping several of the most unique blossoms together in a glossy Asian-leaning vase.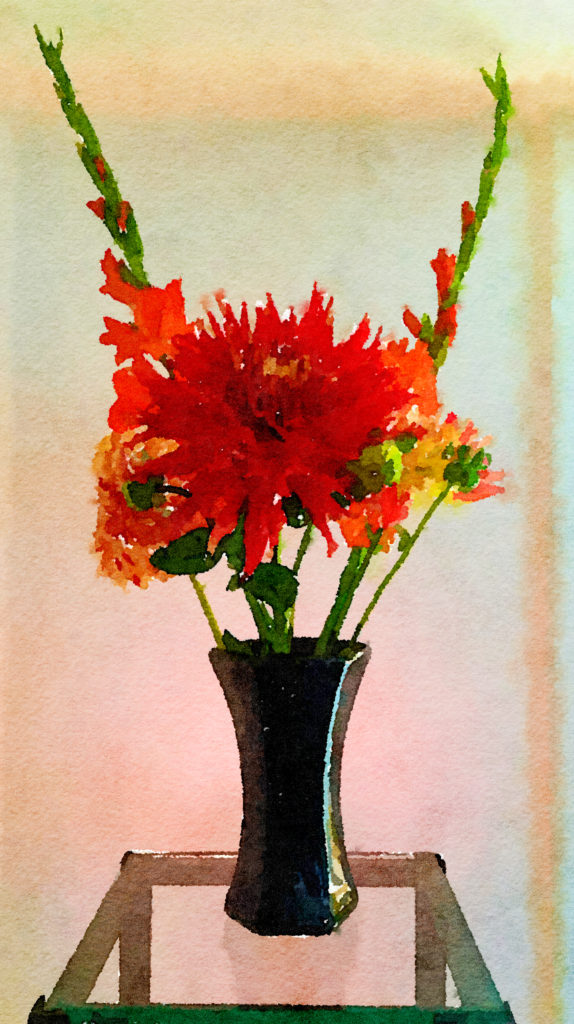 A single maroon dahlia and greenery looks pretty cool when painted in Waterlogue using Bold Mode.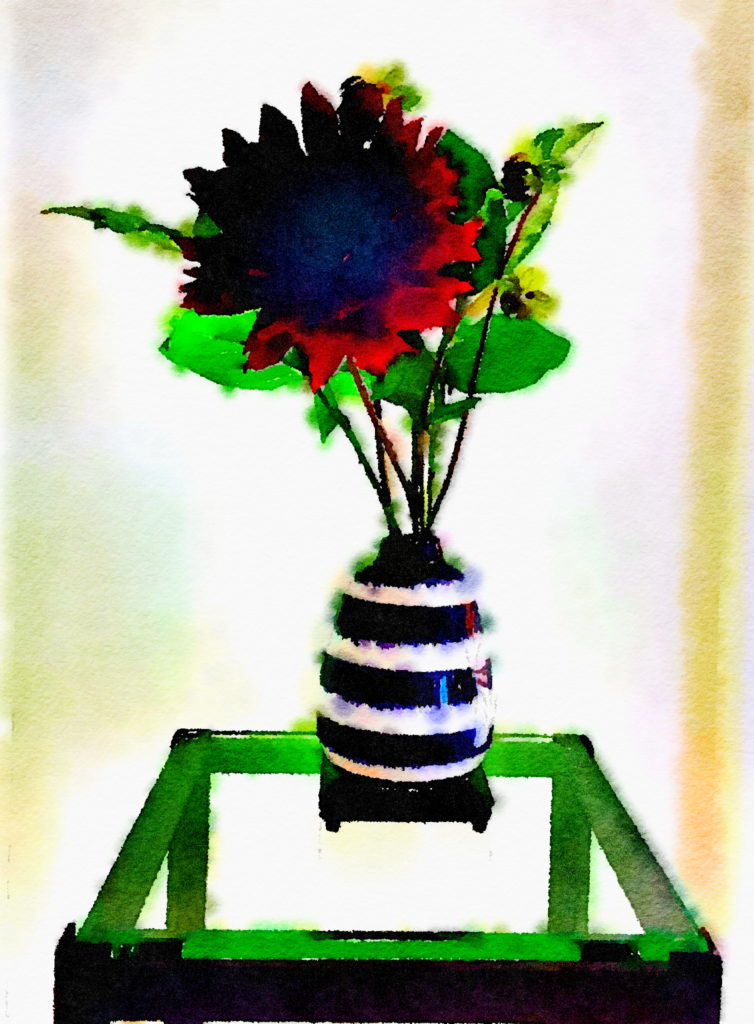 Week Thirty-Nine's single sunflower formed a copacetic match with a few sprigs of goldenrod–two very different shades of yellow.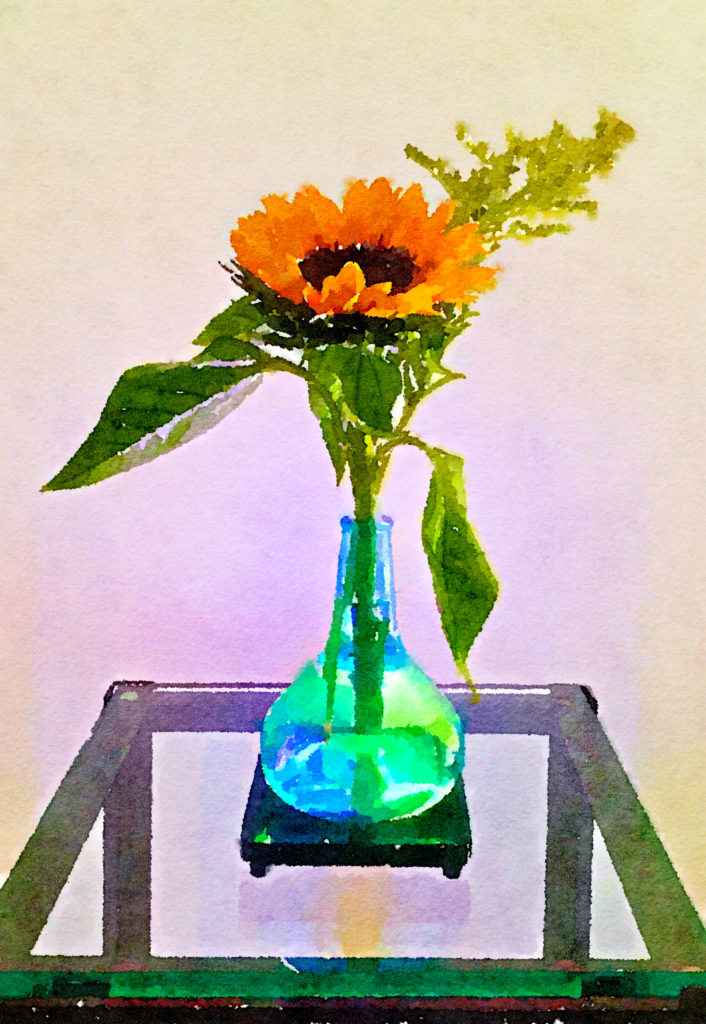 The cabbage flower and goldenrod formed a fitting duo in a pink Buddha vase.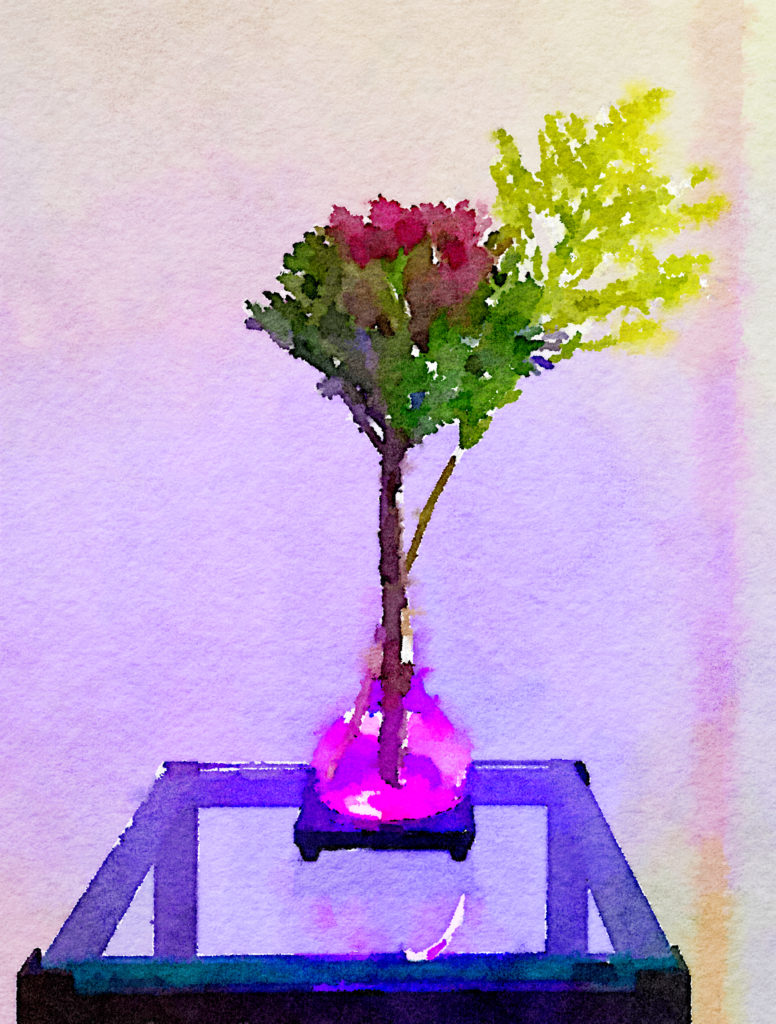 The two smaller bouquets seem to be saying hello to one another in the Waterlogue painting below.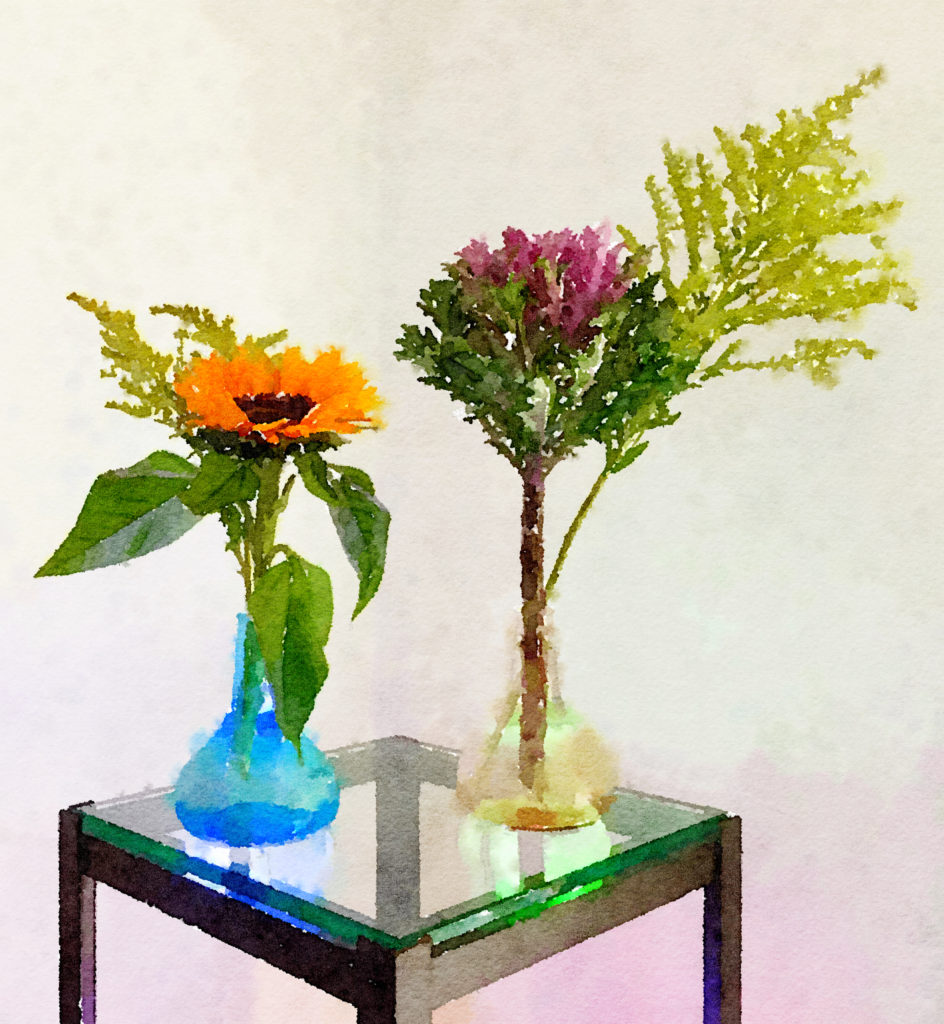 And here are Week Thirty-Nine's three small vases.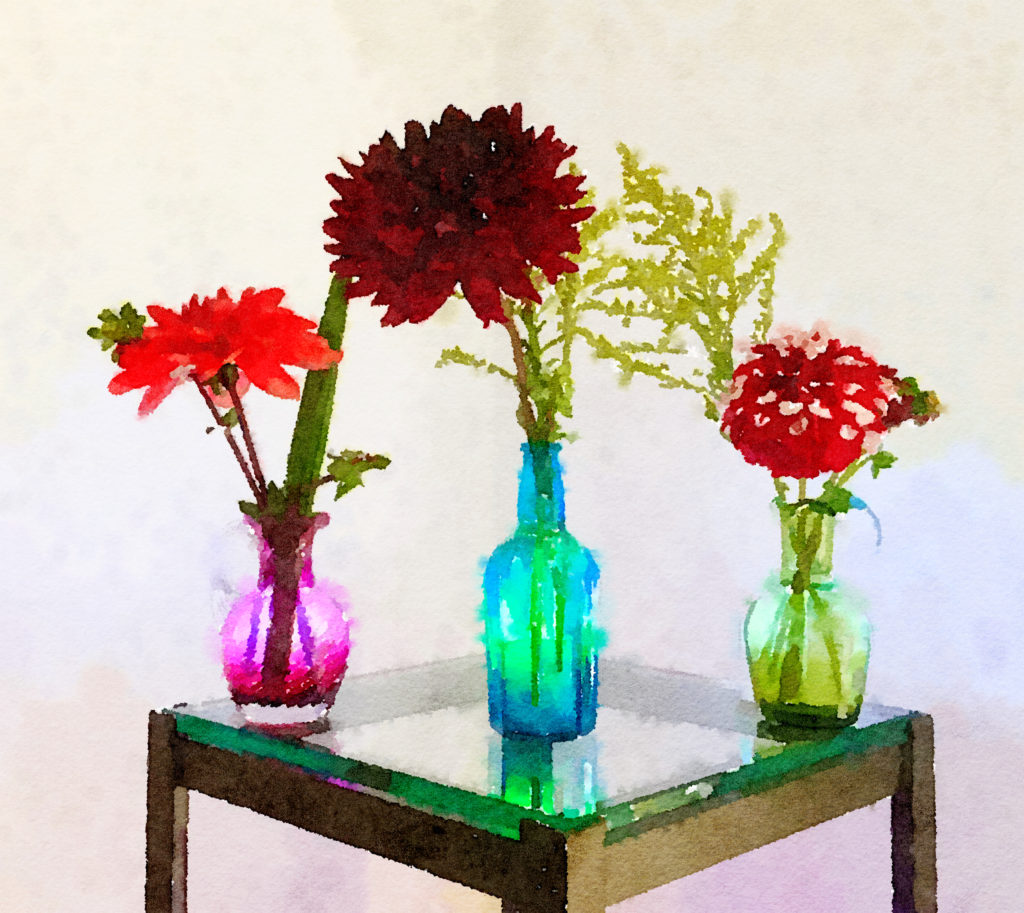 And three more from this showstopping bouquet, just for good measure.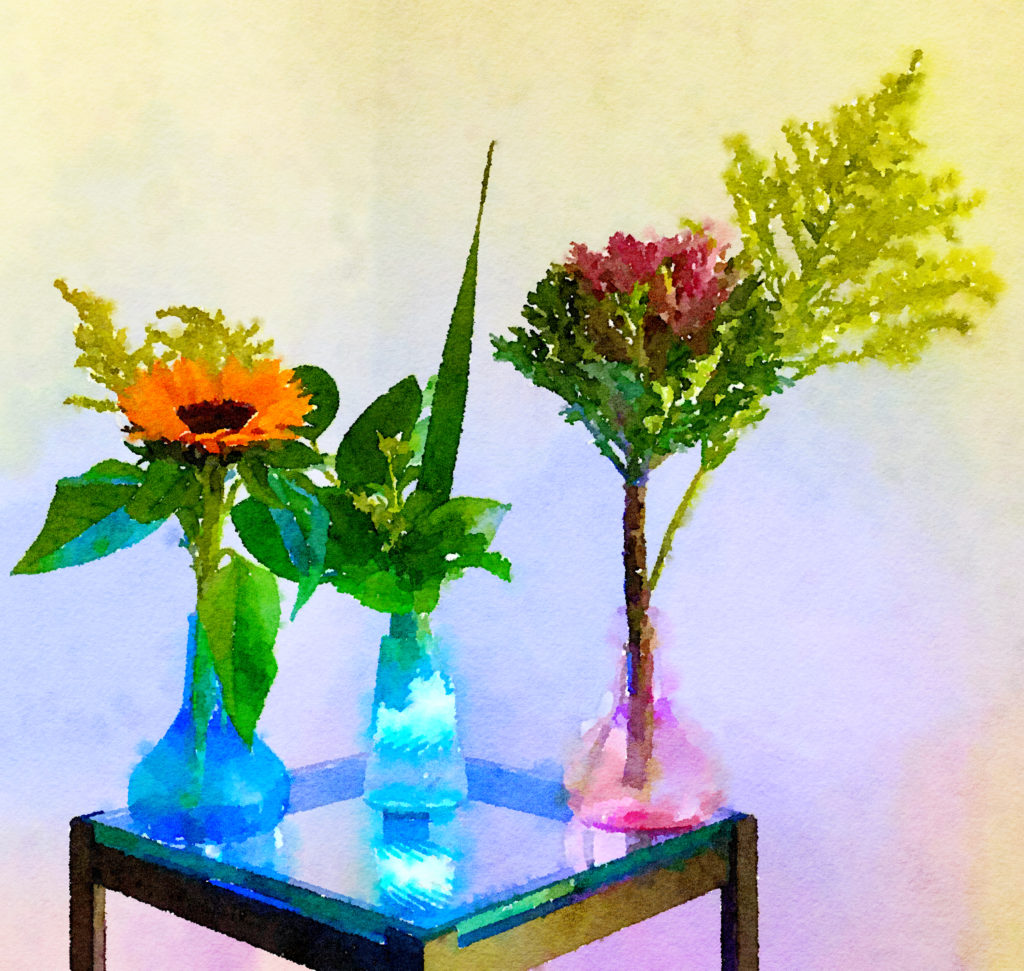 Even leftover green leaves and a single frond from one of the gladiolas look fetching when presented in a simple glass vase and backlighted in green.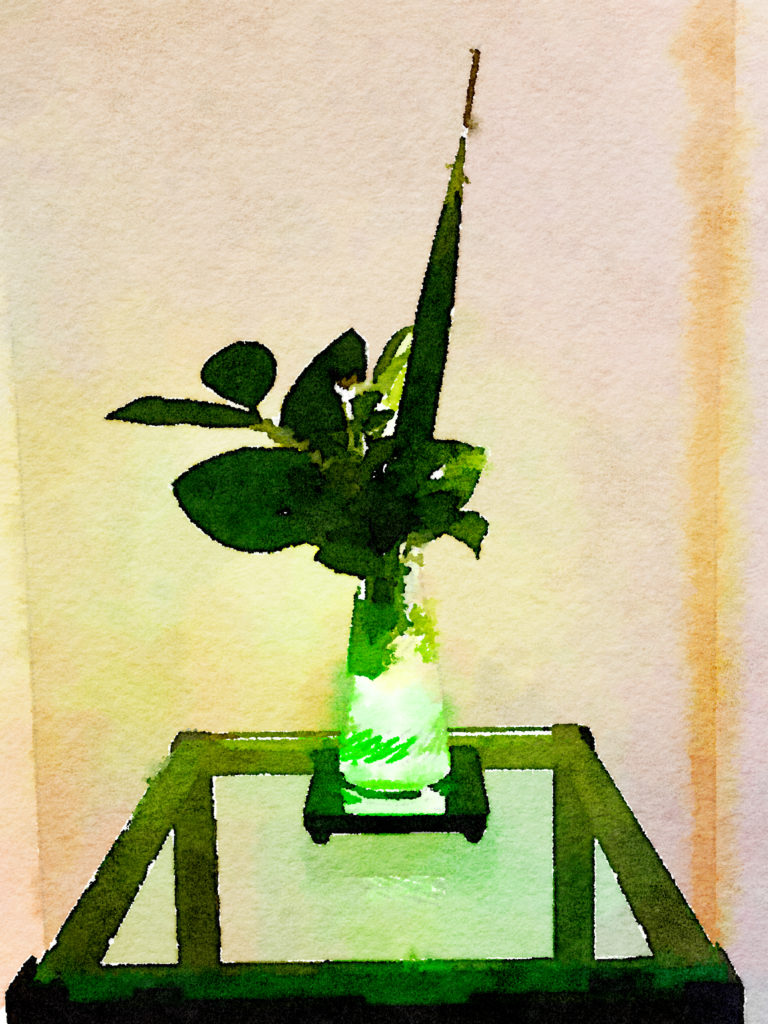 A few days later, after the blossoms began to fade and I wanted a change of pace, here are the arrangements I came up with. I just love the "Van Gogh" look of the sunflower in this striped vase.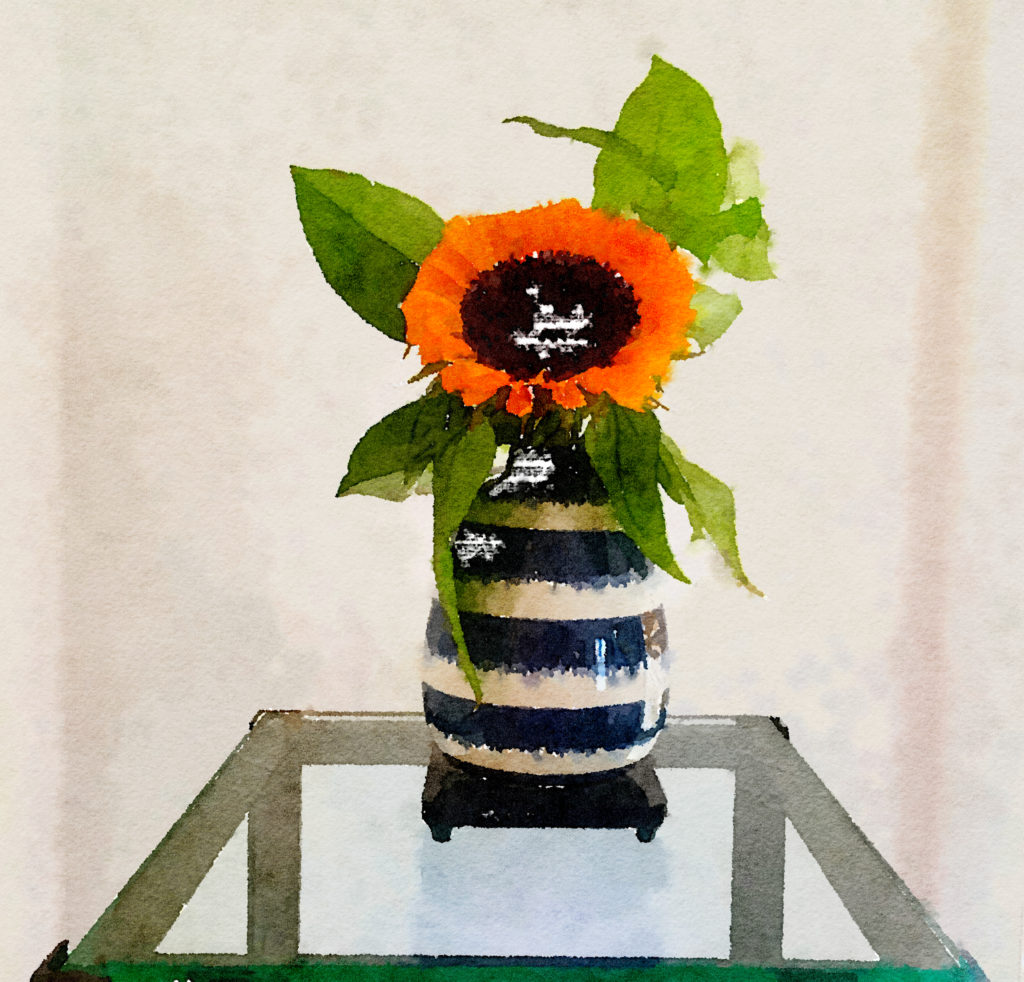 And what's not to like in the way the narrow throat of this purple ceramic vase seems to hug the towering gladiolas and dahlias?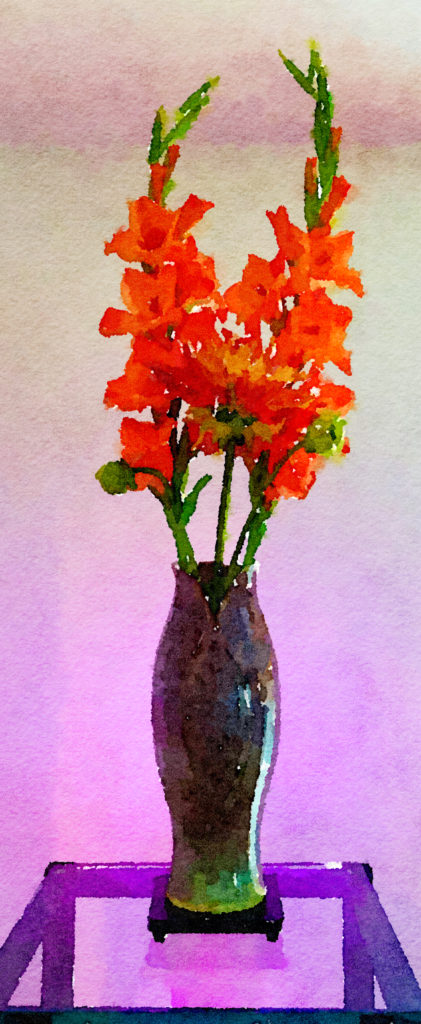 My trusty tall baby-blue vase gets an Ikebana feeling when planted with orange and red dahlias and pussywillow sprigs.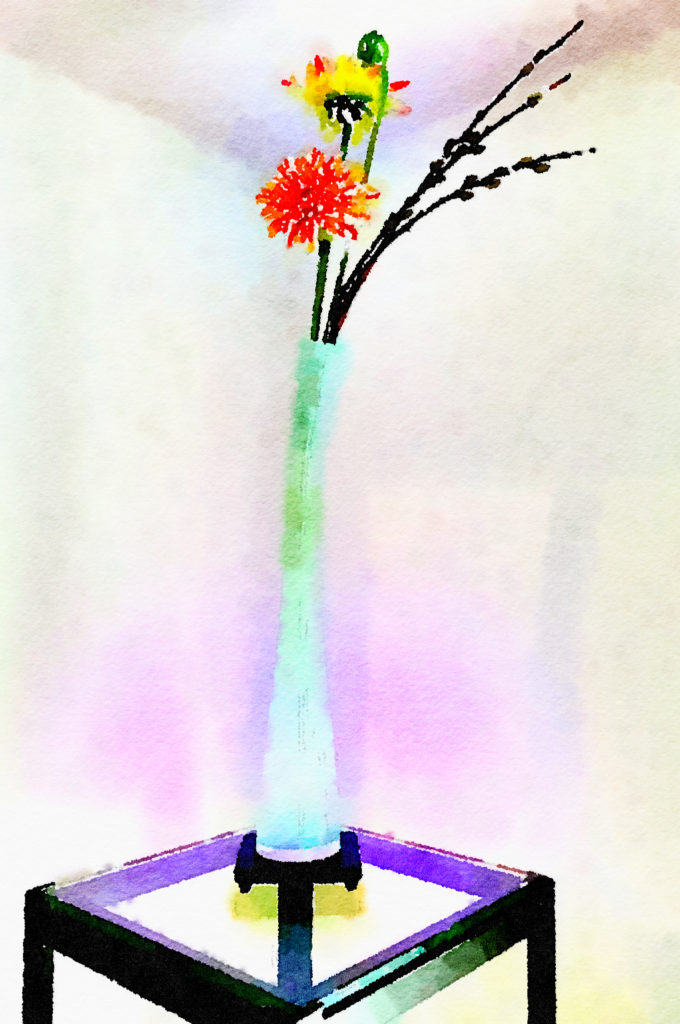 When the individual flowers on the gladiola stems began to die from the bottom up (as they always do), I pulled them off, cut down the stems, and placed the two leftover gladiolas in the whimsical cat vase. Meow!