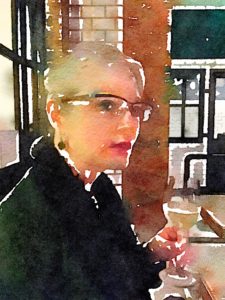 Braiden Rex-Johnson is a bestselling author, avid photographer, and enthusiastic world traveler with a weakness for all things beautiful.
For more than 25 years, she wrote about Pacific Northwest cuisine and wine. She authored seven books including the Pike Place Market Cookbook (1992 and 2003), the Pike Place Public Market Seafood Cookbook (1997 and 2005, print editions; 2011 e-edition), That's Fresh: Seasonal Recipes for Young Cooks, and Inside the Pike Place Market: Exploring America's Favorite Farmers' Market. 
Her seminal work was published by John Wiley & Sons in 2007, Pacific Northwest Wining and Dining: The People, Places, Food, and Drink of Washington, Oregon, Idaho, and British Columbia.
For four years she was a contributing writer to The Seattle Times Pacific Northwest magazine, penning Taste columns on such wide-ranging topics as savory desserts, Caesar salads, oak wine barrels, and hard cider.
Rex-Johnson was food editor of Seattle Homes & Lifestyles magazine and was a columnist for Wine Press Northwest and CityFood magazine (Vancouver, British Columbia). Early in her career, she contributed a bimonthly article to NW Palate magazine.
She also founded, photographed, and blogged on the Northwest Wining and Dining website. Although she is no longer posting there, the site still features a wealth of creative seafood and produce recipes, cooking tips, and archived blog posts.
After retiring from food and wine writing at the end of 2014, Rex-Johnson focused on a fictionalized memoir. But after struggling through countless rewrites and edits, she realized that nonfiction was her true love.
Braiden Blossoms is the more recent reinvention for the prolific creative. Her latest "brai(de)nstorm" highlights photos of her floral arrangements (many of the flowers purchased at her beloved Pike Place Market); cruises around the Mediterranean, Northern Europe, North America, and Iceland; and whatever other subjects capture her fancy.