Week Nineteen of the Bouquet-a-Week Project was a welcome relief from Week Eighteen since I felt like my old self again and memories of the dreaded colonoscopy were well behind me (so to speak).
I chose a lovely bouquet from among several options from one of my long-time favorite farmers who you'll find in the first section of the Pike Place Market's Main Arcade.
Here is her photo with the bouquet, which cost all of $15!
I was drawn to this particular bouquet because the colors clashed instead of coordinated. Who would think to put yellow and scarlet lilies together with pink peonies, but it works.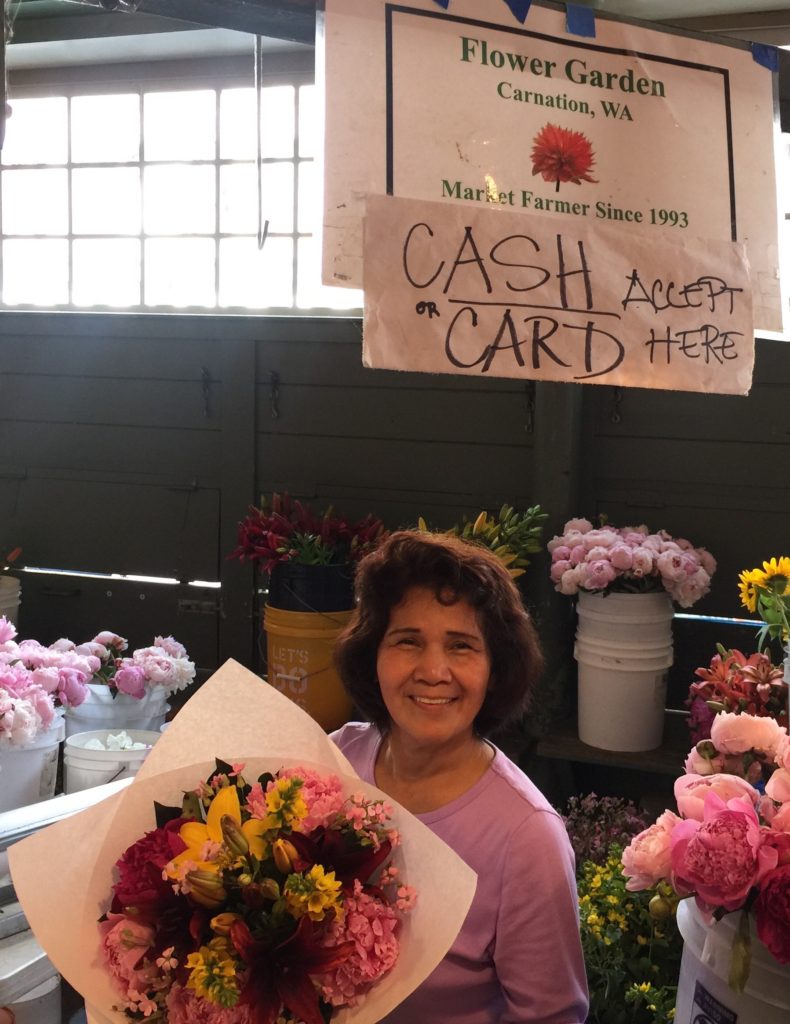 Here is the fresh bouquet of Pike Place Market flowers once I got them home.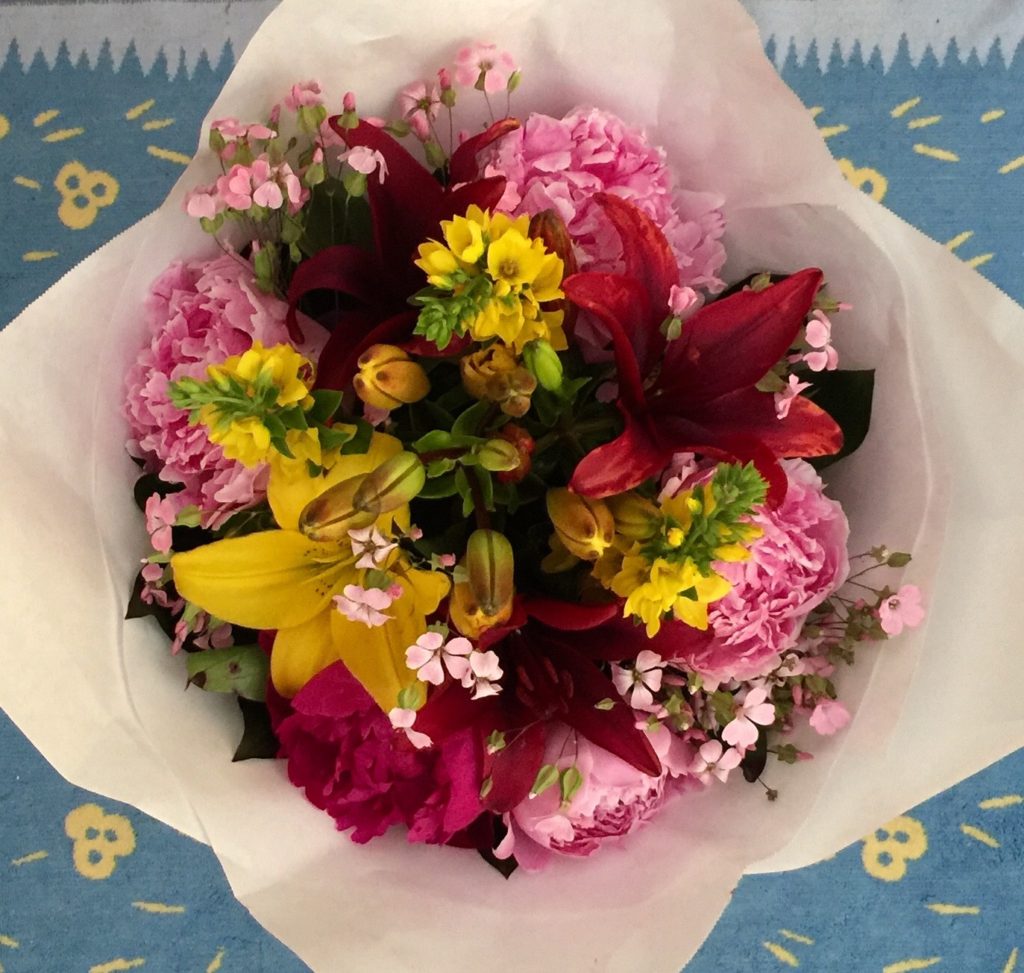 This is the same bouquet "painted" using the Waterlogue app.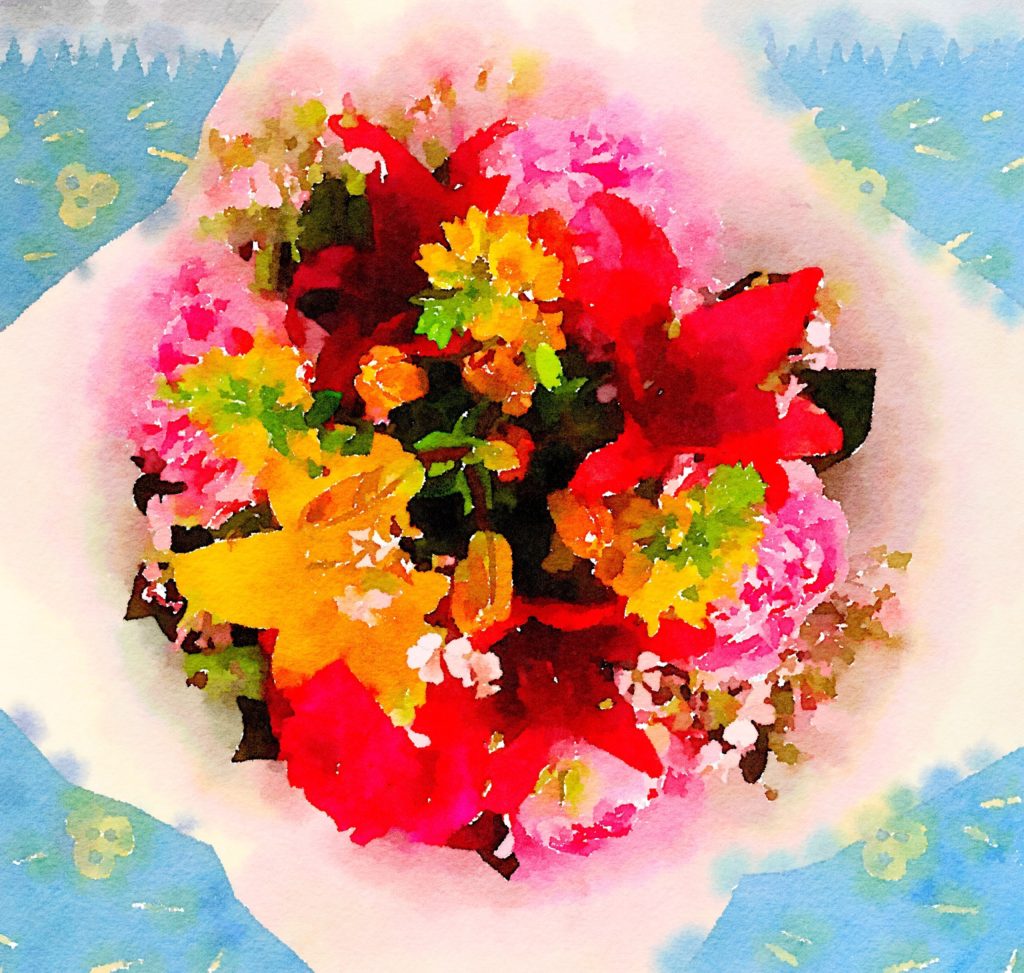 As always, I separated the blooms so that each variety was together. I made sure the stems were cleared of small leaves so the flowers would stay fresher for a longer period of time, then I cut the stems on the diagonal (to encourage them to slurp up the fresh water) to uniform lengths.
For my first major bouquet of Week Nineteen in the Bouquet-a-Week Project, I placed the lilies in a violet ceramic vase, chosen because it would form a third contrast with the flowers. Striking!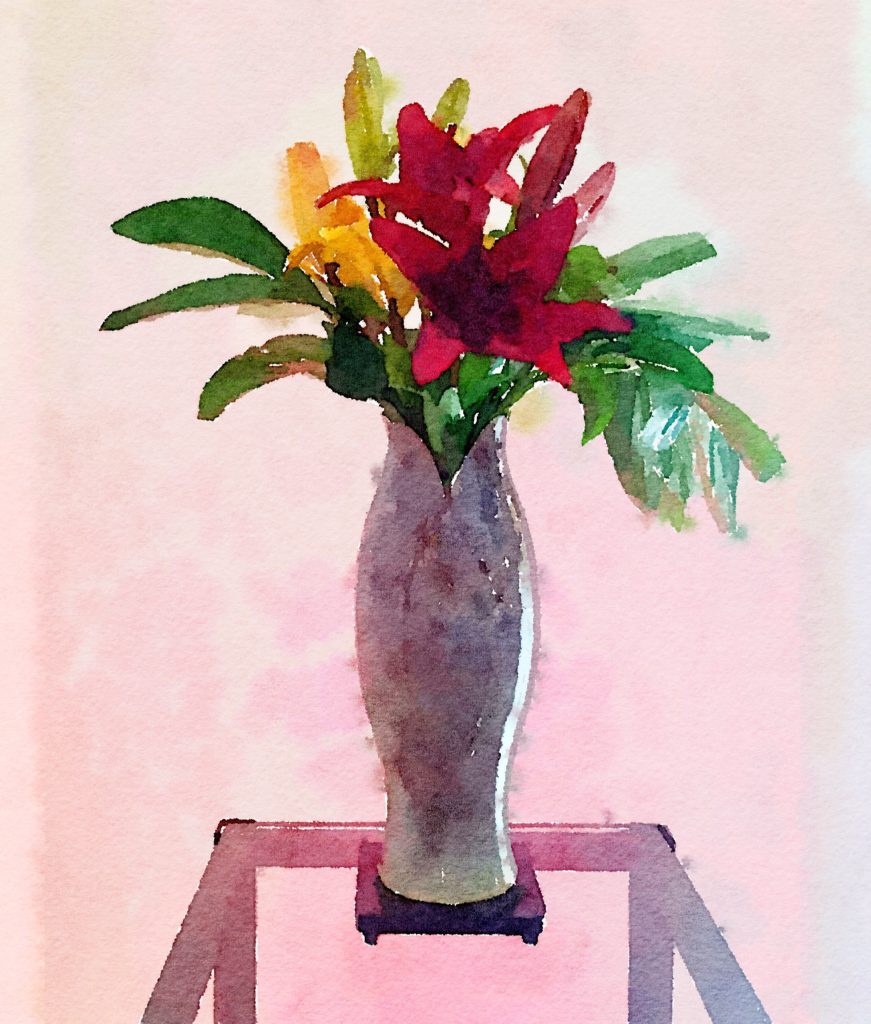 I knew the four pale-pink peonies would look lovely together and decided the dark-pink one would serve as an accent. I chose a vase I hadn't use previously, a clear-amethyst one with a pleasing plump shape.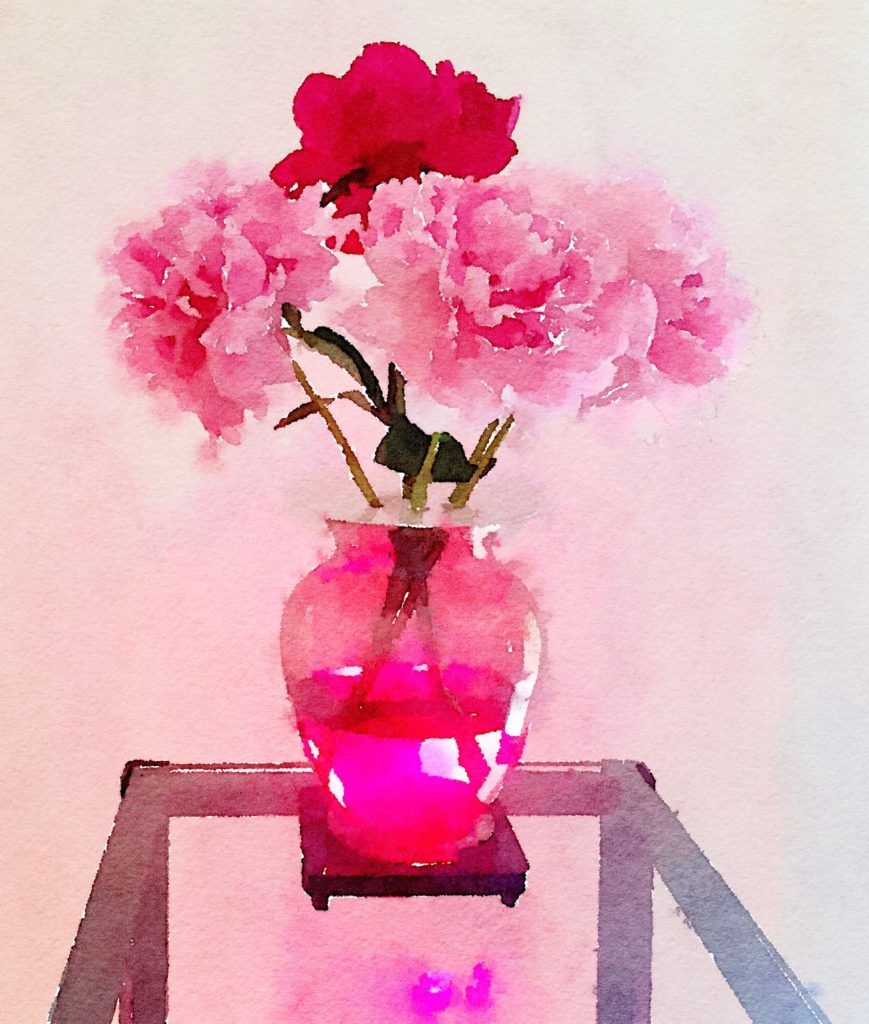 To separate and support the peony stems (and help them to fan out like a fluffy pompom), I used a fabulous new product I purchased at the EATS MORE pop-up store in the downtown Seattle Nordstrom flagship store.
Anywhere Vases by Fruitsuper are metal cutouts in round, square, and triangular shapes drilled with holes of the same shape (round with six round holes, square with four square holes, and the triangle with a single triangular hole). According to the website, the cutouts "turn vessels into vases." Why didn't I think of that!?!?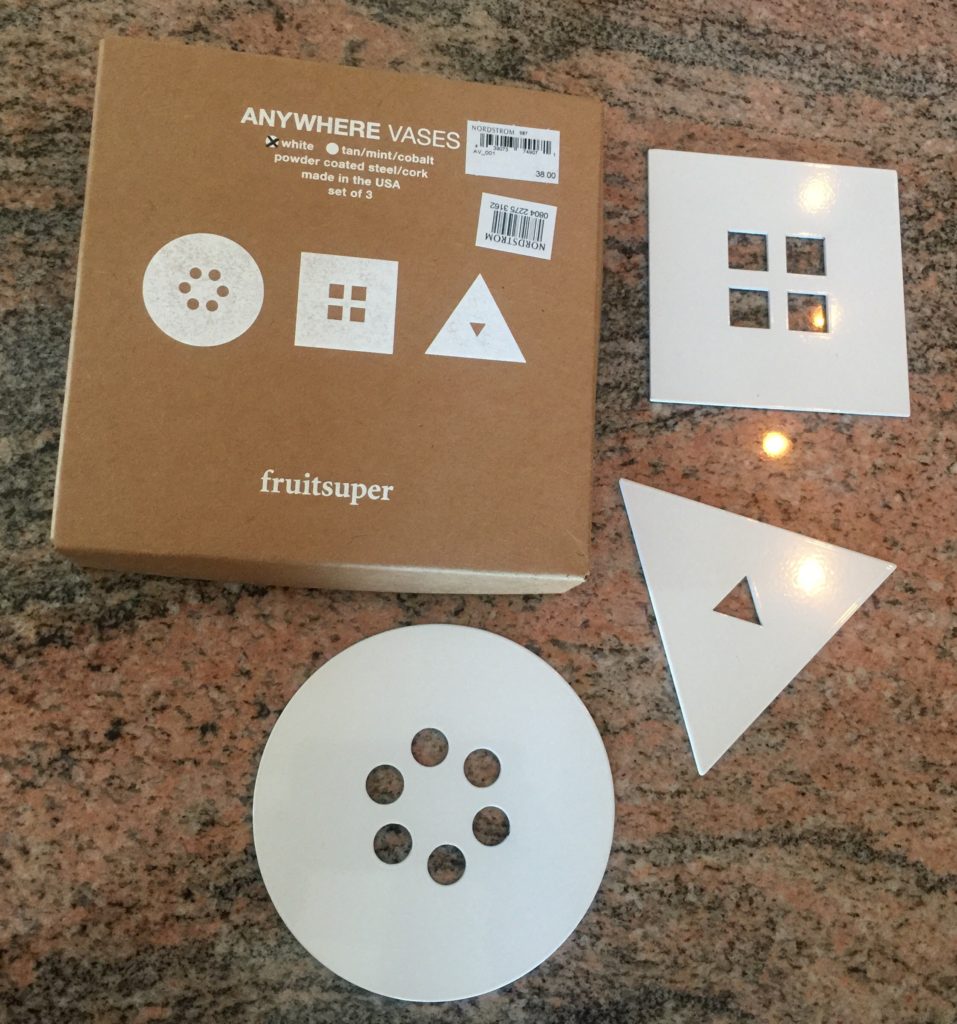 The Anywhere Vases cost $38, a veritable bargain when you consider how versatile they will be. I also liked that they are Made in the USA, according to the sensible cardboard packaging.
For one of my smaller bouquets, I went back to bold, contrasting colors when I chose to pair deep-purple sweet peas and shrubby yellow crest with a clear, royal-blue vase. The blue backlight really makes it sing!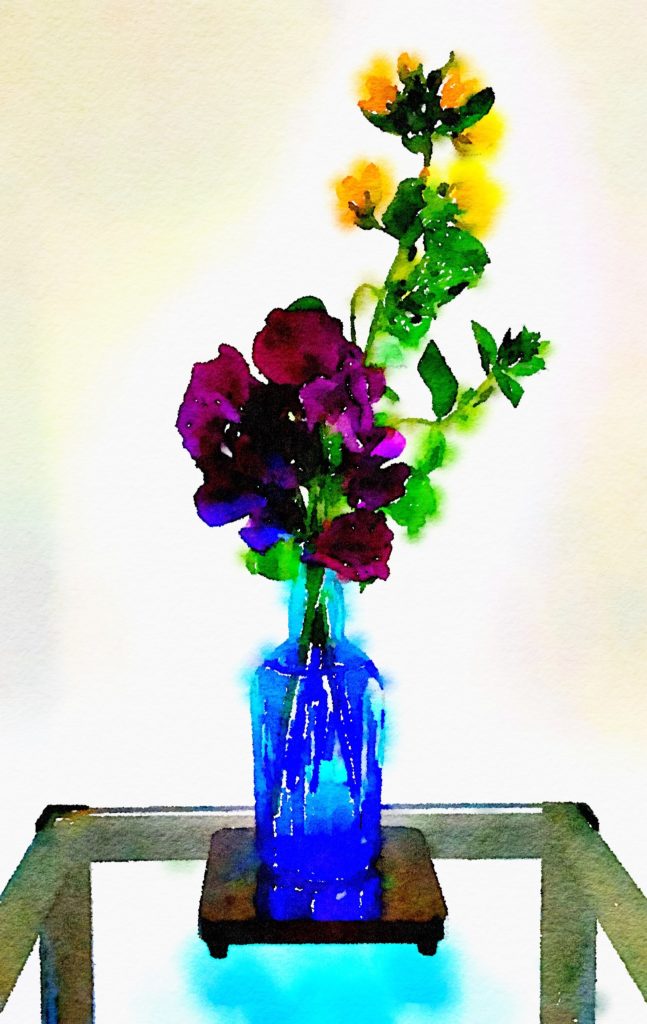 These pale-pink charmers look so dainty in a clear cylindrical vase backlighted in pink. Now I know what they mean by "pretty in pink!"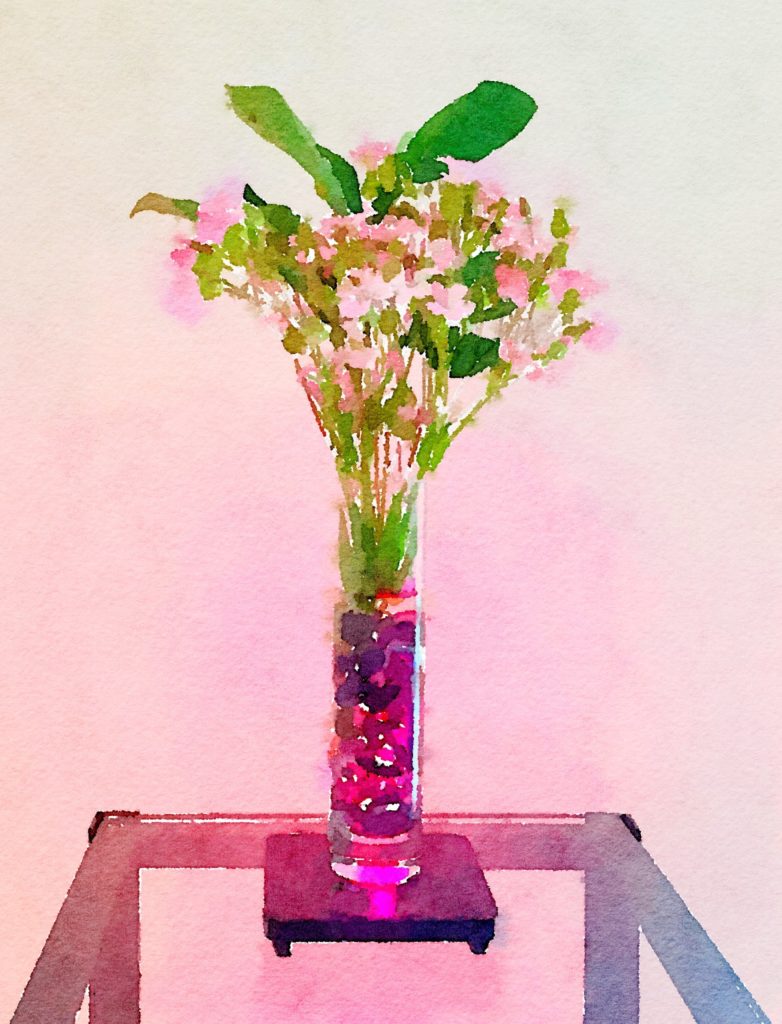 A single crimson lily and greenery looks jaunty in a clear green-glass vase.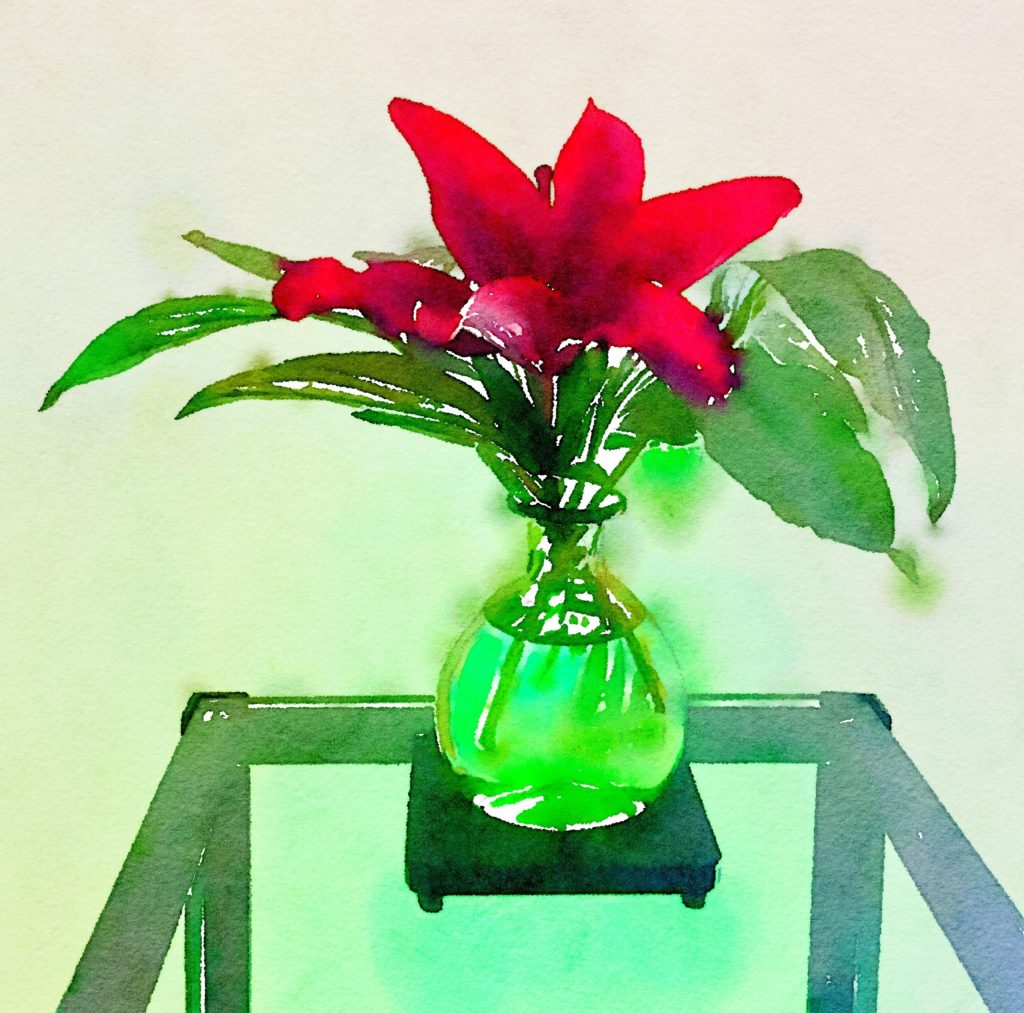 This vase below is another new find. . .actually a Rosé wine bottle with embossed flowers all around the base (hard to see on the photo, but they diffuse the pink backlight nicely). More dainty pink flowers and Shrubby Yellow Crest form the arrangement.
In case you want to enjoy a nice bottle of Rosé and a pretty vase afterwards, the wine is called Fleurs de Prairie 2017 and hails from Provence. Very appropriately, its name translates from the French as "wildflowers."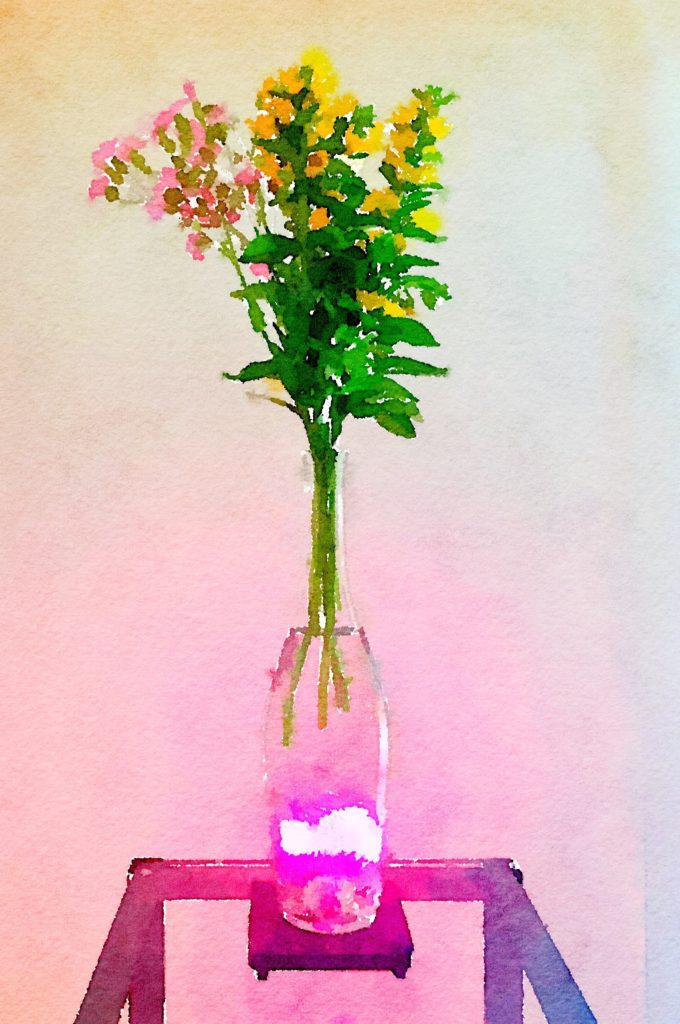 And here are my three small bouquets from Week Nineteen of the Bouquet-a-Week Project. . .more sweet peas and yellow crest in gayly colored vases.