Week Seven started off with a bang when I went to the Pike Place Market and bought a pre-arranged bouquet for $20 from one of the long-time flower farmers who sets up her stand under the famous Market clock.
This bouquet really caught my eye, thanks to the apple blossoms and gorgeous pink camellia at its center. It also included four pale, ruffly daffodils and eight tulips in white and pale pink. My idea of heaven!
Here is a photo of the fresh blossoms.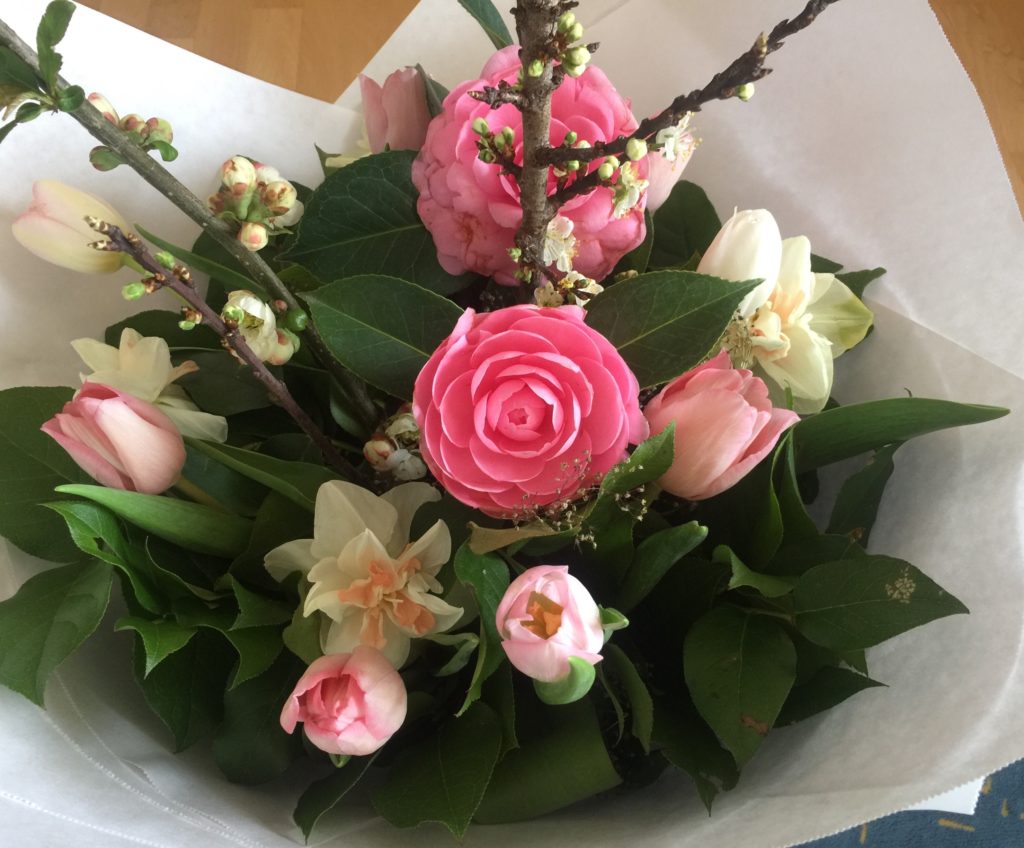 And here is my favorite shot of the fresh blossoms after I "painted" them in the Waterlogue app.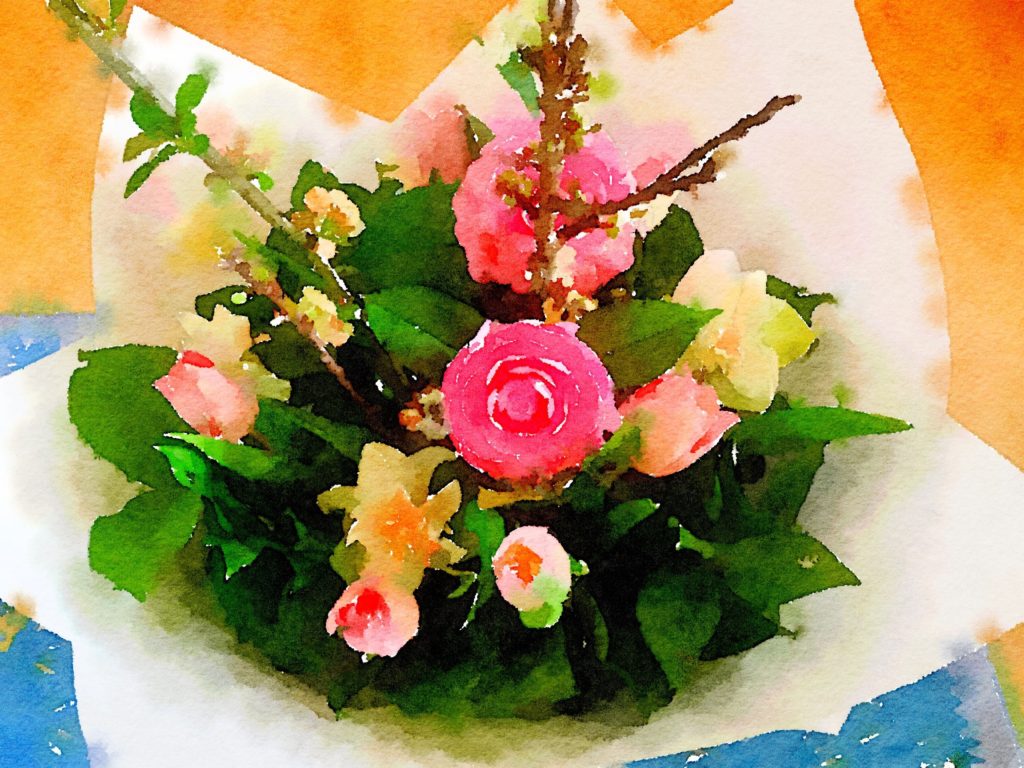 I felt like a kid in a candy shop with such a bounty of fresh blossoms to play with. From 14 flowers and lots of greenery, I created three major bouquets and three smaller ones.
Here is my favorite among the major bouquets. It is the essence of ikebana, the Japanese art of minimalist flower arranging.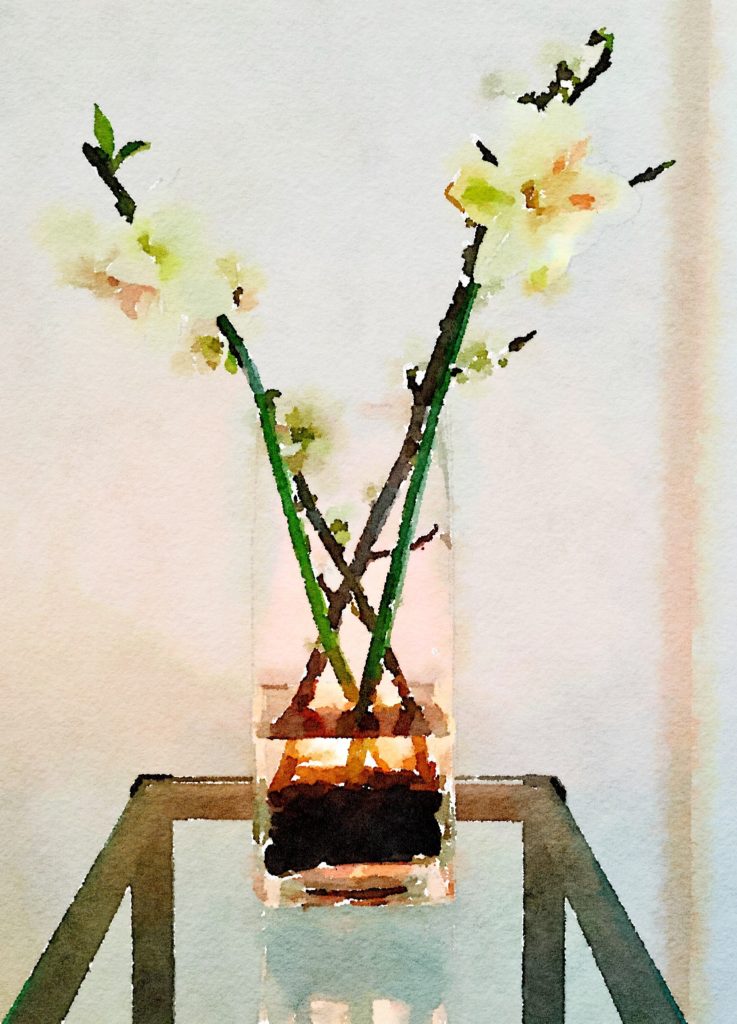 Here is another arrangement I am very proud of. I love how the tulips drape so effortlessly and sensuously across the curves of the  clear-glass vase backlighted in a neon shade of backlight.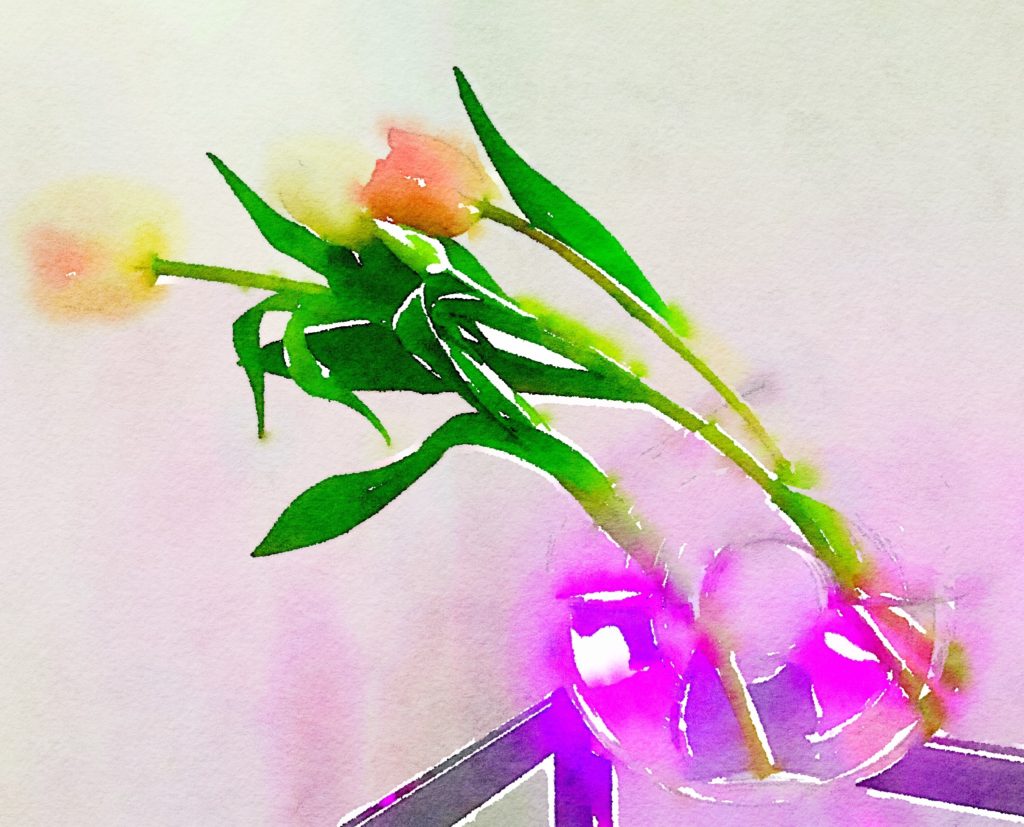 Here is the third major bouquet from Week Seven. The tulips were being very cooperative as they all stood up (fairly) straight and aligned perfectly. A rarity!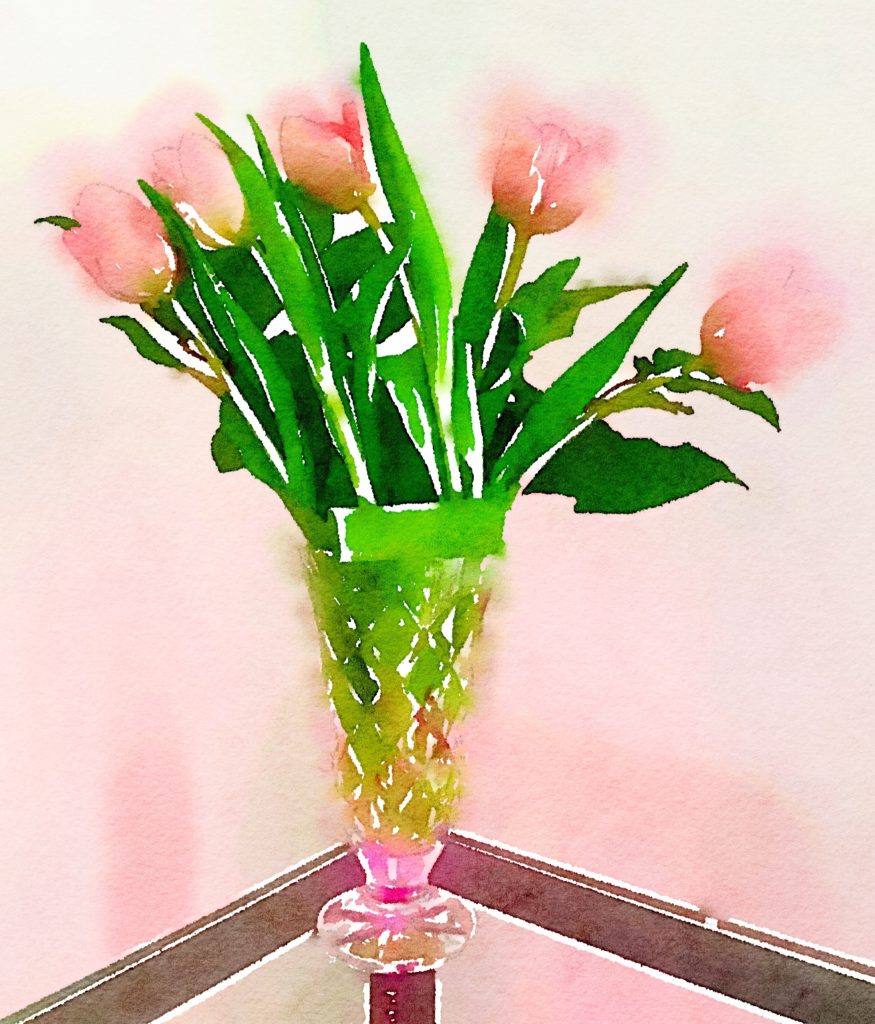 In addition to the three major bouquets, I was able to craft a trio of smaller arrangements from the big pre-made bouquet. I place these in our bathroom (one on each side of the double vanity) and another on the stand-up desk in my office.
This perfect single pink camellia reminds me of my mother, who used to raise camellias when I was growing up in the suburbs of Philadelphia. How she got these Southern-region flowers to survive there is beyond me. She also nurtured several young magnolia trees in our front yard until they towered over the dwarf Japanese Maple trees.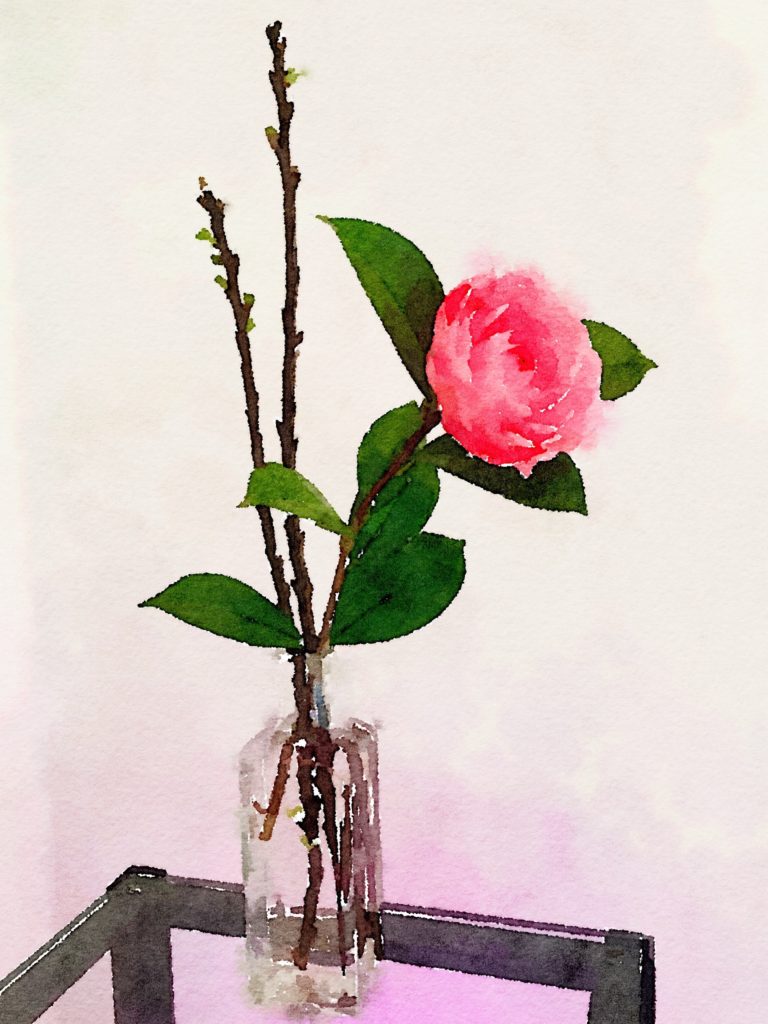 Three of the pale, lacy daffodils and some greenery fit perfectly with this green-glass vase that I got as a child when our family took a car trip from my hometown of Philadelphia, Pennsylvania, to Williamsburg, Virginia.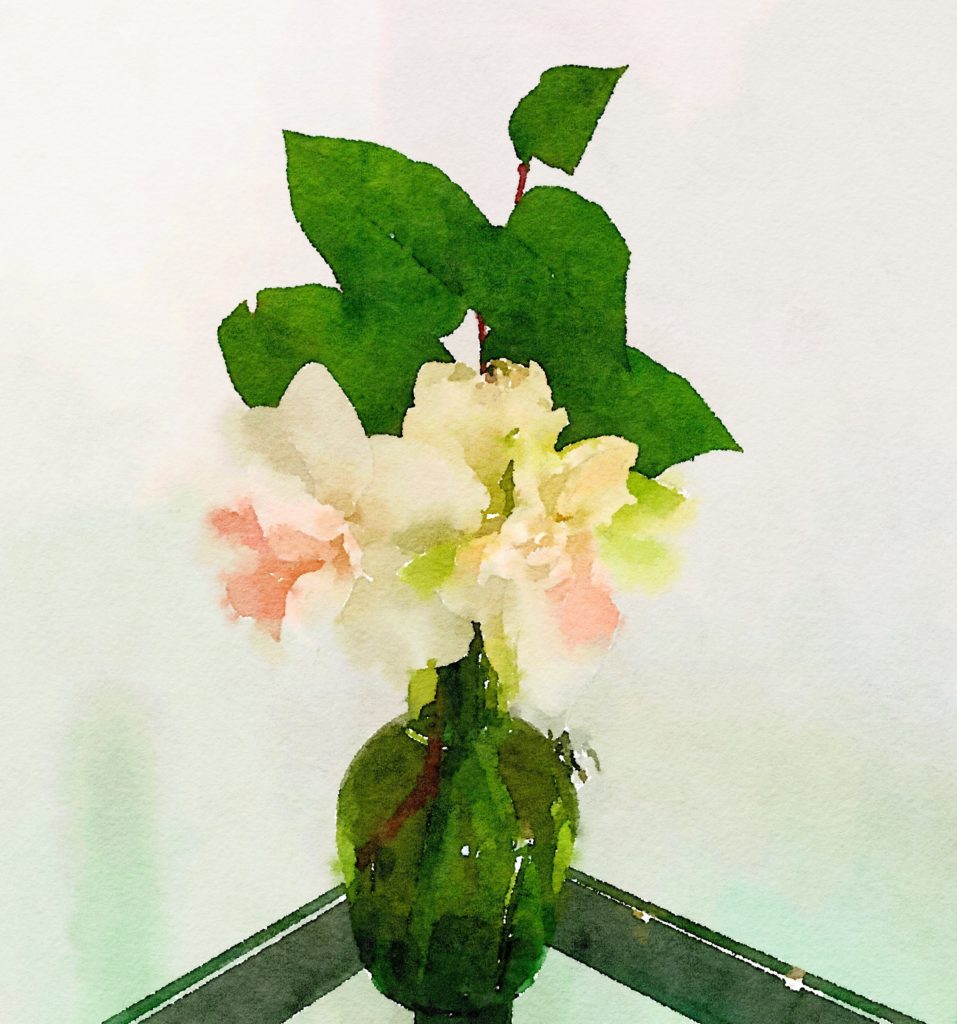 This single camellia looks gorgeous in my cobalt Buddha vase.