It was May Day, which also happened to be the official launch date of this website! My labor of love, which I had been working on since January, had finally come to fruition and I was ready to share it with the world.
At nine o'clock that morning, I had sent out a Constant Contact newsletter to my subscriber list that resulted in many congratulatory emails and positive feedback. Hooray!
To celebrate, I headed to the Pike Place Market for my weekly flower haul. Still under the spell of the monochromatic bouquets I had created during Week Eleven, I decided to try that concept again, but with darker-colored blossoms.
Once inside the Main Arcade, at the very first farmer's stand, I spotted some deep-pink, almost purple peonies at the very first stall. The fluffy heads appealed not only because of their dense, lush petals, but because I hadn't yet worked with peonies this spring.
I asked the flower farmer, a congenial man who aimed to please, for four of those blossoms, which cost $2.50 apiece. Next I spotted some dark-burgundy tulips with spiky petals that I knew would coordinate with the peonies and asked for six of those. Finally, some "parrot" tulips with red petals and green stripes caught my eye.
The tulips cost $10 a dozen, so I had reached the $20 maximum for my weekly flower budget.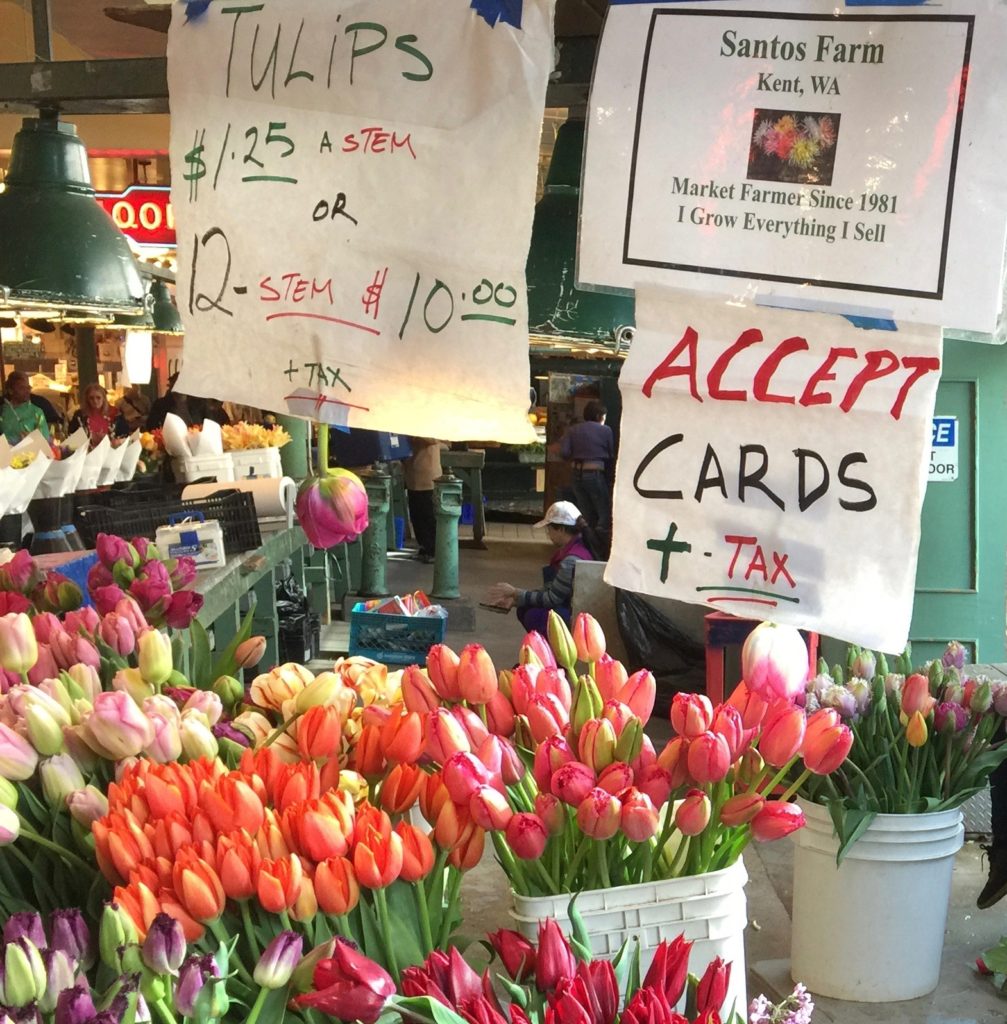 The affable farmer, Eric Santos, insisted on creating a bouquet, even though I explained that I was heading right home to create my own designs. He wanted to trim the stems of the blossoms, but I told him to just leave them like they were. Here is the lovely bouquet he offered to me.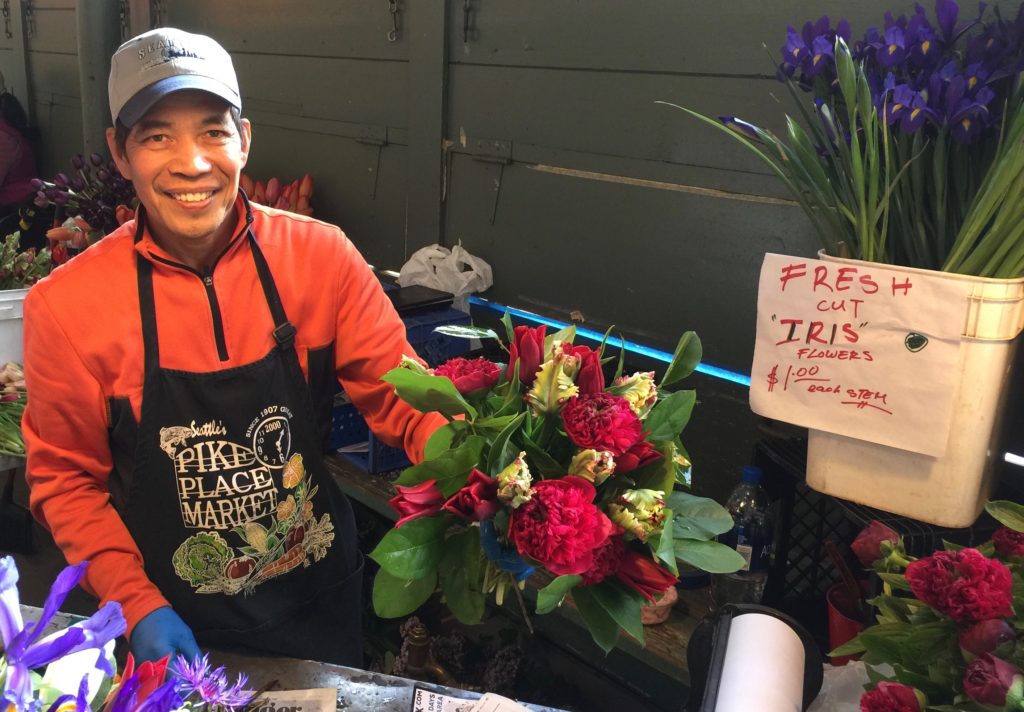 Here are the raw flowers from that celebratory Tuesday afternoon.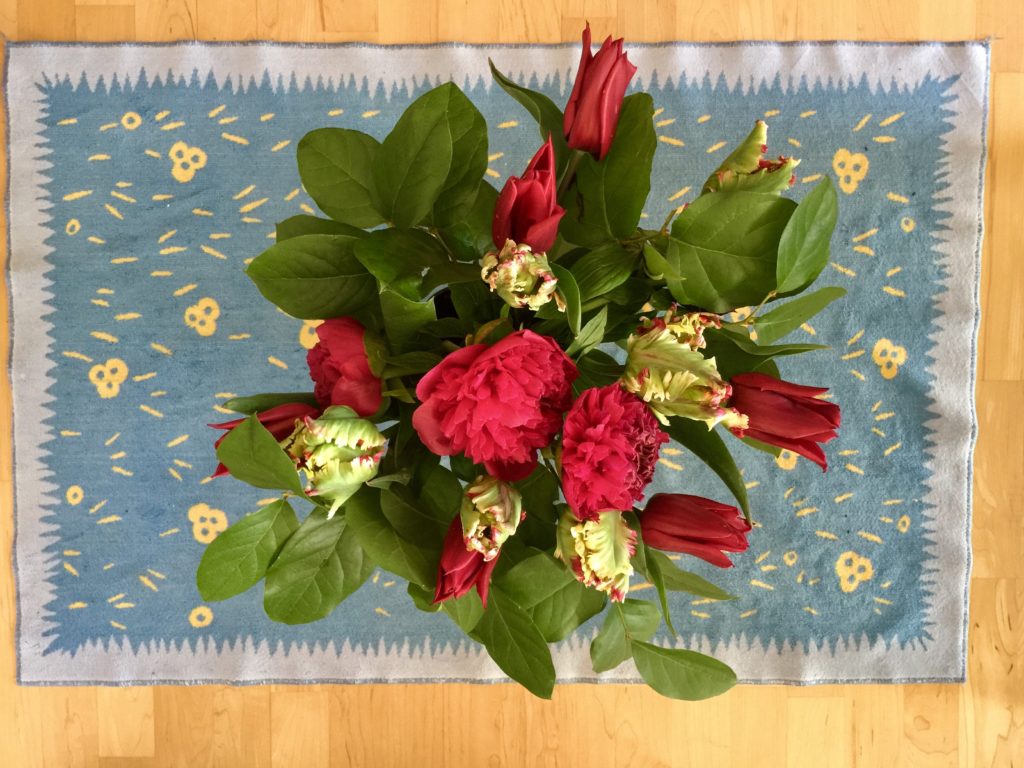 And here is that same jaw-dropping bouquet "painted" in Waterlogue.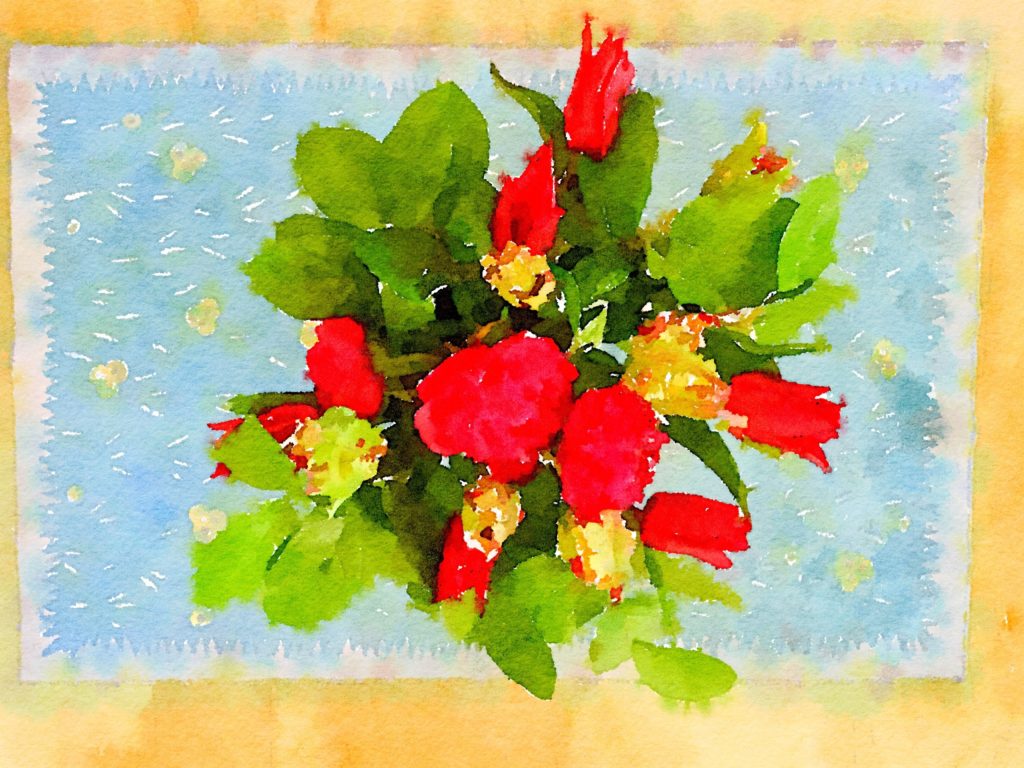 The moment I saw it among my collection of vases, I knew I had found the perfect vessel to display the spiky burgundy tulips and greenery. Talk about color-coordinated!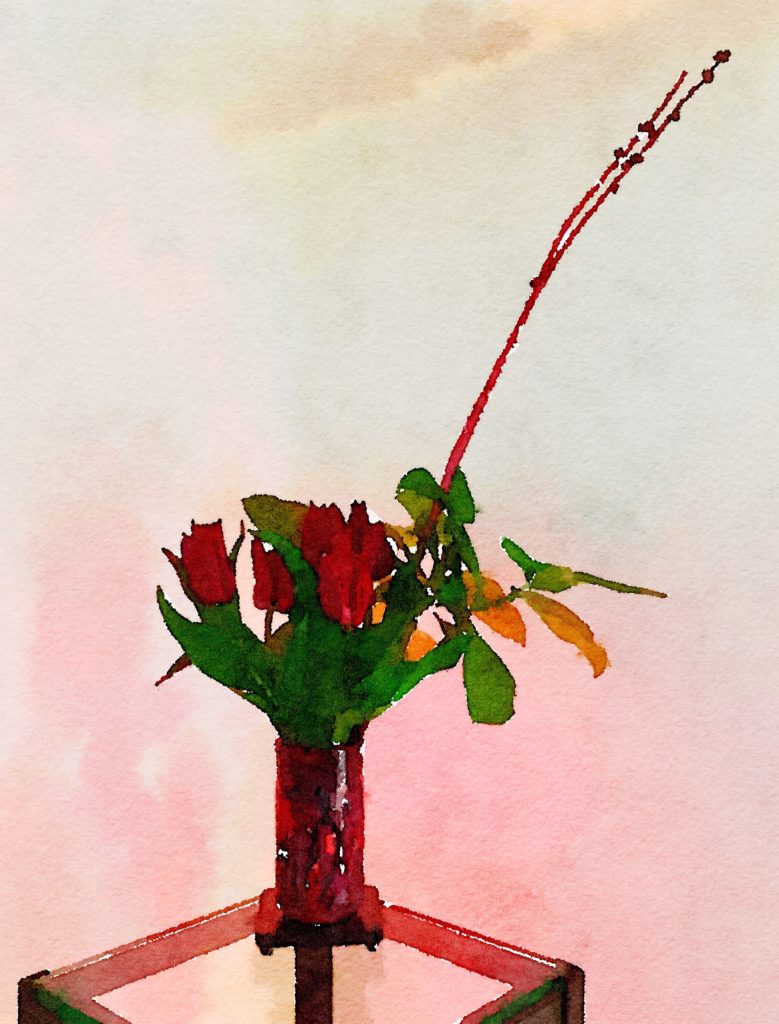 The "parrot" tulips didn't need much to highlight them, so I chose a clear glass vase and smooth black stones.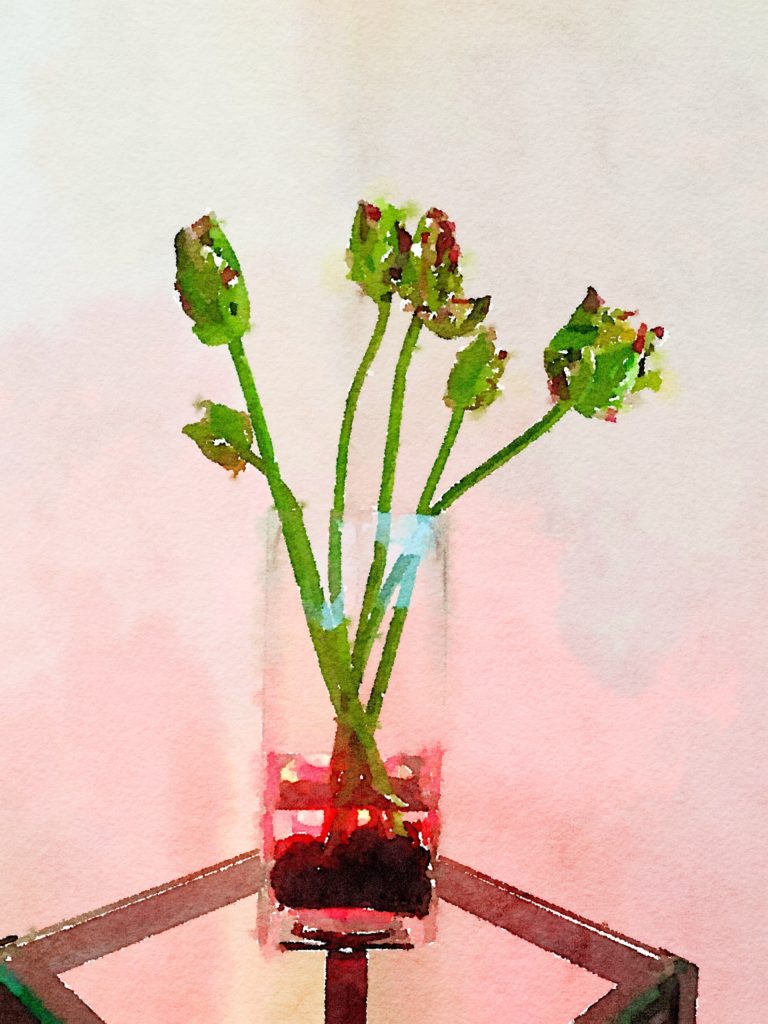 I saved the four peonies for Week Twelve's smaller bouquets. Here is a dashing trio with a clear glass cylinder flanked by my beloved Buddha vases.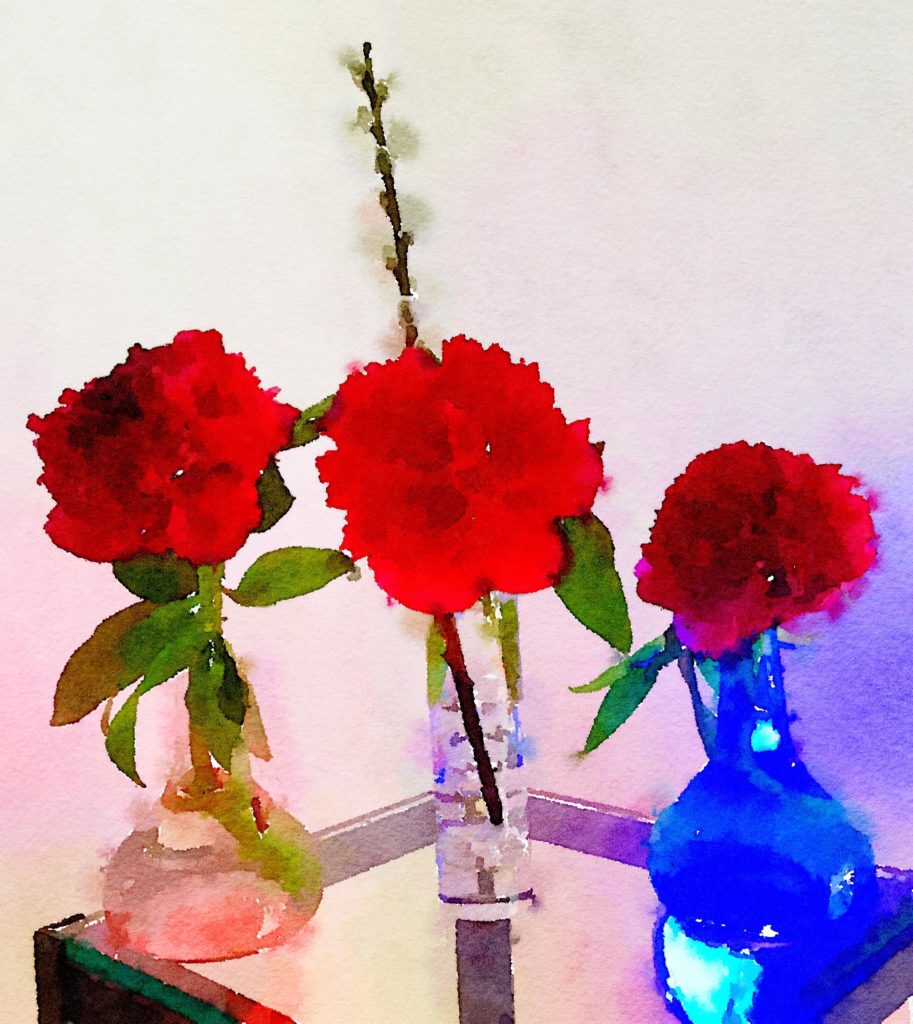 And here is the same photo with the addition of the fourth small bouquet (green vase). There was hardly enough room on the etagere to make them all fit!