I went a bit wild in Week Nine, deciding to buy flowers early in the day and hoping to get to the Pike Place Market earlier than usual.
But the work gods didn't cooperate, and I didn't make it to the Market until close to 5 p.m. on a chilly Thursday afternoon when I wasn't even sure many flower farmers would still be there.
But thank heavens, several hearty farmers were still creating bouquets and happily hawking their wares under the Market Clock.
I walked up and down the aisle in the Main Arcade, comparing and contrasting the pre-made bouquets. But, unlike in weeks past, nothing   really caught my eye.
Instead, I spotted a white-plastic bucket jam-packed with spiky purple tulips and another that contained ruffly daffodils with tiny heads.
Upon closer inspection, I realized that the there were two or three small daffodils on each stem. Quickly, I asked for 10 of them, along with six of the purple tulips.
The rather unfriendly farmer (I think she wanted to go home–and who could blame her, it was cold and late, after all) handed me my flowers and asked for $11.
Right next to that farmer, I saw another woman with a bucket full of beautiful branches that I thought might be from a dogwood tree. But the delicate flowers were pale yellow, and I'd never seen a yellow dogwood. When I inquired, the farmer said they were branches from a magnolia tree, my late mother's favorite. I asked for one branch, which cost all of $3.
I felt like a queen as I walked along First Avenue to our condo with two bouquets in hand that cost a grand total of $14. When I got home, I realized that, consciously or subconsciously, I had chosen blossoms in my husband's and my favorite colors (yellow and purple, respectively).
Here are the raw flowers from that wild Week Nine.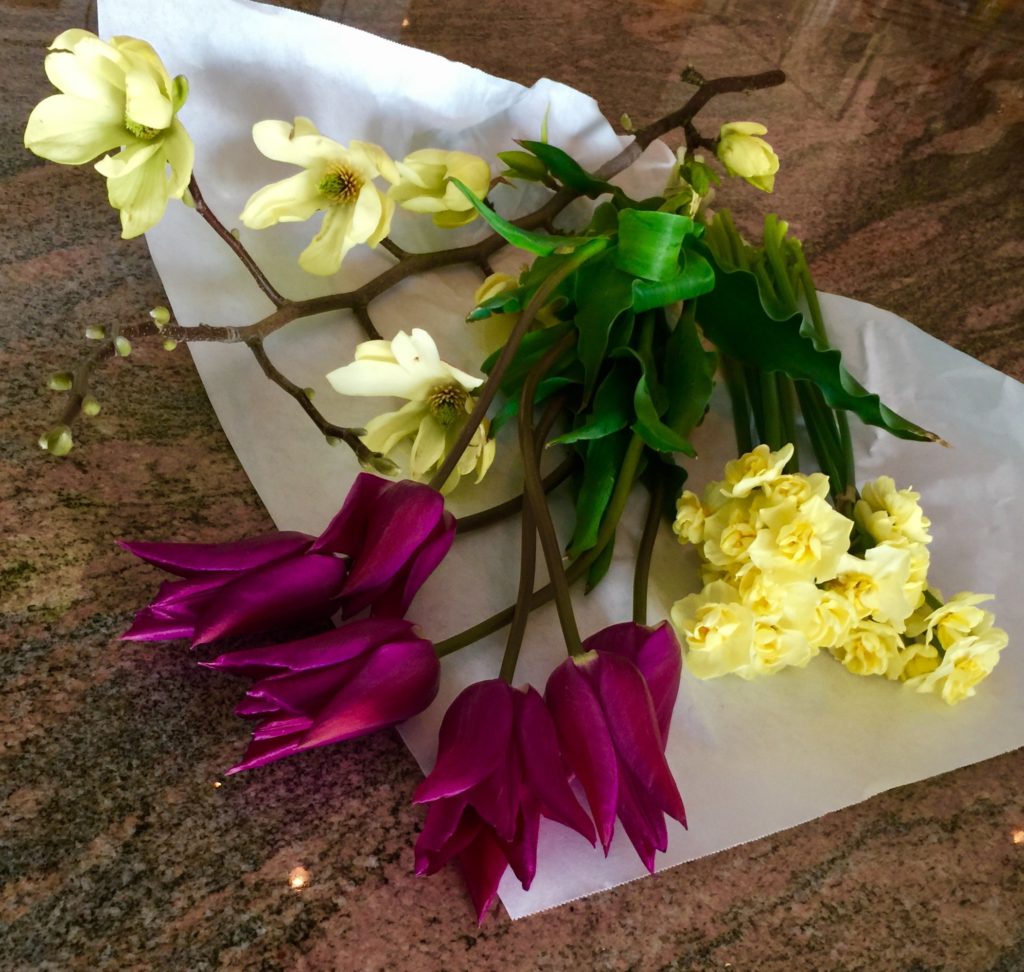 And here are the flowers "painted" using the Waterlogue app.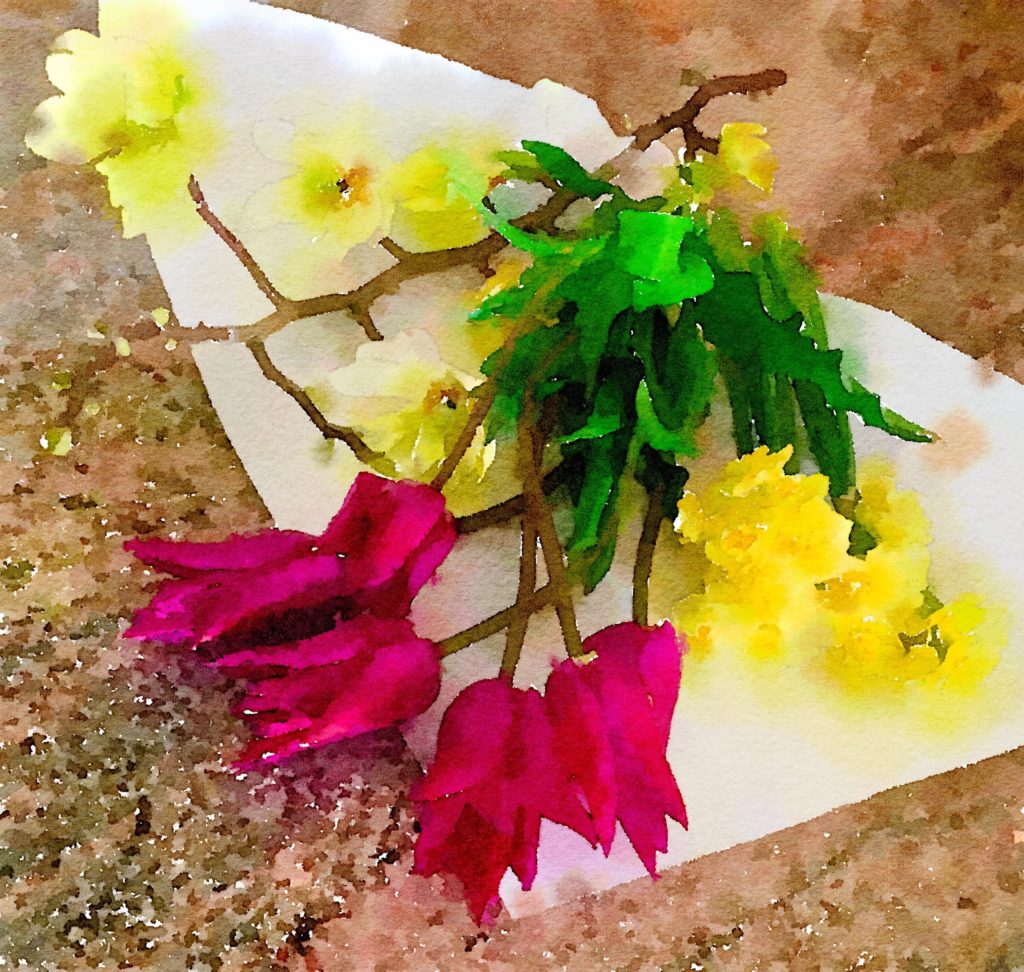 Here is one of the major bouquets I created that week using only three of the spiky purple tulips and the magnolia blossom. To me, this bouquet is the essence of the principal of ikebana.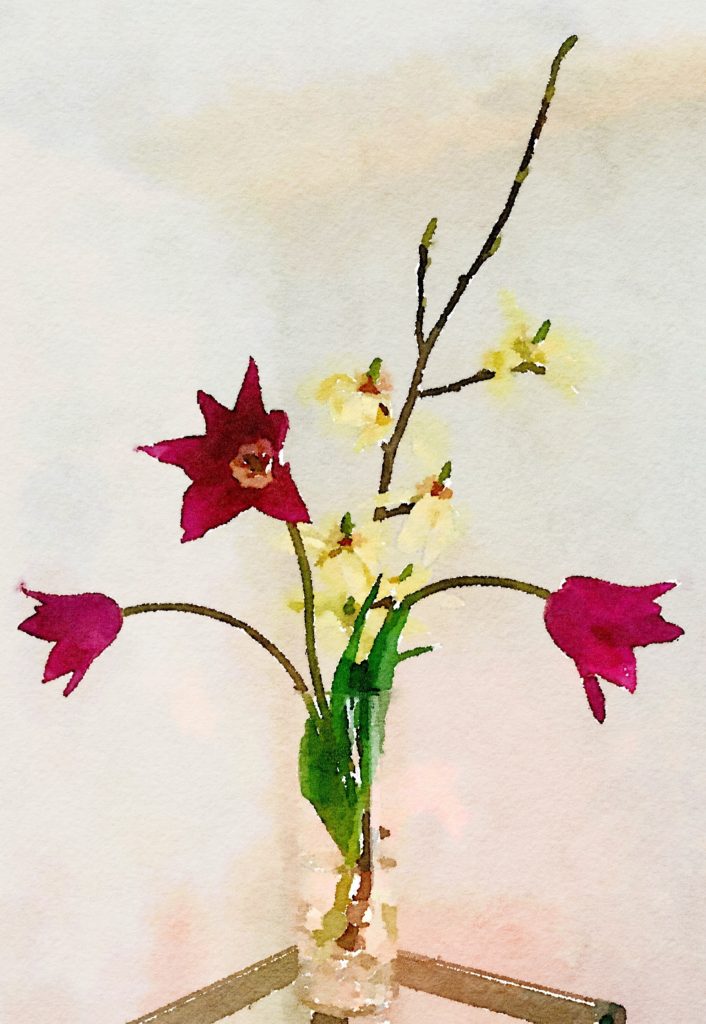 Here is the same bouquet, after one of the tulips had broken in the middle and (oh, so sadly) had to be pulled out and reused in a smaller bouquet. Since the base photo was taken at night, the background became all dark and moody, with intriguing shadows at the top.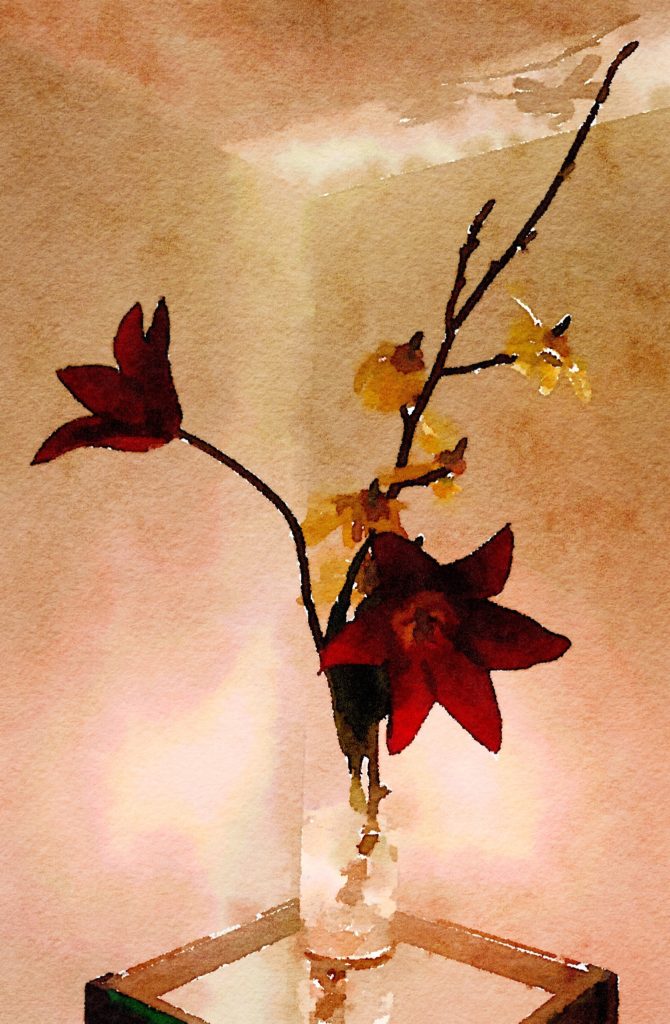 This bouquet (which really isn't so much a bouquet as the positioning of two of the purple tulips in a vase!) is so sexy. I love it when my tulips behave just as I want them.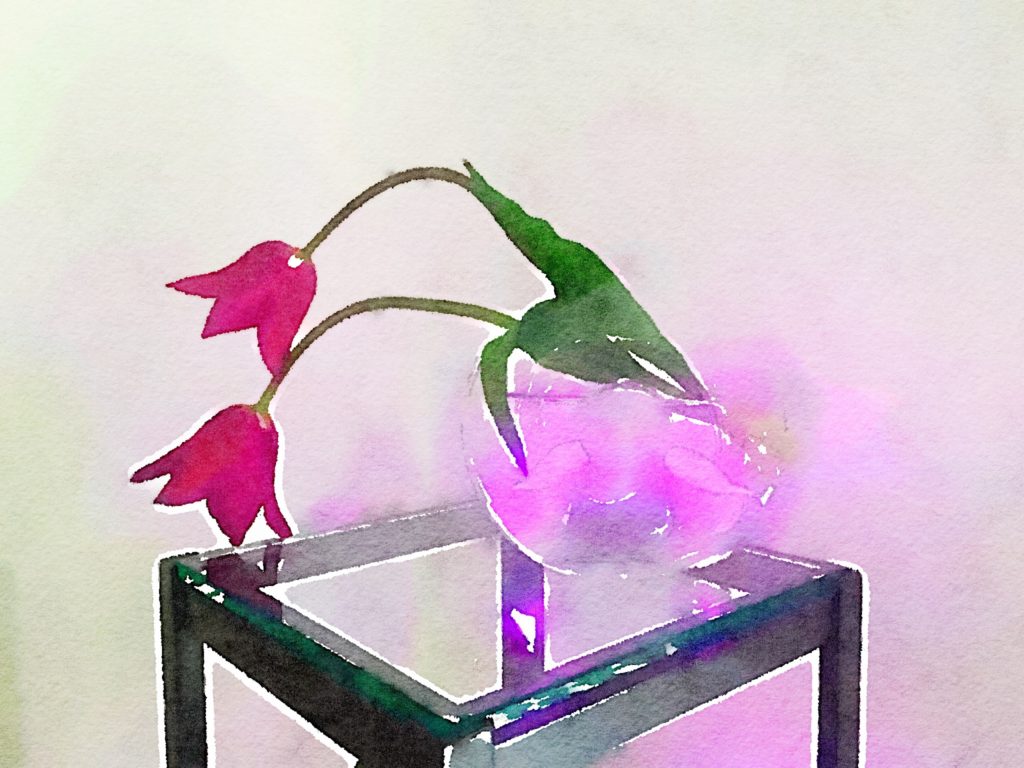 Here are the same two tulips in a tall "vase" that was originally a water bottle (!). It isn't nearly as sexy, but fun to see how different it is than the arrangement above.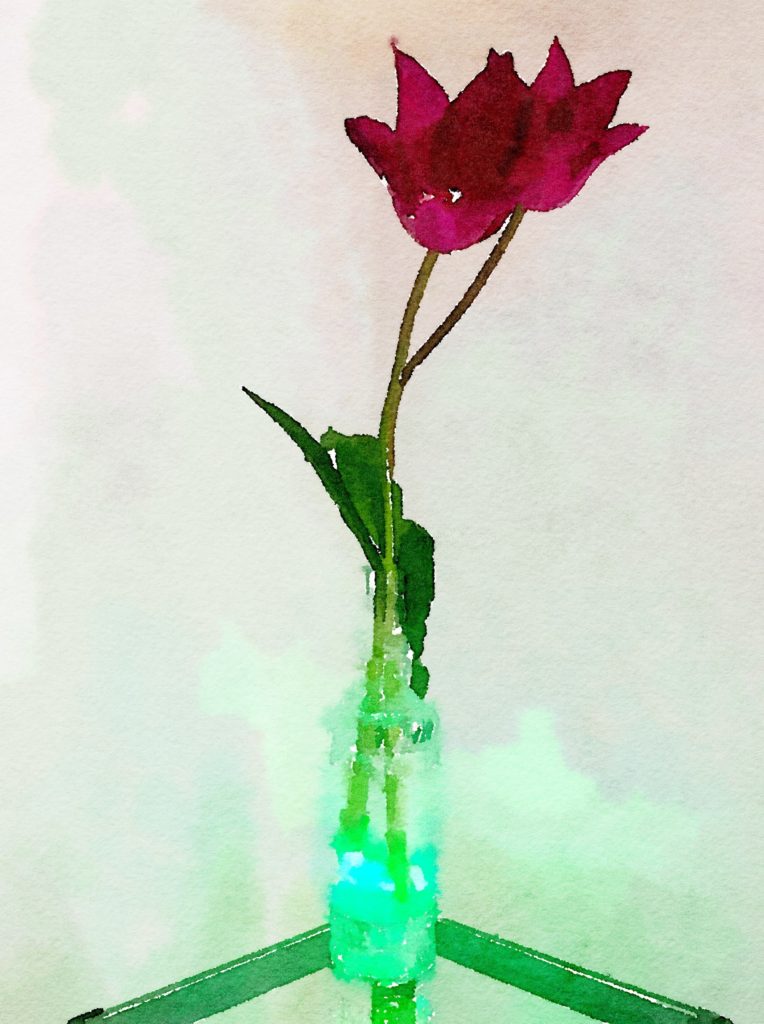 And here are some of the smaller bouquets from Week Nine that make use of the gorgeous multi-headed daffodils and pussy willows (left over from a prior week).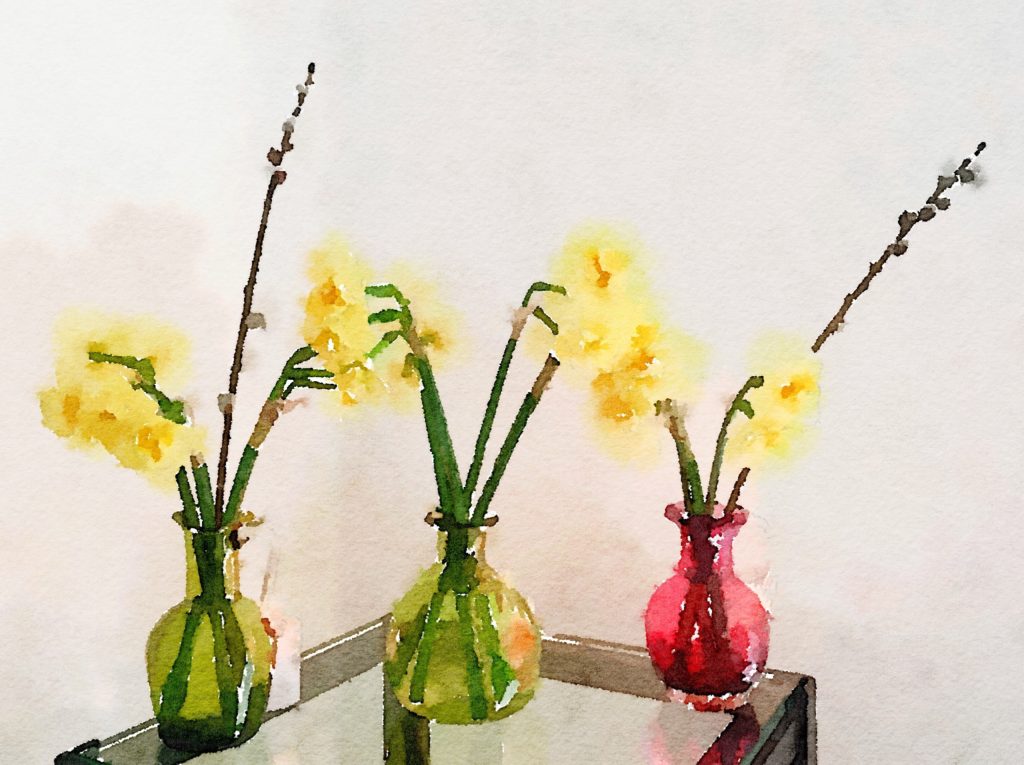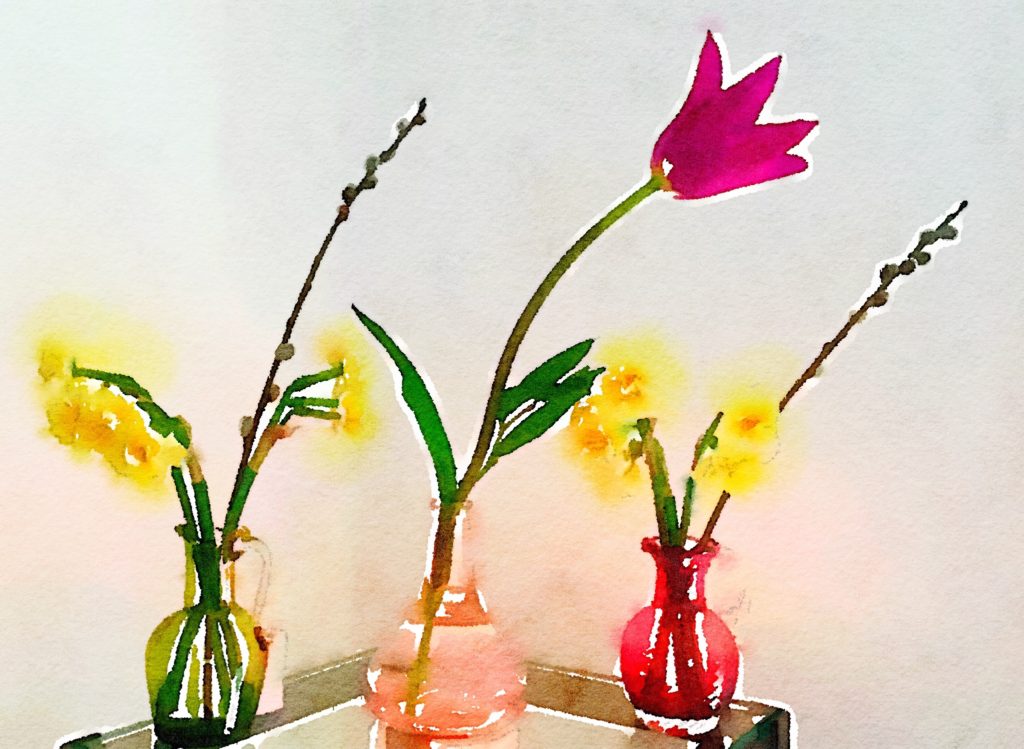 Here is the vase that I most often use in our bedroom since shelf space is limited. I am a new convert to these double- and triple-headed daffodils and plan to seek them out next time I'm at the Market.