Week Twenty-Six in the Bouquet-a-Week Project brought a welcome change of pace because our long-time housekeepers surprised me with a dozen, deep-maroon dahlias. The flowers came freshly picked from the head housekeeper (and owner of the agency's) garden near Fife.
The dahlias were delivered in a classic clear glass vase, the kind you get from the florist. I didn't have the presence of mind to snap a photo, but here is the sort of vase I mean, painted using the Waterlogue app.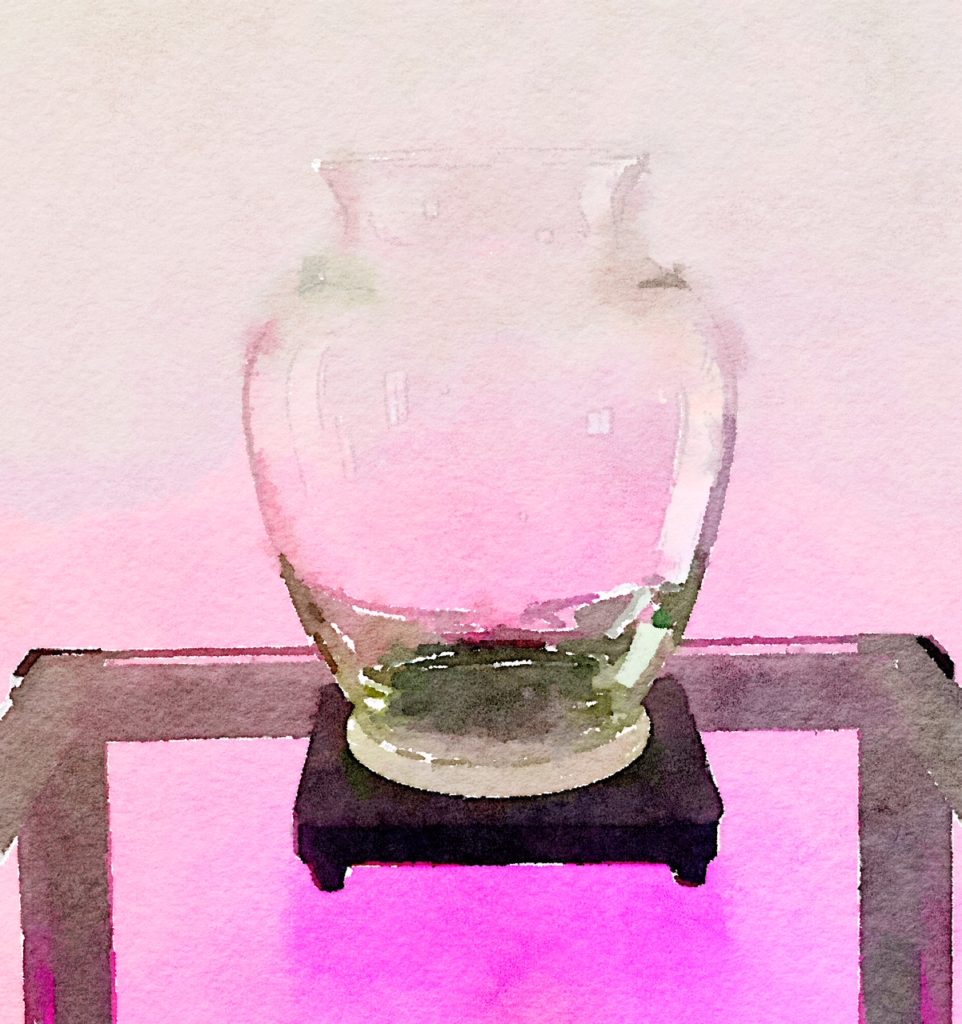 It was a pretty vase, but since I already had several like it, I let the housekeepers take theirs home and chose one from my collection instead.
Here is the first bouquet I created, which the way-too-kind ladies ooh-ed and aah-ed over. It reminds me of a nosegay and the kangaroo paw adds needed height.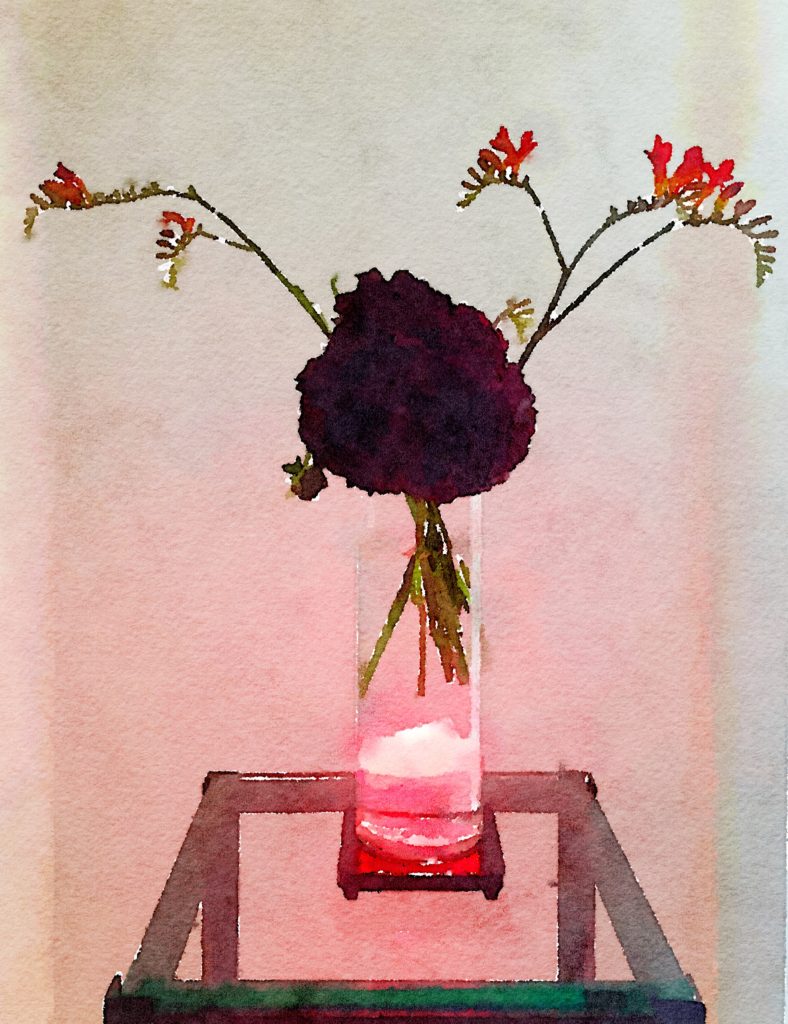 Just for fun, after the housekeepers left, I transplanted the fistful of flowers into this antique cranberry-glass decanter. It looks beautiful backlighted in red and framed by a few sprigs of kangaroo paw and greenery.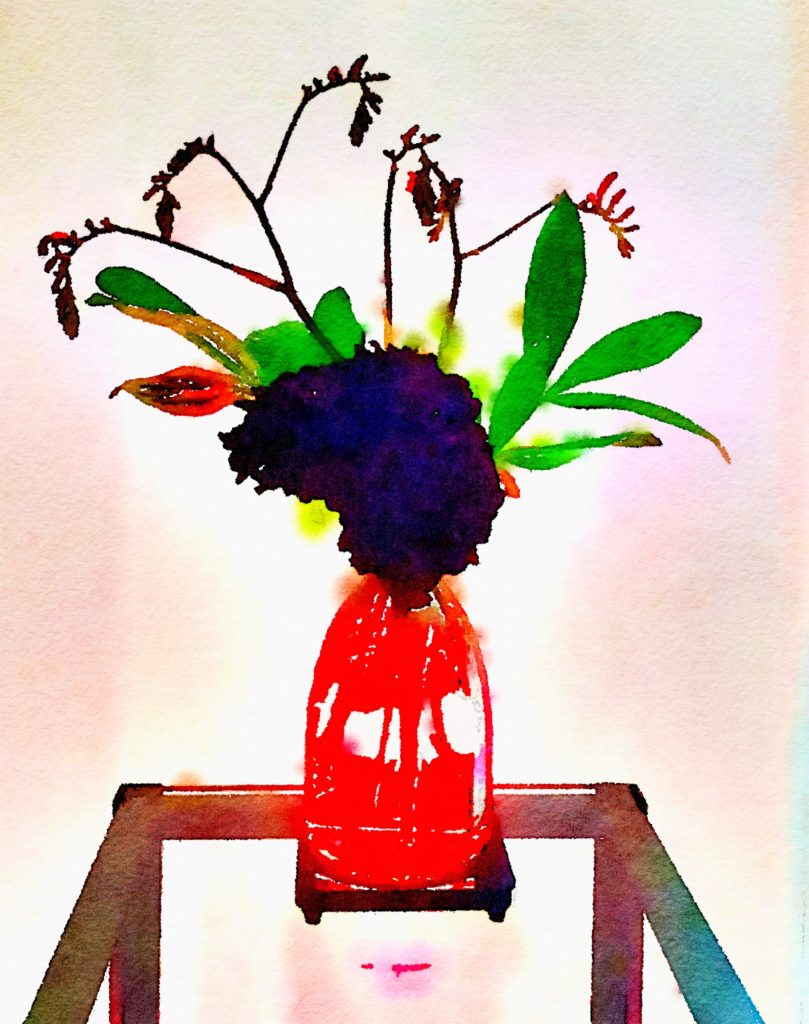 The decanter used to sit proudly on the cocktail trolley in the dining room of our family home in suburban Philadelphia. During fancy dinner parties my parents used to throw, my father made a big deal about serving after-dinner Port (which he called "a nightcap") from the heirloom decanter.
Here are the four small bouquets of Week Twenty-Six, which also included some left over flowers from the Bouquet-a-Week Project, Week Twenty-Five.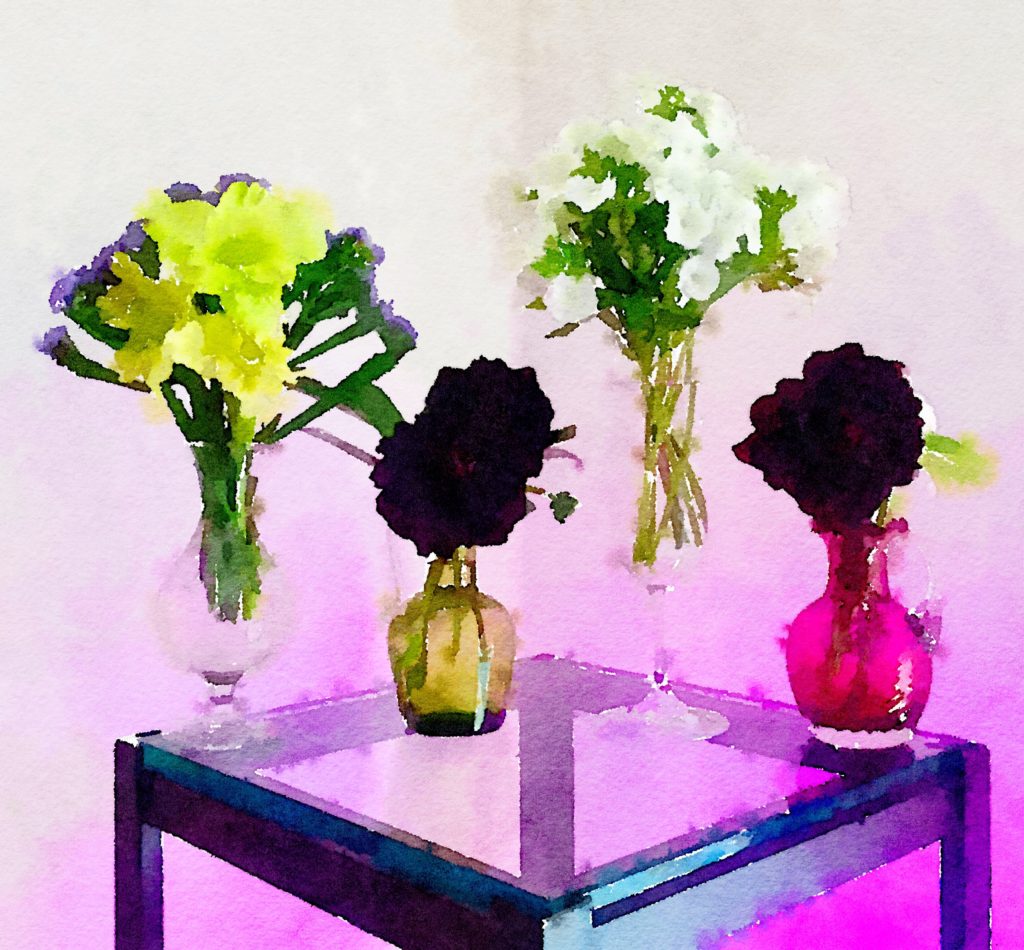 I love this threesome of small bouquets as well.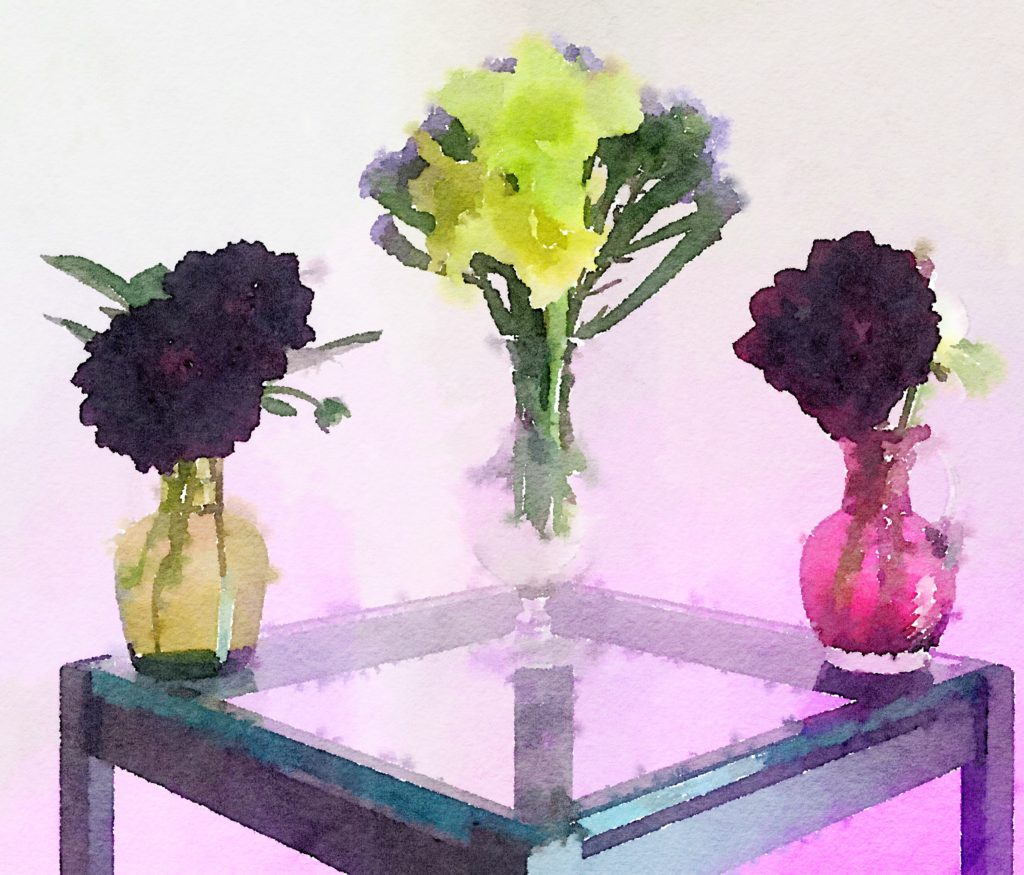 I also had some Asian lilies and a kangaroo-paw sprig left over from the prior week, and arranged them in a clear-glass cylinder over smooth, ebony stones to dramatic effect.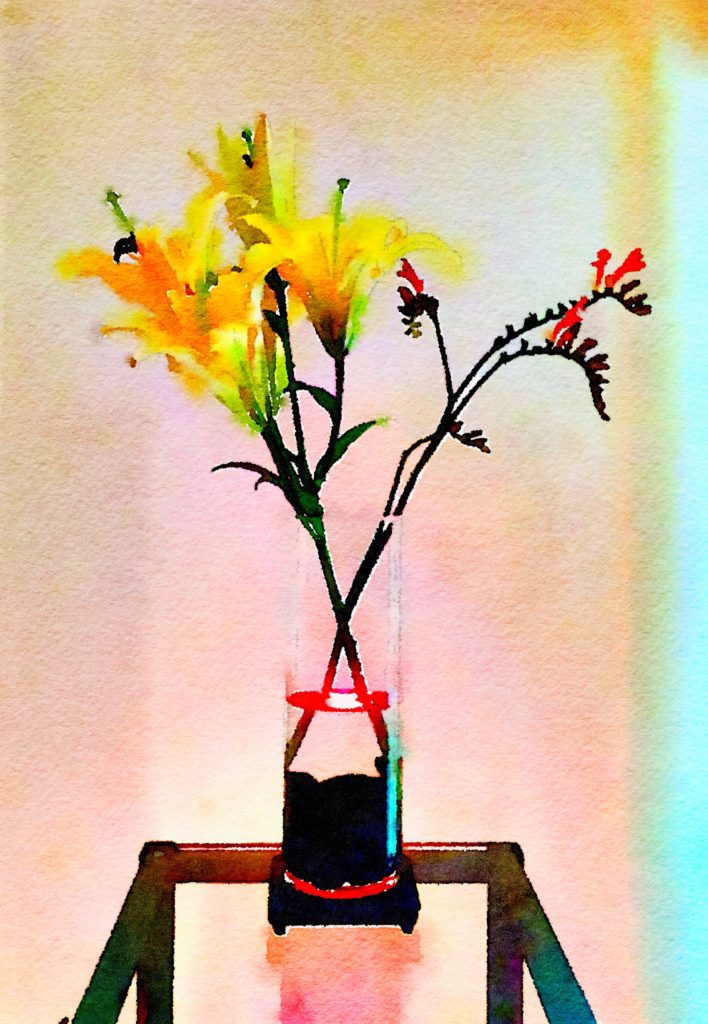 It's amazing how a simple Champagne flute serves as the perfect vessel for a handful of Golden Arrow, stems carefully arranged in a criss-cross pattern.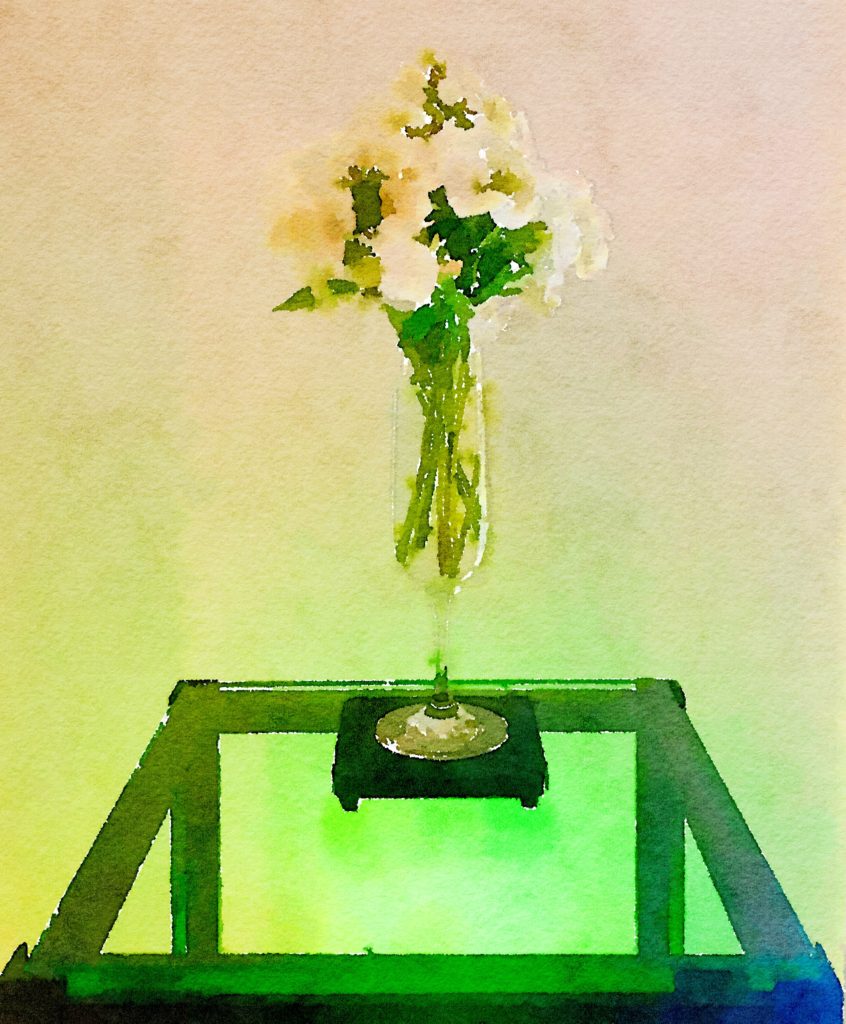 A single cheerful sunflower and some purple dried flowers from Week Twenty-Five (more long-lived leftovers) take on the look of a Van Gogh painting when placed in my favorite blue Buddha vase. Warm summer sunlight!