I followed my now-predictable pattern of buying Pike Place Market flowers late on a Thursday afternoon. But this week I decided to follow the previous week's initial idea of a monochromatic bouquet.
Bound and determined, I headed to the Market and spotted some gorgeous "parrot" tulips that were mainly white, but with green markings. On the other side of the flower farmer's stand stood tall, pristine white tulips that I knew would pair perfectly with the parrot tulips.
Here are the raw tulips from Week Eleven.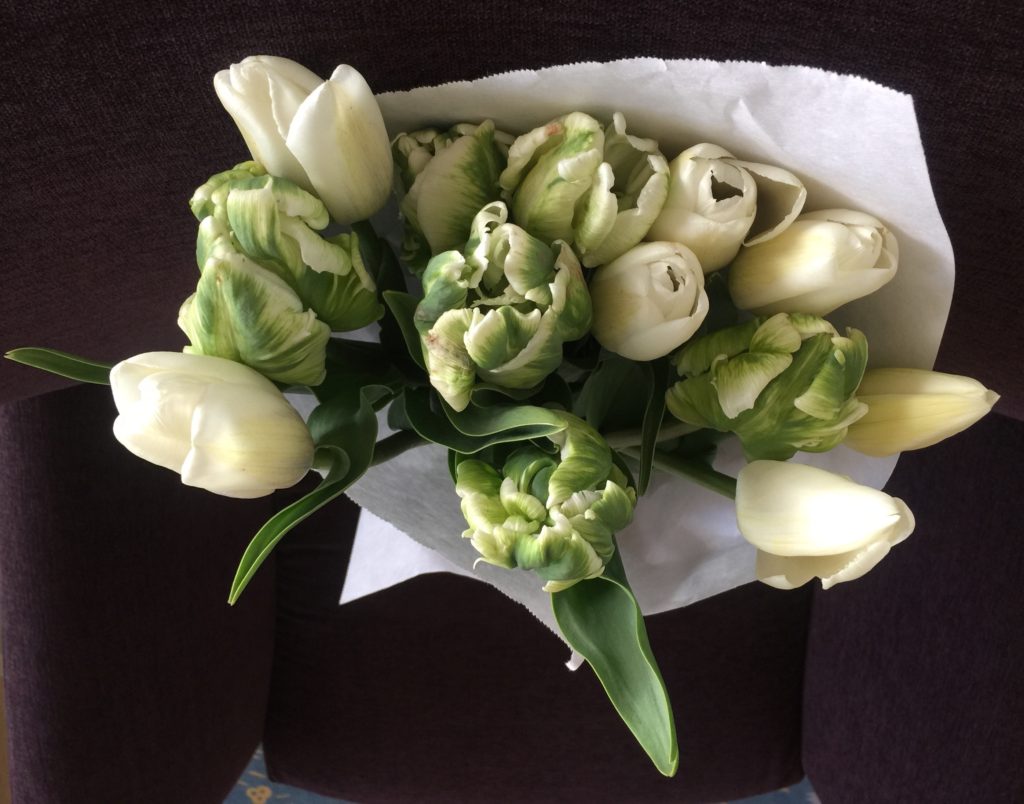 And here are those same tulips "painted" in Waterlogue.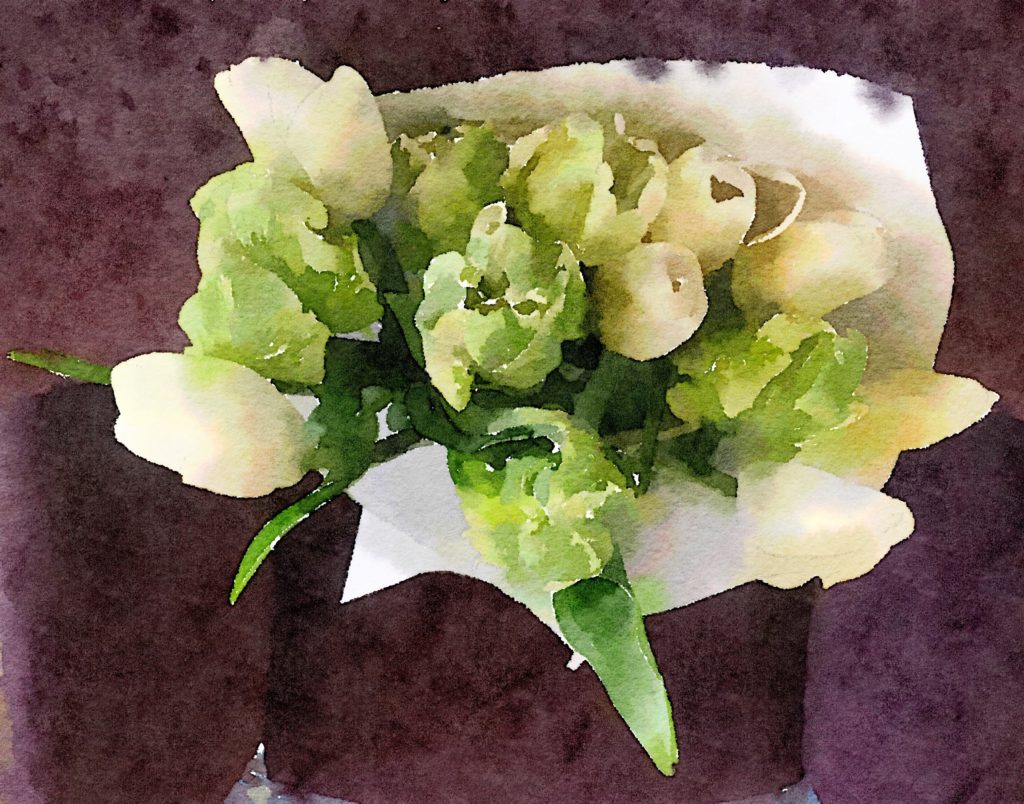 I busily set about figuring out the best vases for such pure and majestic blossoms and decided that stark black would form a fitting contrast.
Here is the first major bouquet I created during Week Eleven.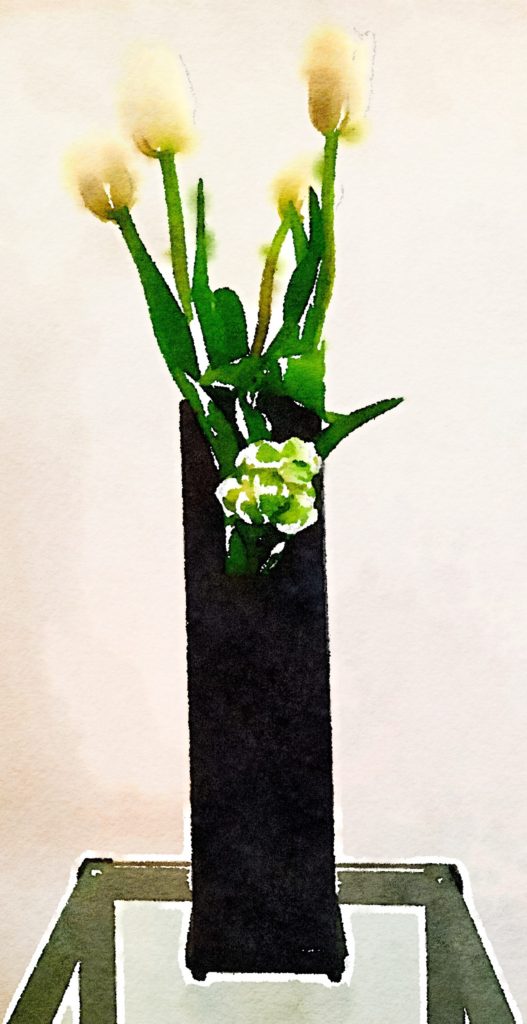 As an experiment, I took the same shot in the late afternoon on a sunny day, known to photographers as the "golden hour." I was really pleased with the moody shadows that led to such a dramatic result.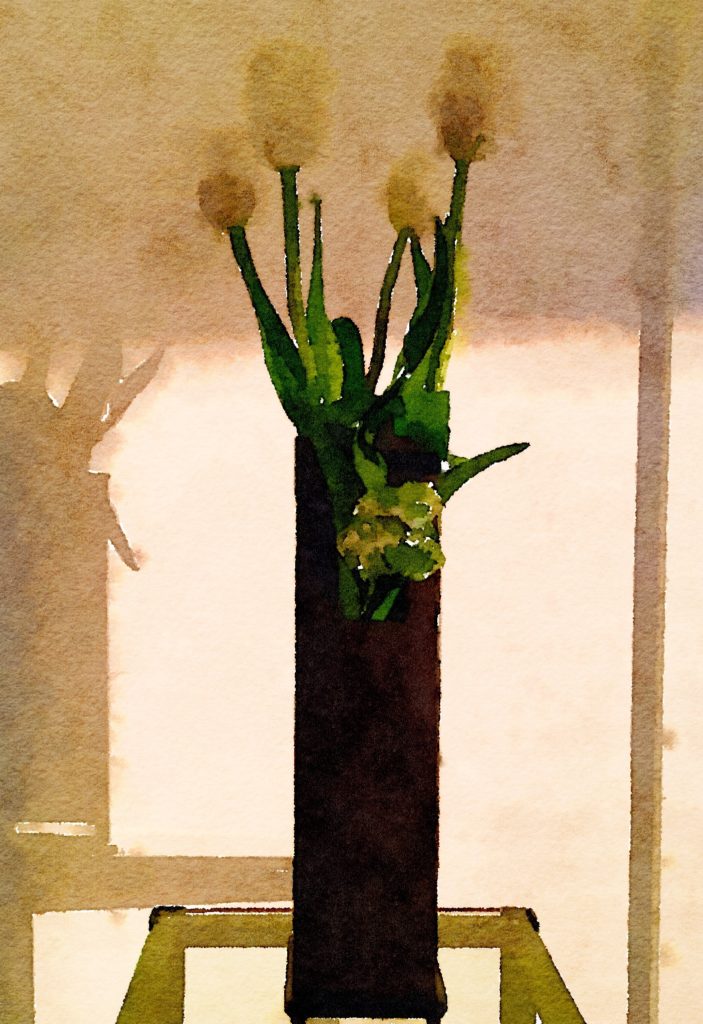 Returning to brighter lighting, here is another major Week Eleven bouquet in an all-time favorite vase. The small stand is something new that I picked up for $1 (!) a few weekends ago at the annual Seattle Cherry Blossom & Japanese Cultural Festival at Seattle Center. I'm sure you'll be seeing the stand in many upcoming photos.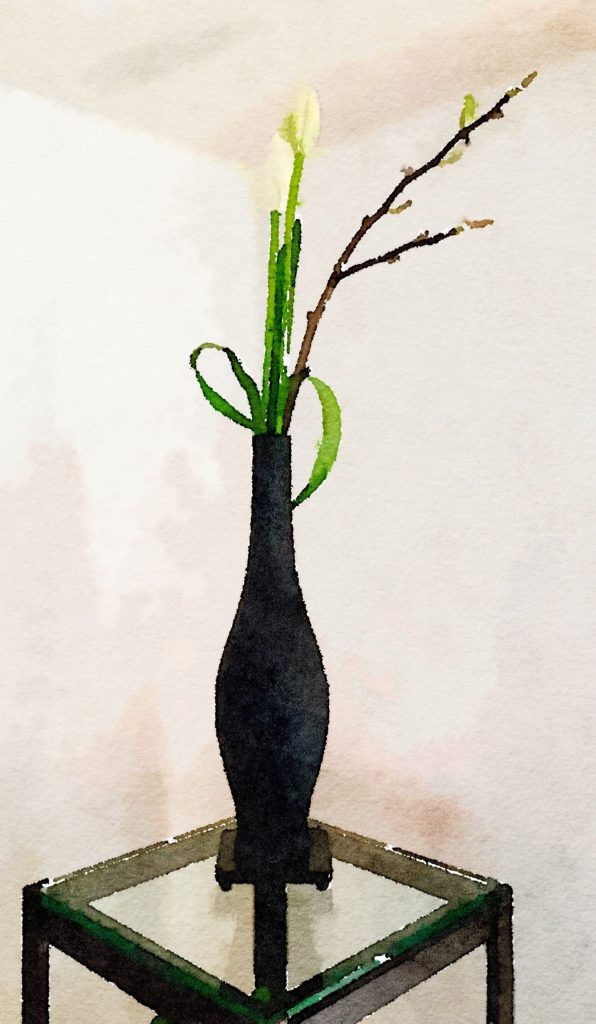 As an interesting contrast, here is the same bouquet, but with the two white tulips after the blooms were fully opened. I love this "fluffy" look (in which the tulips look more like magnolias) almost as much as the more austere tulips above. Both bouquets display the Japanese concept of minimalist flower arranging, called Ikebana.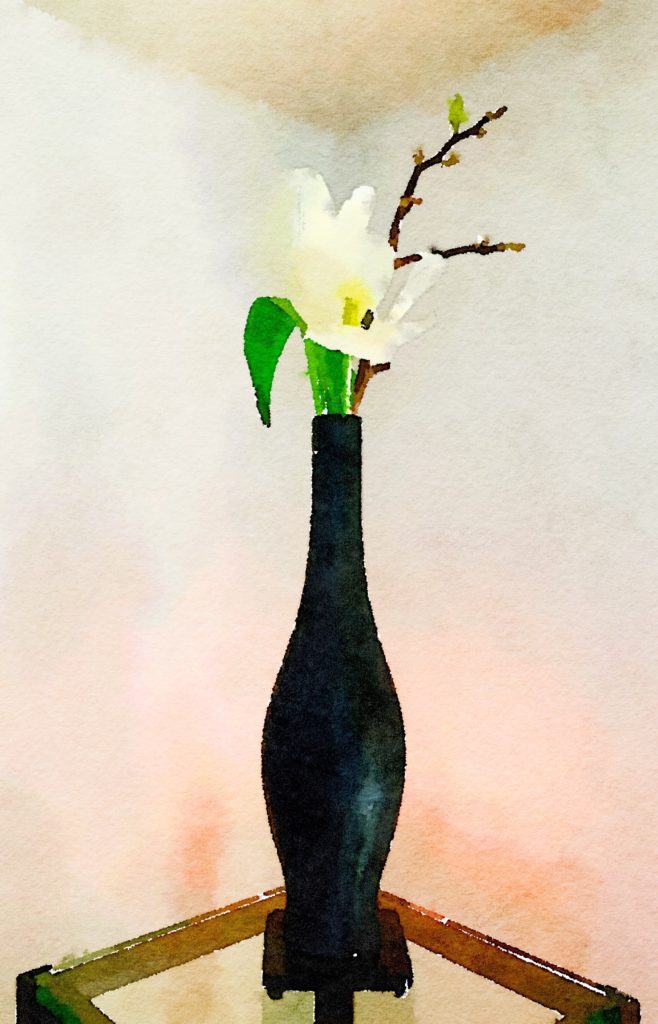 But this was only the beginning. With so many beautiful blossoms at my disposal, it was now time to begin working on the smaller bouquets, starting with my lovely blue Buddha vase, a former sake bottle (!).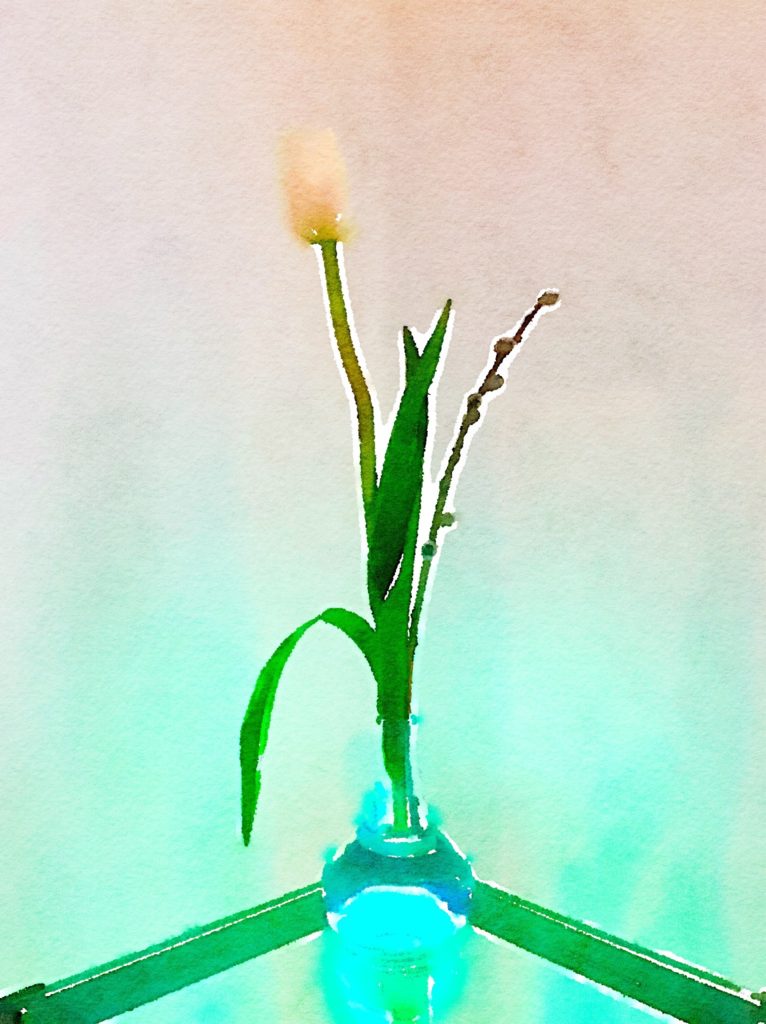 And here is a bouquet in my pink Buddha vase.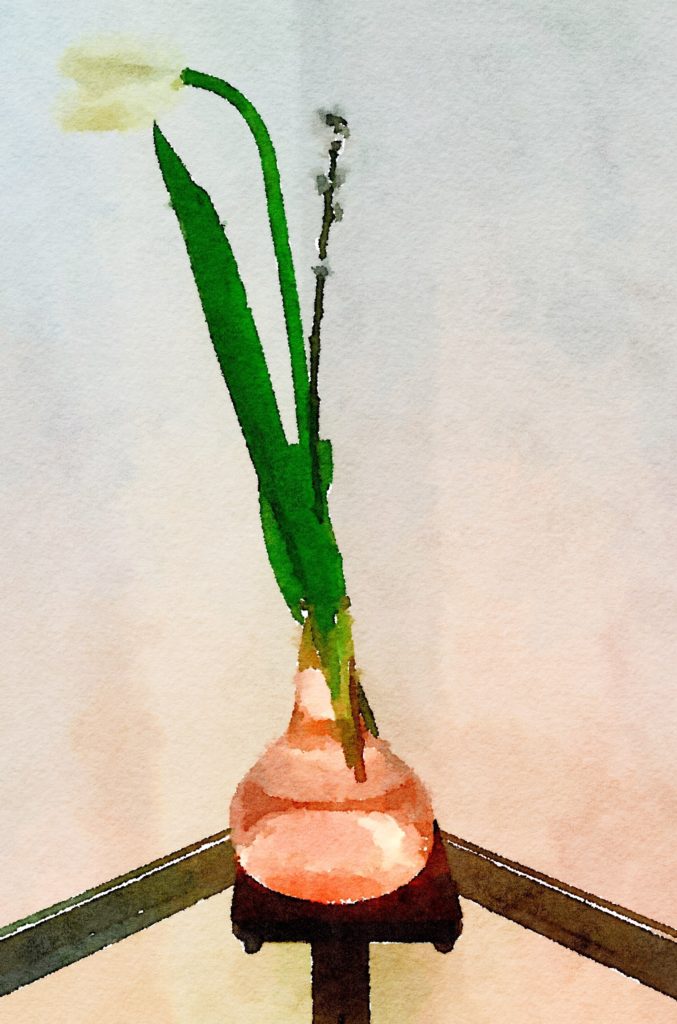 Another favorite vase, which curves so gracefully and makes any flower look sexy.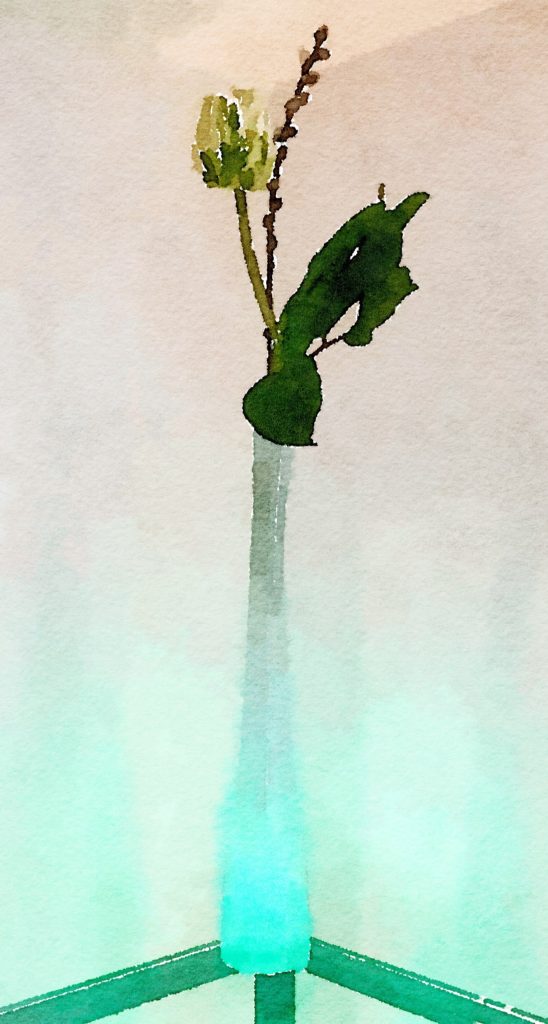 To finish off Week Eleven with a bang, here is a trio of smaller bouquets to enjoy.