Just before I went to the Pike Place Market on a Thursday afternoon, I read an article on flower arranging that really got me thinking. The article said that monochromatic flower bouquets are quite the rage, so I went to the Market with thoughts of choosing flowers all of the same color.
It was the first day the cruise ships were in port and the Market was packed with tourists ooh-ing and aah-ing the colorful displays of fruits and vegetables as well as the intrepid fishmongers tossing salmon skyward at Pike Place Fish under the Market clock.
I muscled my way through the mass of humanity, intent on purchasing flowers in a single color.
But, once I arrived, there were SO many gorgeous pre-made flower bouquets that I decided to shift course and choose one of those.
It was a very tough decision as the colors and variety were almost overwhelming. It was not only the beginning of the summer tourist season, but the beginning of the height of the flower season as well.
Here is the original $20 bouquet with raw flowers.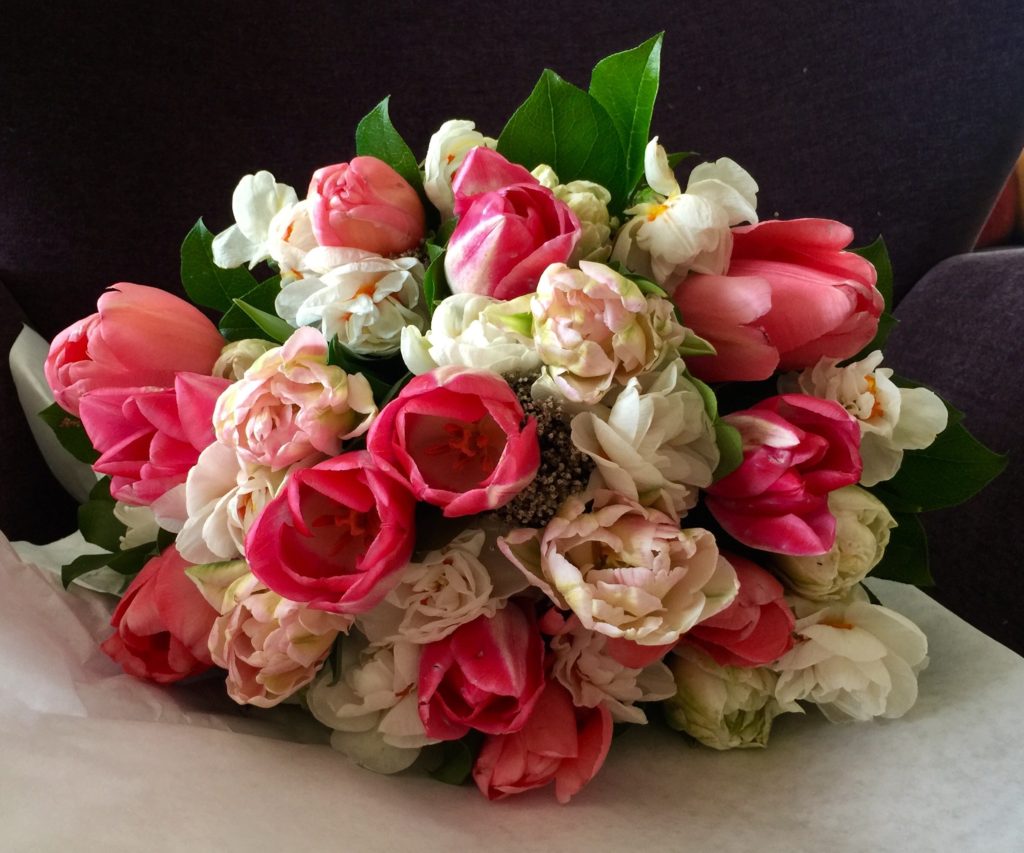 And here is the same bouquet "painted" using the Waterlogue app.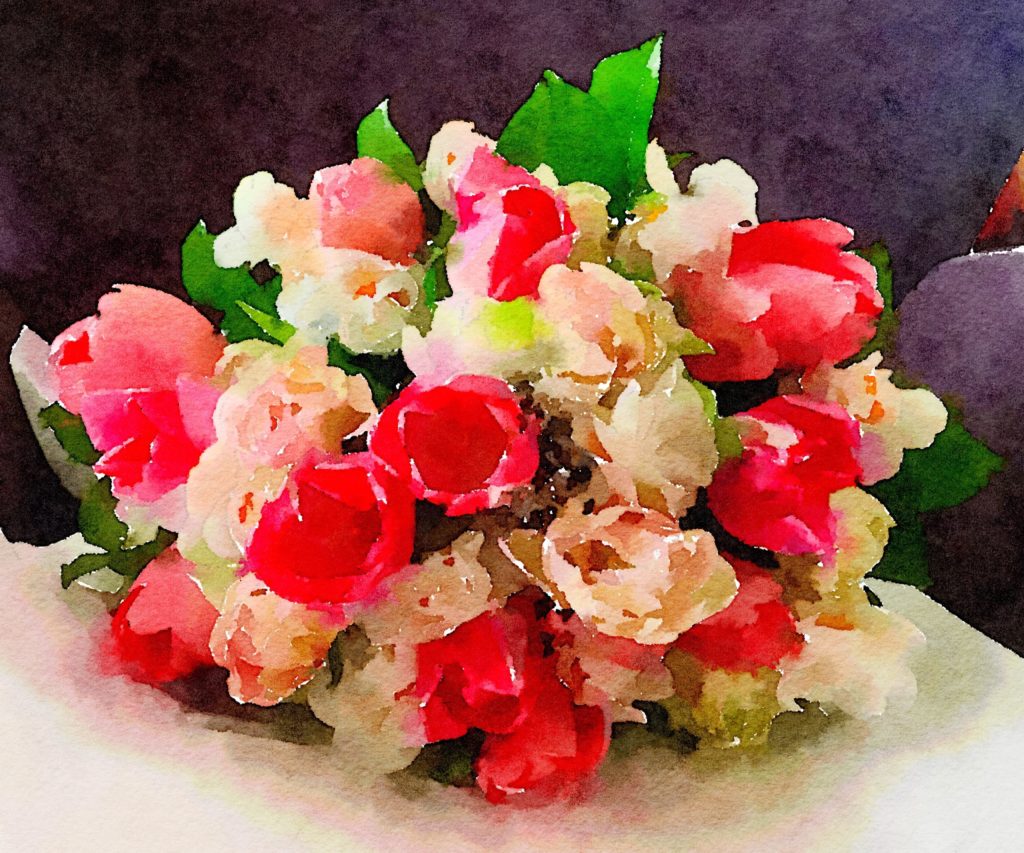 Here are the major bouquets I designed during Week Ten. This is a gorgeous vase that we received as a gift—it almost looks like something by Lalique with sculptured front and back panels and an embossed silver band around the base. It is also quite heavy and the tulips seemed to love their new home!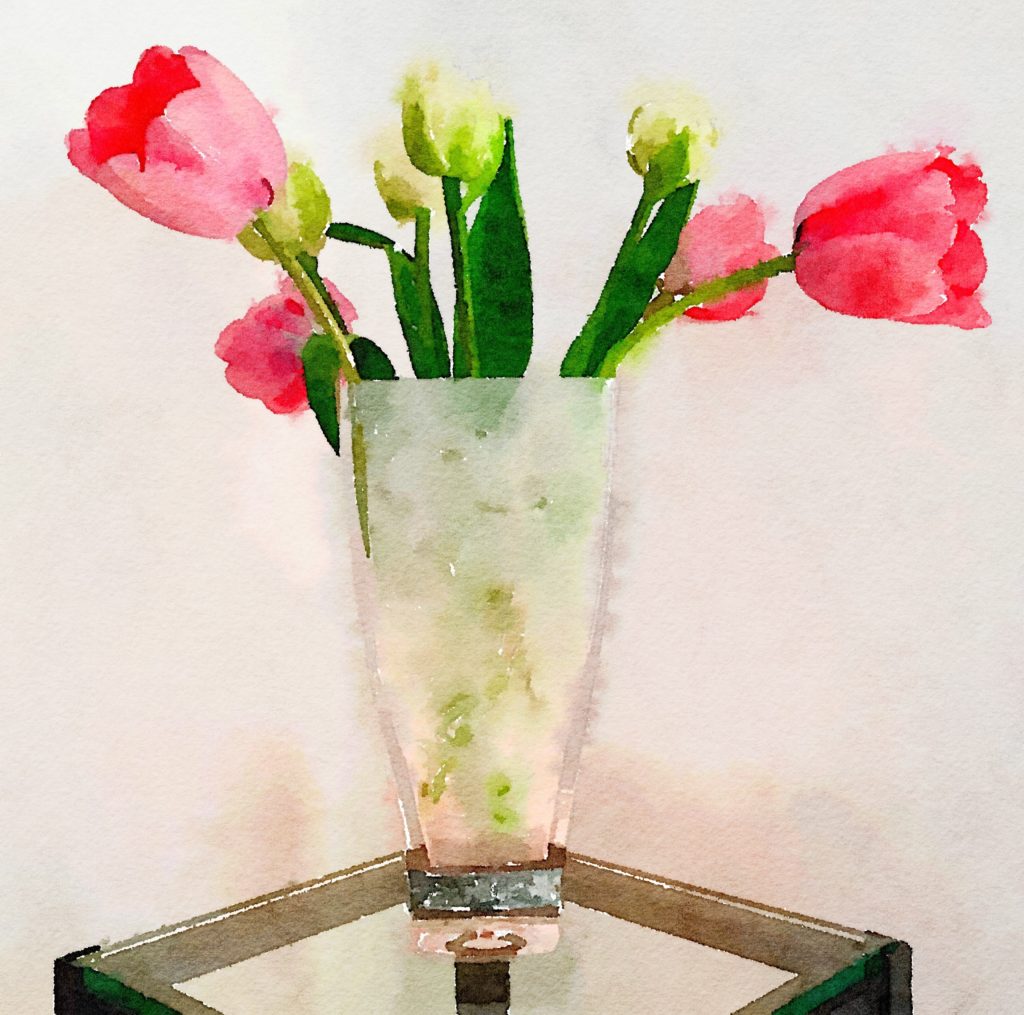 In the second major bouquet from Week Ten, I used a simple glass vase filled about a quarter of the way with clear glass marbles in the base. Ruffly daffodils and parrot tulips stand at attention, their stems interwoven in a graceful V.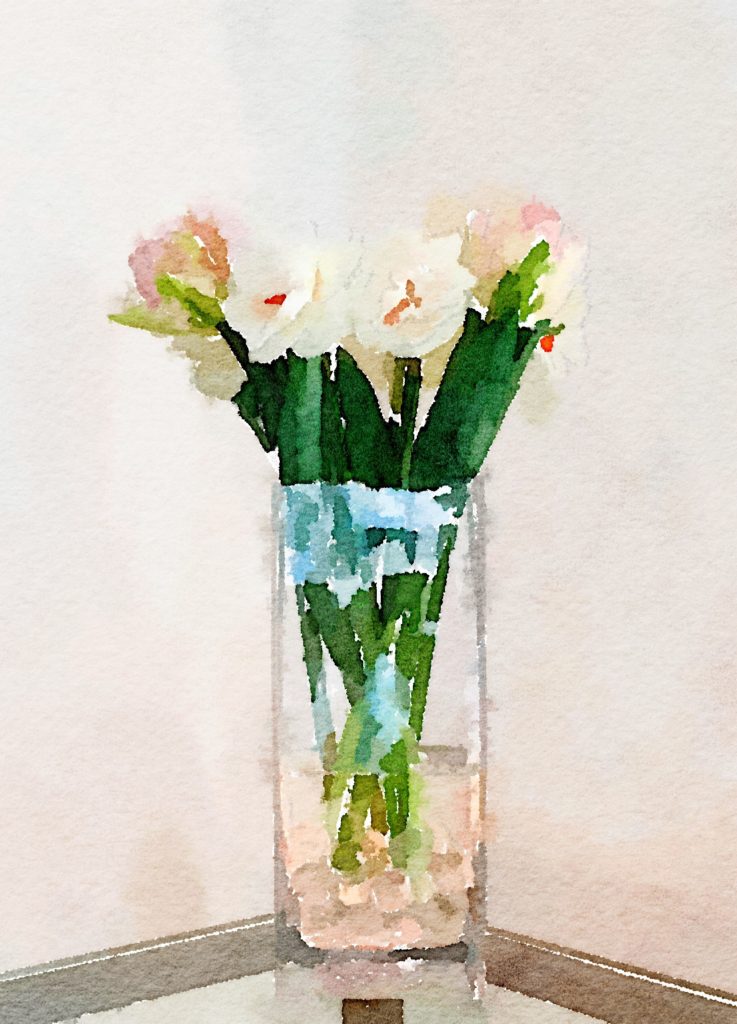 The final major bouquet is a stunning contrast in black and deep pink with a single magnolia branch left over from Week Nine. The branch adds a graceful ikebana touch.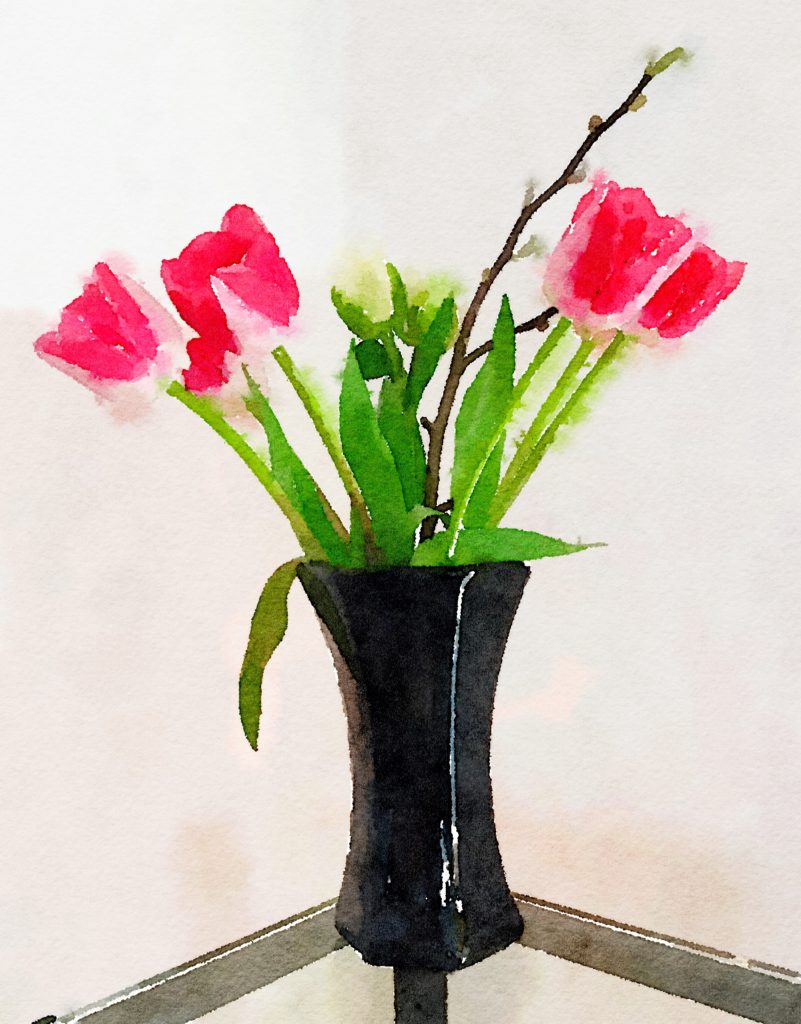 Here are photos of the smaller bouquets. The pink and blue Buddha vases on either side are among my favorite vessels!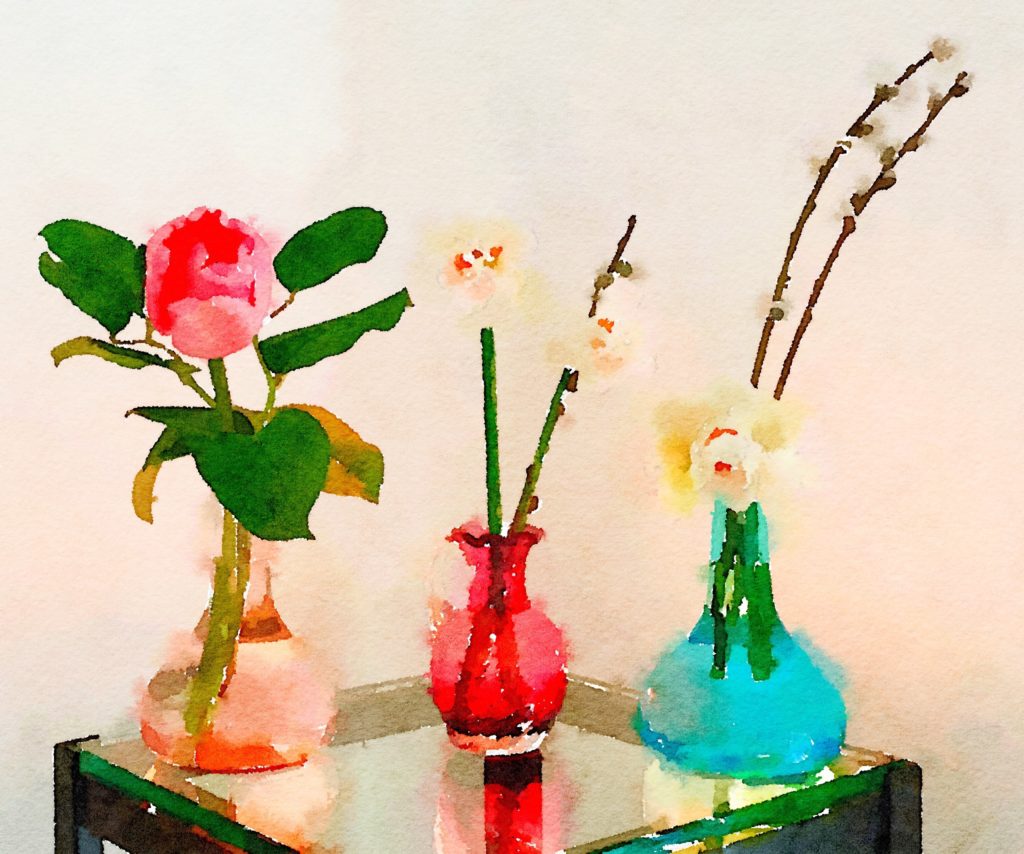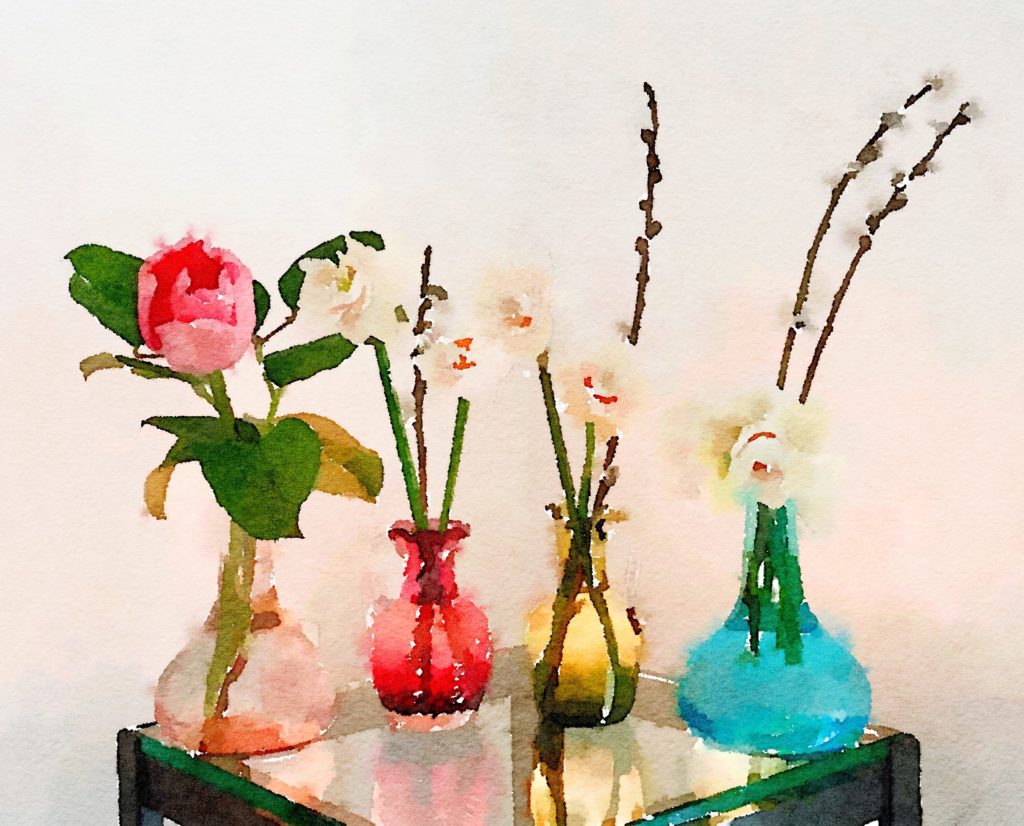 The small red-and-clear-glass vase with the single tulip is so dramatic.