On a sunny Saturday afternoon in the middle of February, I bought a bouquet of tulips at my beloved Pike Place Market, which is located a salmon toss from our downtown Seattle condo.
Once home, without really knowing why, I took a photo of the fresh blossoms, just unwrapped from their white-paper sheath.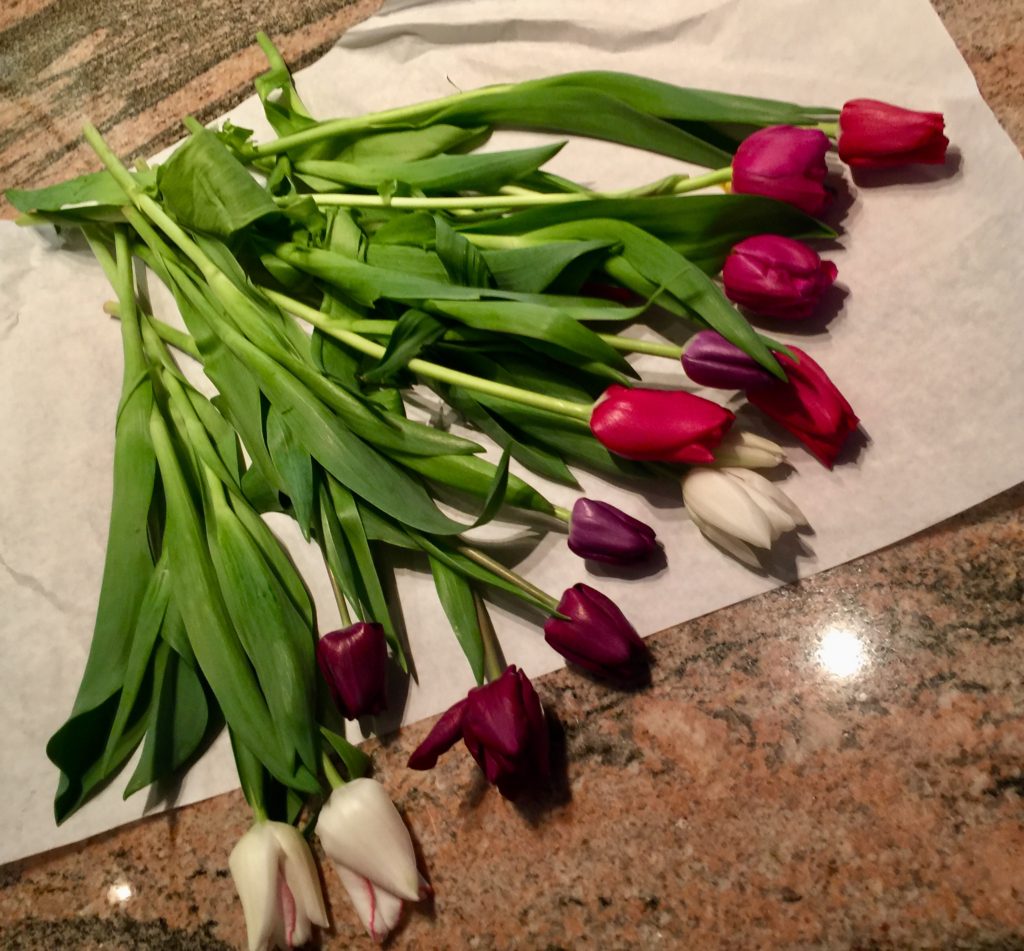 As always, arranging the flowers–choosing the perfect vases, stones and marbles (which are officially called "decorative fillers"), and even deciding on the level of the water in each vase–brought me a great deal of pleasure. It's something I've been doing for years for fun and relaxation, not to mention the resulting beauty.
The blossoms I bought that first week produced several different bouquets. I photographed each of them on top of the metal-and-glass etagere that inhabits one corner of our living room. It's the space where I place my largest, most dramatic bouquets so we can admire them.
Over the years, I've discovered that, with natural light streaming in on one side from floor-to-ceiling windows, this corner space painted in stark white is perfect for taking flower photos.
After I shot the flowers in various vases, I "painted" them using the Waterlogue application, which creates dramatic and inspiring watercolor images. It's perfect for someone like me who has no natural artistic talent.
Here are the fresh tulips after being "painted" in the Waterlogue app.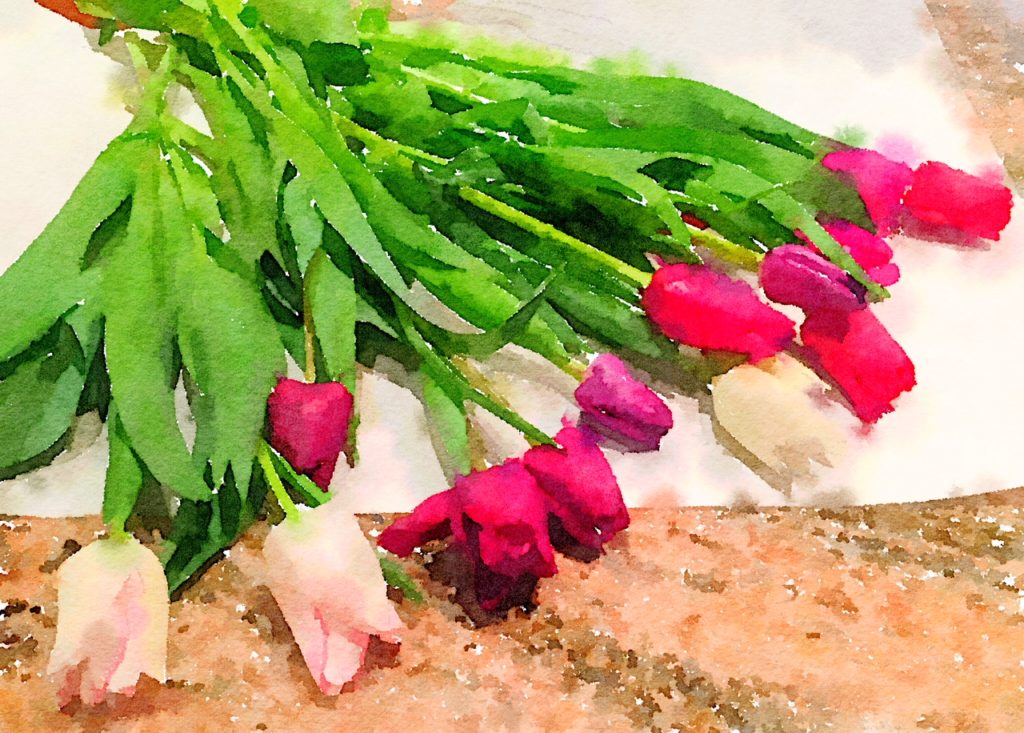 And here is my favorite bouquet from that week. I love how the pink and white tulips almost disappear from the canvas. . .and the way the human imagination fills in the gaps.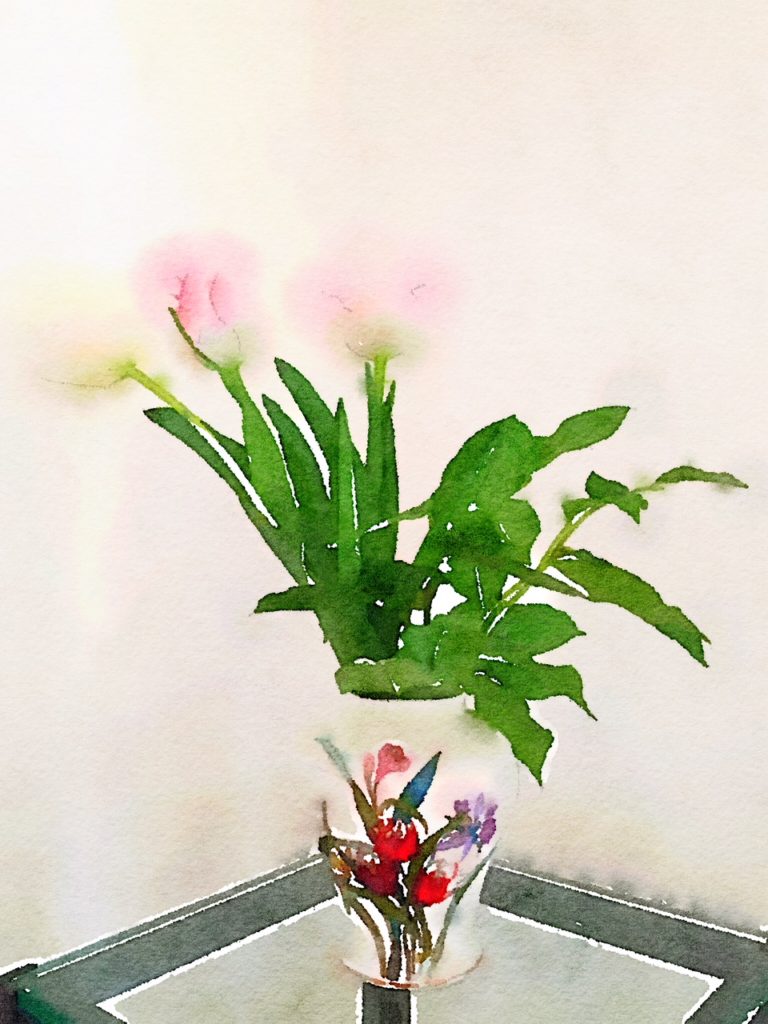 The following week, almost reflexively, I once again took a photo of the fresh bundle of flowers I'd purchased at the Pike Place Market.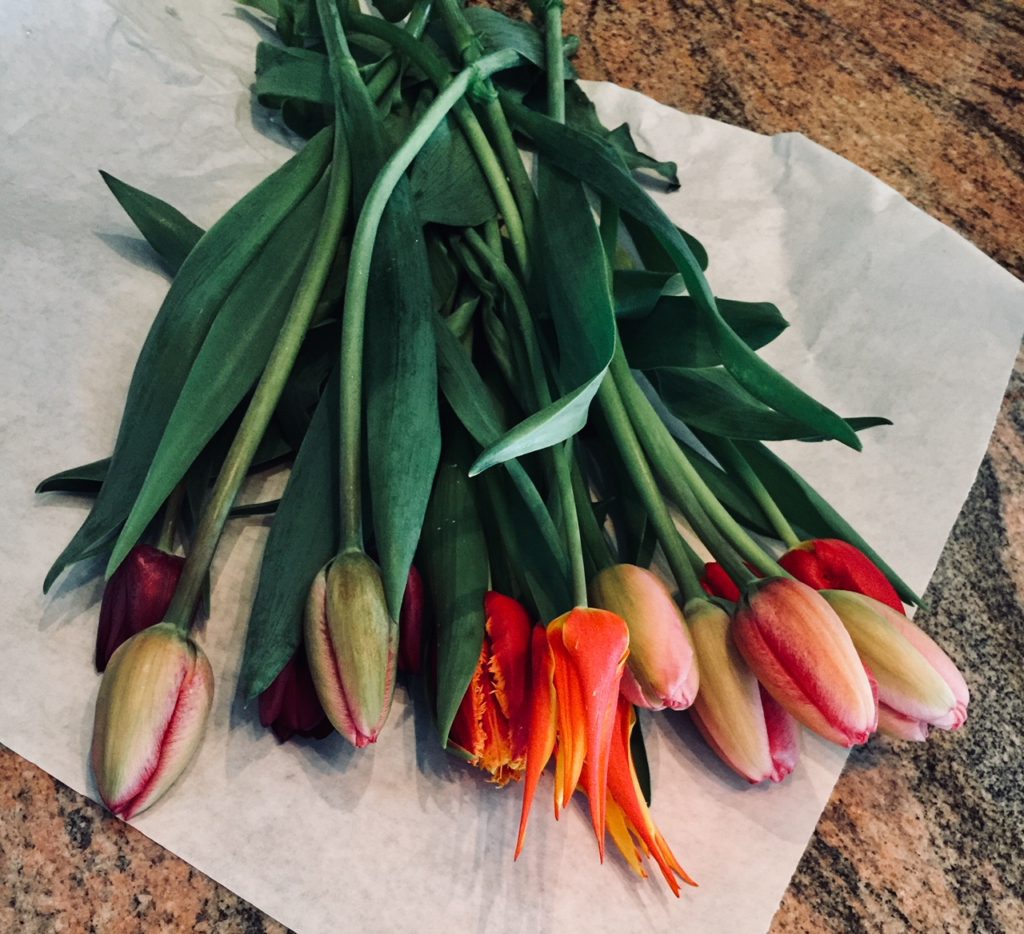 Then I took the flowers and "Waterlogued" them.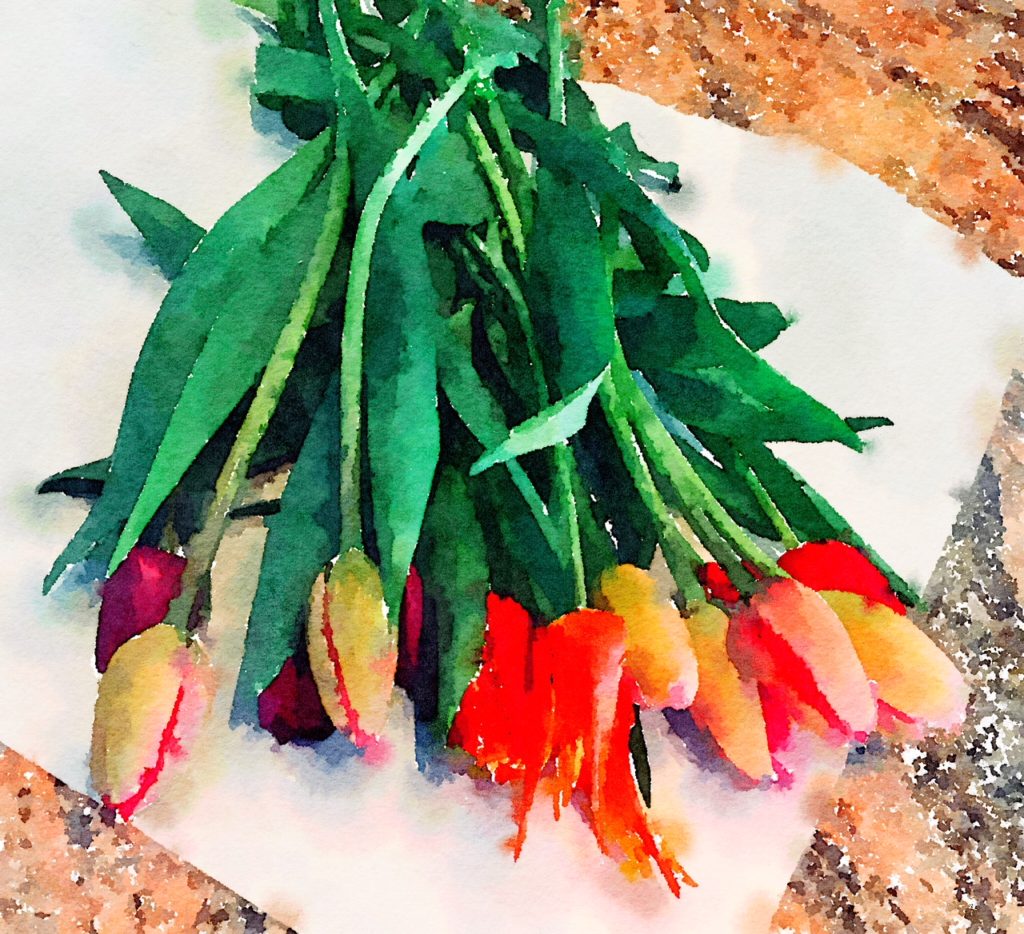 Next I arranged, photographed, and "Waterlogued" the resulting bouquets. Here are my favorite bouquets from that week.
Bouquet #1: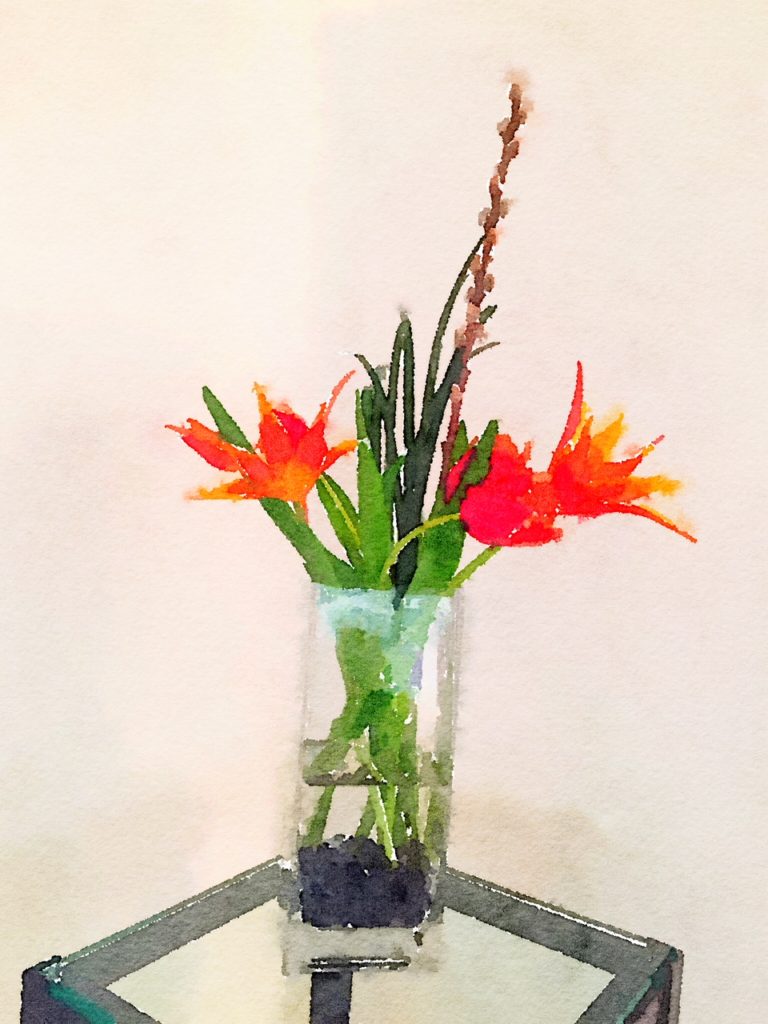 Bouquet #2: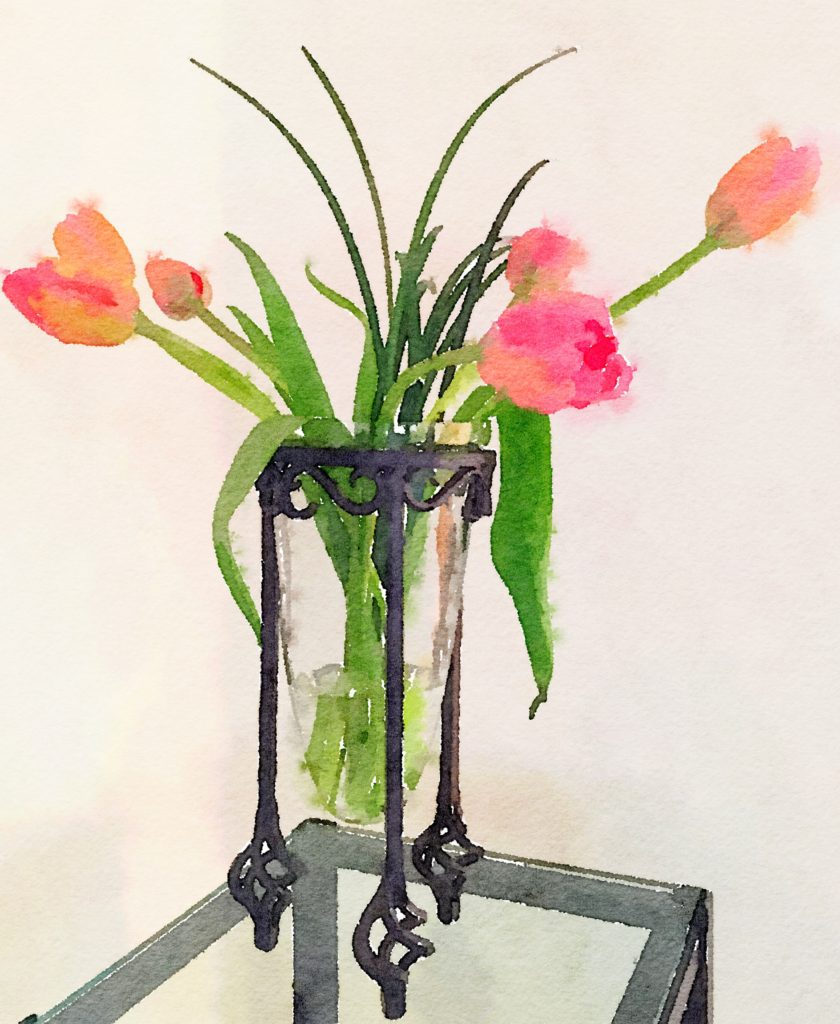 The third week I switched things up and bit and bought my tulips from a long-time Market farmer–Alm Hill Gardens–which is now affiliated with Growing Washington. They set up their farm table in the middle of the North Arcade, right in front of City Fish.
Funny coincidence, Gretchen Hoyt and Ben Craft, who founded Alm Hill Gardens more than 50 years ago, gave me two recipes for the first edition of my Pike Place Market Cookbook. The resulting book was published in 1992 and went on to sell more than 70,000 copies!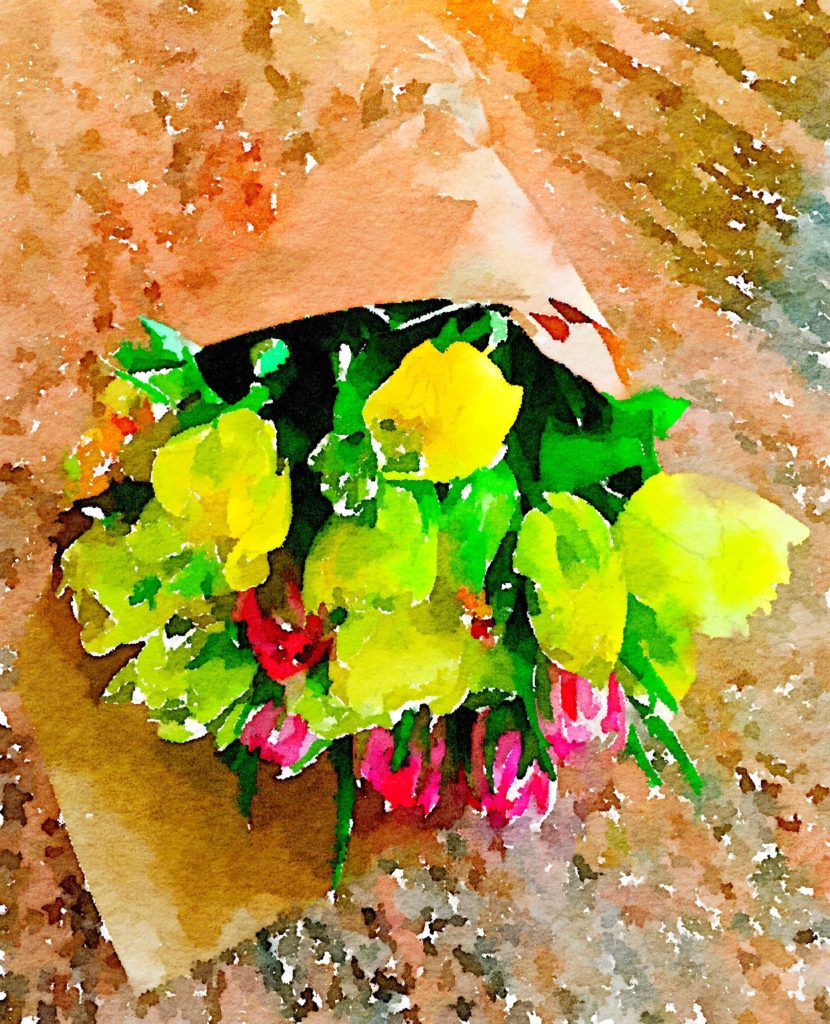 That third week, while cutting and trimming the exquisite blossoms, an idea "germinated." Why not buy a bouquet at the Market every week during the fresh-flower growing season? I could continue the process of photographing the raw flowers, arranging them into several bouquets, "painting" them using the  Waterlogue application, then posting them on my new Braiden Blossoms website.
Here is one of my favorite bouquets from Week Three, arranged from the exquisite "parrot" and "double" tulips that I bought that Saturday at Alm Hill Gardens. "Parrot" tulips are cup-shaped with lots of ruffly petals. "Double" tulips, as the name implies, have at least two buds per stem, although some boast as many as four or five smaller tulips, which I refer to as "baby" tulips.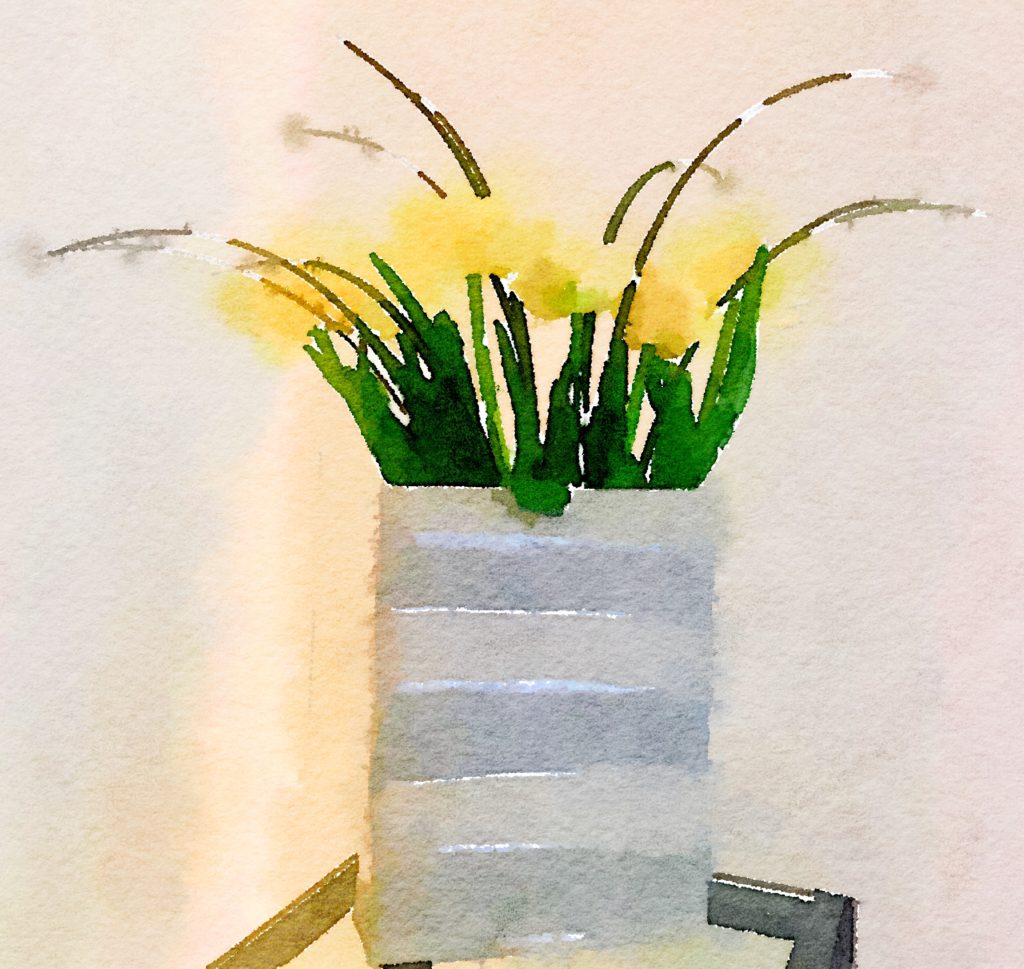 And another bouquet from Week Three.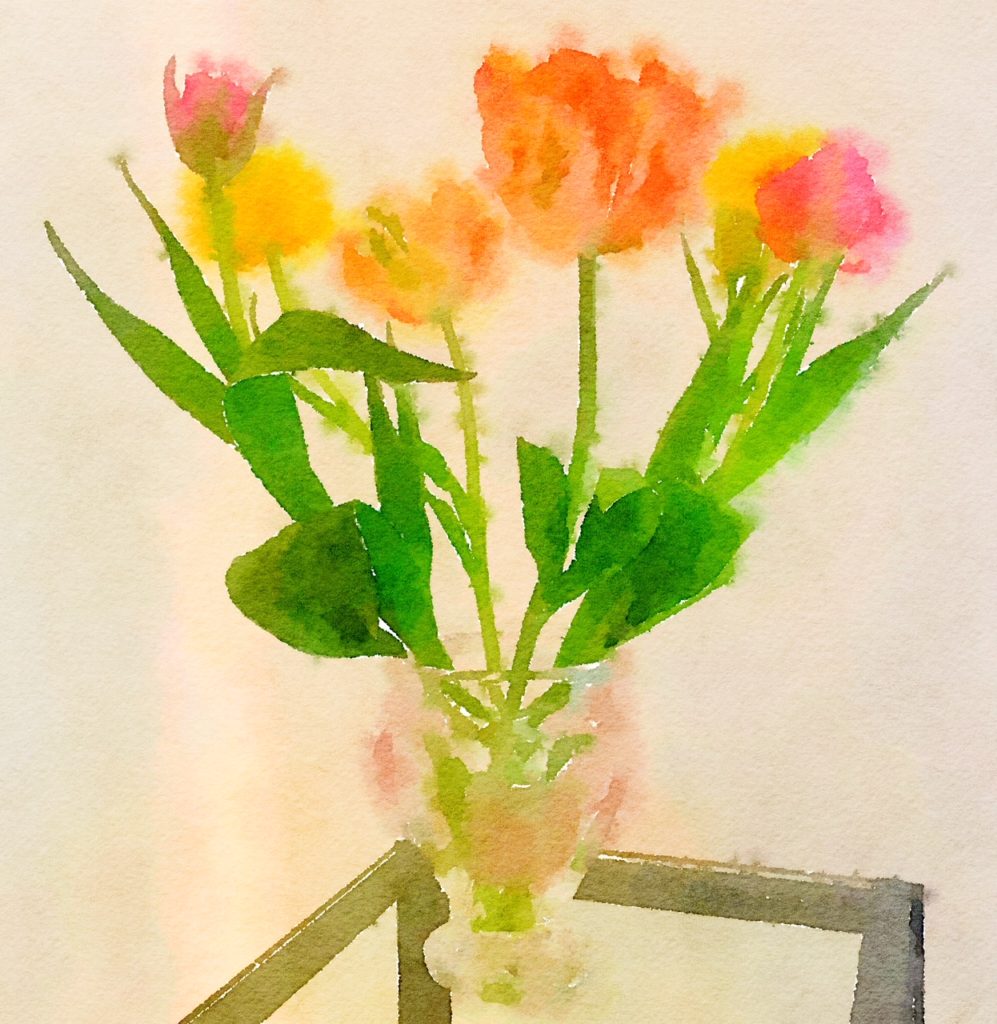 The idea of the new project began to consume me. Consciously and unconsciously (while doing the wash or cooking dinner), I began to noodle around on the perfect name for the new project and the best ways to expand on and enrich the original concept.
I slept on the idea for several nights, waking up at odd hours and jotting down notes while still half asleep. This had happened a lot when I was writing my food-and-wine books and articles. I had long ago learned to honor and document (lest I forget!) my creative instincts, no matter where or when they occurred.
Finally, one morning in the wee hours, somewhere between the dream state and wakefulness, the name hit me.
So as not to bother my husband, who lay beside me sound asleep, I stumbled to the bathroom where I keep a pad and paper for just such precious, unpredictable moments.
In the semi-darkness, I scribbled the name: The Bouquet-a-Week Project.